Bela Fleck and the Flecktones
By Patricia Finger
The cool, new sounds of Bela Fleck and his new band, the Flecktones, washed away the hear on Main Street during their performance at the Louisville Bluegrass and American MusicFest on Saturday, September 1st. Bela Fleck's bluegrass fans experienced some unexpected soulful sounds of jazz and blues as well as his more traditional repertoire.
Bela (pronounced Bayla) and his Flecktones devoted most of the two and a half hour performance to new music composed almost entirely by himself. A gifted composer as well as banjo technician, fleck delighted his Louisville audience with unexpectedly fluid and melodic tones (very unbanjo-like) in the elegant ballad, "Half Moon Bay>' Other new songs, such as "Sea Brazil" and "The Sinister Minister" conveyed the richness of his roots and the diversity of his talents.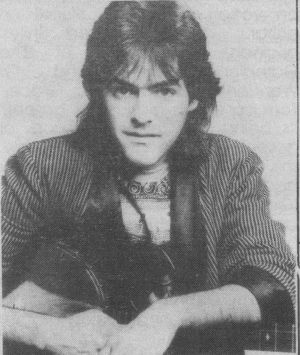 Bela Fleck
As a member of the New Grass Revival for eight years, he enjoyed the opportunities he had to play what he calls "high-tech bluegrass with a lot of heart and intensity." But when the producers of the Lonesome Pine Specials asked him to do a solo show two years ago, he welcomed the chance to expand. The show, titled Bela Fleck and Guests, began with a four-movement classical work by Fleck and composer Edgar Reyer and ended with a jazz section by Bela and the trio that is now the Flecktones. It became the most requested show on the Lonesome Pine series, PBS' showcase for acoustic music. When, in December, 1989, the New Grass Revival performed its final shows, Fleck jumped at the chance to develop his "dream band."
With this trio, Bela Fleck has managed to find three musicians as talented and innovative as he is. Howard Levy, a Chicago pianist / harmonica player, who somehow gets a full chromatic scale and harmonics while blowing jazz on a blues harp, amazed the audience with an improvisation for harmonica of Beethoven's Violin Concerto as well as some soul-shaking blues. Victor Wooten, who auditioned for Bela by playing banjo rolls on his bass over the phone, employed some incredible technical wizardry during the show. Proving that he doesn't take his virtuosity top seriously, Wooten played an enjoyable interpretation of "Chopsticks." Victor's brother, Roy Wooten, plays drums electronically with his fingers on his own custom-designed guitar body which he calls a drumitar. This fascinating technical innovation seems perfectly normal in this eclectic group.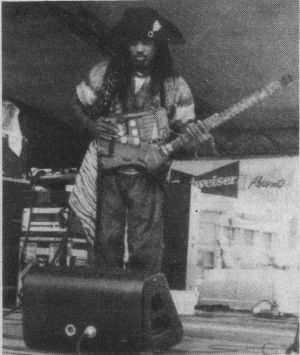 Roy Wooten and his drumitar
Accustomed to doing things differently than his peers, Fleck has carved a unique place for himself among banjo pickers. Having learned music at New York City's High School of Music and Art, his compositions employ jazz and classical techniques never heard before on this instrument, which is best-known in folk and traditional bluegrass music. Three times a Grammy nominee and a perennial winner of the Frets magazine poll as banjoist of the year, this virtuoso now has a potential cross-over hit with his jazz-inflected Warner Brothers album simply called Bela Fleck and the Flecktones.
Named Bela by his father after the Hungarian composer Bela Bartok, Fleck has lived up to the name. Bartok, one of the most innovative and prolific composers of the twentieth century, based most of his works on Hungarian folk music. fleck does the same with American folk music; however, categorizing a single style has eluded him. Attempting to explain his kind of music to the Louisville audience as jazz, blues, salsa, country, etc., one fan in the crowd provided the answer to a pleased Bela Fleck: "It's just GOOD music!"