Bluegrass at Appalachian Museum By Berk Bryant The Country Gentleman
October is upon us again, and with it Halloween, Country Music Month and time for the annual Tennessee Fall Homecoming at the Museum of Appalachia. Dates for the big event this year are October 11-14, at the Museum located just 16 miles north of Knoxville, Tenn. and one mile east of Interstate 75.
The homecoming goes on rain or shine. So far, every time we've been there -- and this makes about six years -- it has been shine every time. A beautiful fall setting, down there in the mountains of East Tennessee, where the weather is warm and cool. That's right, warm and cool at the same time, which means those beautiful autumn days of October when it's such a great time to enjoy things outdoors. Leaves will probably be starting to turn and that will make the drive down even more pleasant and worthwhile.
This year promises to be as good as ever -- and possibly better, if that's possible. There will be so many talented folks coming out of the hills and hollows of the Appalachian Mountains and other places that you'll need at least a couple of days to meet these friendly folks, chat a bit and just generally take it all in. Take your autograph book, take your lawn chair, take your camera and take the family.
Fiddlin' Bob Douglas, 89 year old grand-champion fiddler, will be one of the several hundred local and nationally renowned old style musicians and Appalachian craftsmen who will be participating in the Museum of Appalachia's 1990 Tennessee Fall Homecoming.
What goes on to draw 40-to-50 thousand people to the Museum of Appalachia one weekend in early October every year? Well I'll try to tell you. Besides the music, which we will get to in a bit, Mr. John Rice Irwin, owner, has this thing all worked out. It is a craft lover's paradise with all the craft booths for the ladies, continuous old-time and traditional music on two stages all day long, plus the shade-tree pickers. There are goat rides, hayrides for the small fry, and good home cooking prepared right before your very eyes. I mean the goooooodd stuff. Ham, biscuits, cornbread and a bowl of beans, corn on the cob and funnel cakes, just to mention a few. And the prices are very reasonable.
I'm sure you get the picture, but not completely. There is more to it than that. You know, your kids are often told about the way things were a-way back when. Grandparents tell them, teachers tell them and I'll bet you try to tell them. That's good; they should know about these things. You have heard, I'm sure, that a picture is worth a thousand words? Then how many pictures is the touch, the feel, the hearing, the handling, the working and seeing the real thing work worth?
So many things are happening and demonstrated at the homecoming that can be really meaningful experiences for the young and not-quite-so-young. Did your kids -- and many of you for that matter -- ever see a real churn and know that's where the real butter comes from rather than from a talking tub? How did the laundry get done before the Maytag repair man got so lonely? Have you ever tried to vividly describe how to make those delicious sorghum molasses to someone who may not have even seen a mule? Watch it as the cane is fed into the press, the mule walks around and around, and the juice is caught in buckets. Then it is cooked up into some great-tasting syrup, ready to take home and cover a hot buttered biscuit or a stack of hot pancakes. These are just a few of the many demonstrations of how things were done before microwaves, TV dinners and a box of Tide.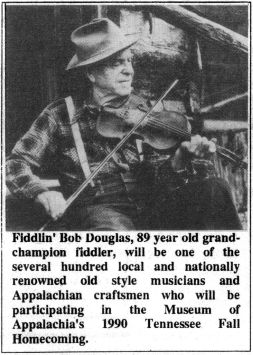 Then there is the music. Yes, the music, just like mountain people have sat around and played on porches, living rooms and anywhere folks would gather for hundreds of years. Great old-time musicians and some not-so-old-time, but who know how it's done.
From Louisville, there's The Bill Stewart Family. Bill Stewart is one of the excellent old-time fiddlers around today. Since they went to the Homecoming about four years ago, The Bill Stewart Family have been regulars there.
John Hartford will be there as he is every year. This year John will be there all four days. The music never stops and John is picking with somebody on stage, off stage and back stage all the time. If you are a picker this could be your big chance. Take your instrument along and you just might find yourself standing around somewhere picking with John Hartford or one of many other top musicians.
Grandpa Jones, Joe and Janette Carter (for you real buffs, they're the son and daughter of Sara and A.P. Carter); Jimmy Driftwood, the school teacher who wrote "The Battle of New Orleans"); Frazier Moss, North American Champion old-time fiddler; Roy Harper, an old-time songster who made a big impression with some younger members of the audience in Michigan this summer; Raymond Fairchild, King of the Smoky Mountain Banjo, will be there Thursday; and the legendary Mac Wiseman on Saturday. There are just too many wonderful groups to name them all.
Tell your kids all your tales, paint all those word pictures, find pictures in a book, but nothing will come close to the real thing. The Tennessee Fall Homecoming at Museum of Appalachia, with all it has to offer, will leave all the family with an experience they will talk about for quite a while.
We talked with a lot of the folks who were there just as we were -- a lot of them for the first time. Of all those who said they would be back, my old (I emphasize old) high school running mate put it pretty good. We had recently contacted each other after many years and I told him about this big deal in Tennessee in October. He, by the way, lives down in South Carolina. We had met in Nashville and gone to the Opry just a couple of months before. Jack showed up, and when the weekend was over and we were headed back to the motel he made a little confession. "I wasn't totally sure about this when I came up here, but you haven't told me wrong yet. I figured we would go out there for a couple of hours, that would be it, and we would be on our way to something else. I'm coming back next year whether Polly (his wife) comes or not, whether you come or not, I'm coming back. I'm making my plans on the way home to be back."
Me too, Jack.
Further information about the Tennessee Fall Homecoming may be obtained by phoning (615) 494-7680 or (615) 494-0514, or by writing Andrea Fritts or John Rice Irwin, P.O. Box 359, Norris, TN 37828.
(Berk Bryant is the host of "Sunday Bluegrass" on Louisville's WFPL 89.3 FM every Sunday at 8:00 p.m.
And there's special good news for bluegrass fans. Effective October 7, The Country Gentleman's hour-long program will be extended an extra hour. Now Burk will be able to play a lot more of the music that he wants to play without having to agonize over what to include and what to leave out.)