Labor Day MusicFest Blues Were Sweet Indeed
By Keith Clements, Secretary, KYANA Blues Society
Labor Day was R&B, rock and blues day for the Louisville Bluegrass and American MusicFest. It was a day of anticipation to hear some old favorites like Lonnie Brooks, Buddy Guy and Marcia Ball, plus some groups new to Louisville, such as Omar and the Howlers and Robben Ford.
As I approached the Budweiser Stage in the middle of Main Street, searing guitar notes and a growling voice echoed off the Humana Building. It was the kind of animated music that made it impossible to hold a full glass of beer without spilling it. Omar and the Howlers had their grip on me with their powerful Austin, Texas sound. Omar Dykes looked as if he just got off his Harley and proceeded to sing, with his powerful gritty voice reminiscent of Howlin' Wolf. There were a lot of original songs in the band's non-stop set, which included "Down in Mississippi," "I Am the Monkey Man," "Wall of Pride" and "I Got the Rattlesnake Shake." For an encore, they did "Rock and Roll Ball," which was like being at a frenzied revival. Omar works his green Fender to get a wide range of hard-driving sounds from Bo Diddley to Stevie Ray Vaughan, to whom he dedicated his performance. The two other ingredients to this TNT trio were Bruce Jones on bass and Gene Brandon on drums.
With ringing aftershocks in my ears, I headed over to the Belvedere Stage to see Lonnie Brooks and his band. The mellow sounds of "Mr. Somebody" softened my ears. Lonnie's music is a vintage blend of Chicago and Louisiana blues sounds with a lot of showmanship thrown in. Lonnie's son, Ronnie, was playing second guitar in the band and the father and son really got into it on "Two-Headed Man," trading licks out in the middle of the audience crowded around the stage. Lonnie always puts on a great performance with his band of excellent musicians. Keyboards have always been an integral part of his band, adding spice to the gumbo.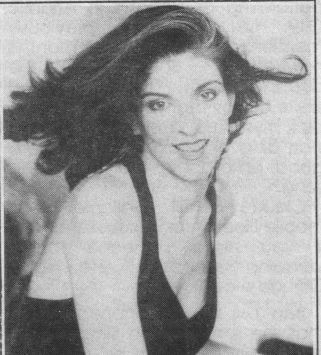 Marcia Ball
Back at the Budweiser Stage, Buddy Guy had drawn a large crowd that backed all the way up the steps of the Kentucky Center for the Arts. Buddy's claim to being the best guitarist in the world is questionable, but he is certainly the most versatile and unpredictable. He plays like a possessed person with that ever-present grin. What is frustrating about so many of his performances is his tendency to stop in the middle of a song and suddenly jump to another. Buddy exploded on "Knock on Wood," switching to a remote pickup and proceeding off the stage and on up the steps of the Center amidst the crowd. At one time he was playing to his reflection in the window of the Center with his back to the crowd. When he returned to the stage 15 minutes later, the song had somehow changed to "Hey, Hey, I Feel Alright." Only Buddy can pull off a stunt like that.
The Nighthawks followed Buddy with their powerful rhythm and blues (heavy on the blues) sound. They have recently added Jimmy Hall as a main attraction doing most of the vocals and playing the sax. The Nighthawks are one of the most enduring bands formed in the mid '70s. The perpetual lineup includes Mark Wenner blowing harp and performing vocals, Pete Ragusa on drums, Jan Zukowski playing bass, and another new musician on lead guitar. The band opened with Elmore James' "When Things Go Wrong" and they never let up during the whole set. "One Track Mind" featured a rocking harp duet between Mark and Jimmy. "Keep on Smiling" followed with Jimmy singing his heart out and Mark blowing a staccato harp that reached the climax of their set.
Robben Ford was next up on the ticket. You knew it was time for some serious guitar work by the way the fans crowded around the stage for a closer look. Ford put on an excellent guitar clinic, starting off sweet and easy with "I Live the Life I Love," "Born Under a Bad Sign" and "I Ain't Got Nothing But the Blues." His mastery of so many musical styles moves easily from West Coast swing to jazzy riffs and hard rock. The tempo picked up with "I Ain't Mad at You" and "I'm a Real Man." I thought Magic Sam had the definitive version of "I've Been Down Too Long," but Robben's interpretation was a classic.
Robben was backed up by Rosco Beck playing both four- and six-string bass and John Brickline on drums, formerly of Chick Corea's band. By the end of their set they were really tearing things up with "I'm Just Wild About You Baby."
I came away from Robben's performance with a deep respect for him as a blues musician and singer. He is an extraordinary guitarist who takes chances with his music.
About 8:30 the sun was going down, the full moon was coming up and the cool evening air was drifting out over the Belvedere, just in time for the Hot Tamale Baby to warm things up. Long, tall Marcia Ball came out wearing a short, slinky black dress with spaghetti straps. When she sits at her keyboard she crosses her legs the whole time, tapping one foot to 4/4 time and swinging the other leg to 2/4 time. Quite a feat! Unfortunately Marcia got off to a frustrating start with nagging keyboard problems. The situation wasn't remedied until she borrowed another keyboard from Lonnie Brooks' keyboardist, Tom Giblin, and then things really started cooking. Marcia is such a quality performer that one moment she will give you an acute case of happy feet with "Eugene" or "How You Carry On" and the next moment she will choke you up with "Power of Love" or "Find Another Fool to Love You." It was her magic blend of Austin, Texas, and New Orleans music that brought the crowd to its dancing feet the only time that day. Marcia more than made up for the early problems with a long, spirited performance highlighted by an extended version of "Hot Tamale Baby" and two encores. Her band included Rodney Craig on drums, Don Bennett on bass, Paul Bremer blowing sax and a new guitarist, Steve Williams.
If that wasn't enough, several of the musicians from Lonnie Brooks', Buddy Guy's and Big Shoulder's bands – plus Marcia Ball – showed up later that night at the Cherokee Blues Club to jam and I'm told the place was packed.
See you at the Garvin Gate Blues Festival, October 12 and 13.