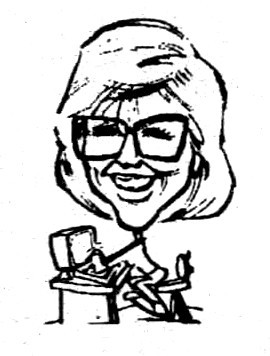 Newsical Notes
Member Claude Wayne through no fault of his own, will not be performing at Harrah's in Atlantic City, N.J. as was previously mentioned in last month's newsletter. Sorry about the disappointment. Claude. and we're happy that you're just "gonna pick myself up, dust myself off and start all over again." Sounds like a good philosophy – and a good song.
Claude is still available as a mobile deejay for various functions. If you need someone for a wedding reception. etc.. give Claude a call.
Betty Lou Sherrgard phoned to say that she is moving to Simpsonville, Ky. and will already be settled in by the time this issue hits the streets. She plans to continue as a member of the Co-op, however. "Hope you enjoy your new home, Betty Lou..
Thanks to Larry Standiford and to John Dowell for representing the LASC at the Muscular Dystrophy Benefit held on Labor Day weekend at the Jefferson Mall. I'm sure that "Jerry's Kids" thank you both as well. (We also appreciate Bob Totten and Willis Music for their involvement with the weekend performances.)
On Sunday, September 9, LASC once again took an active part in the Bridge Party on the Second Street bridge. Marie Augustine. Bill Ede. Scott Furlong Prez Paul Moffett (with a bazuki on loan from Docrates' H&H Thriftworld #1) and Larry Standiford came downs to play music. And the rains came down to play havoc. Nevertheless the show went on.
Scott was proud that when a television reporter came along, he was able to intelligently answer the question. "What are you doing here?" His pride turned to dismay when the clipped clip was aired on the 11 p.m. news: His shortened on-air reply to the question was "Getting wet!"
Oh well, don't let it bother you. Scott. they put treasurer Pen Bogert's name under your picture and Pen wasn't even there. Ah, the magic of television. (Also, Scott, after I had reluctantly agreed to speak to a rival station's reporter, none of my less-than-sparkling interview was aired on the news.) We do appreciate the media. however.
Thanks to all the performers and to those who came by to lend their support. Docrates was there. as were Secretary Diana Black and her husband Greg. Jerry Burns and Board Member Dallas Embry. Karen Le Van brought along Debbie Hupp and her sister and Larry was responsible for bringing along his friend Monica Smothers. as well as his brother and nephew. My husband was also there. enjoying the music and the boat races and taking a few photos.