September Showcase
By Wally Stewart
A duo with an interesting name opened September's LASC Showcase at the Rudyard Kipling as Good Intentions was introduced by emcee Joyce Trammell. "Good Intentions" featured Thomas Styles on vocal and Charlie Murrell on guitar. They presented Styles' originals, plus covers of "The Gambler", "Some Kind Of Wonderful", and "Amazing Grace." Tom called his music "folk gospel," its being "not really folk, pop, or gospel." During a later interview, this ordained Baptist minister added that he writes songs with "Good intentions of getting a point across." His crafting skills were well displayed in work written for the kids in Village West, "We're Out Here Today Y'all." The lines, "Gonna love my brother, gonna leave his wife alone. Gonna love my brother when he's away from home," revealed a message without "talking down to" or "preaching" at the listener. The half-filled room was treated to a blues version of John Newton's enduring classic "Amazing Grace," with tune composed by Murrell, then "Good Intentions" closed with an a cappella original, as Styles very capably rode the extensive vocal range of his "Shine On Me."
A favorite of the local music community made a welcomed return, as Becky Bennett and Kelly Wilkinson brought their North Of Nashville sound to the Rudyard. Their voices were backed by the tired, but extremely talented fingers of Hickory Vaught on mandolin and Kenny White on guitar. (They had been in the Everly Brothers Talent Search at Central City, Kentucky, the previous night.)
North of Nashville covered tunes by The Indigo Girls, Mary Chapin Carpenter, Bailey and The Boys, The O'Kanes, and others; and promised the performance of a recently signed LASC member's song in a later set.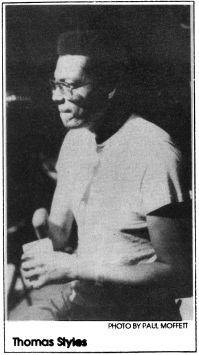 Thomas Style
Wilkinson graciously stepped aside on "The Boys", "Turn the Tide," allowing Bennett to gently, yet powerfully, infuse it with soul. With "I can't turn the tide and it's going out on me ... a sailor's at the mercy of the sea," Becky magically wrapped the house in the all-too-familiar pain of breakup.
Their set closed with Suzy Bailey's "Somewhere Between," featuring the poetry of "somewhere between your heart and mine there's a window I can't see through." Vaught added vocals on this effort after several numbers had made room for his and White's instrumental talents to shine. As Kenny's last appearance with "NON" ended, Kelly publicly thanked him for his contributions and added that she's glad to be back, with the crowd reciprocating her sentiments. (She had moved to Lexington but is now in Louisville.) Before announcing intermission, Trammell mentioned that Becky and Kelly are open to song submissions.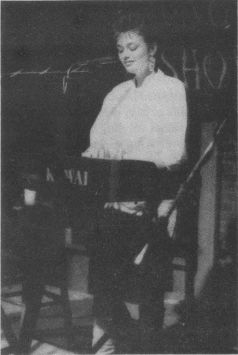 Cheryl Lynn
Cheryl Lynn's keyboard was moved on stage for the second set, and the listeners were treated to her magnificent vocal styling. She is known for amiably sitting in for fellow Co-opers at previous Showcases and providing excellent covers of their tunes. This evening found her singing all self- or co-written works that spoke about love, jealousy, heartache and social issues. "Slowly Breaking My Heart" was co-authored with Co-oper Lucille Wills, and Lynn stayed true to the title by gradually wrenching a bluesy finish out of it.
This song was performed by Robert Morris and The Lonely Roads Band when they recently won the local competition of this year's Marlboro Talent Roundup. Cheryl is a new member of that group and is looking forward to the December 7 finals in Nashville.
Her finishing number was "I'm Out To Get You,' and she walked off stage to a lot of applause.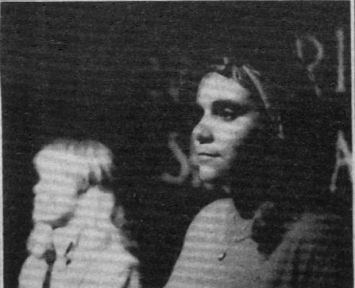 Kelly Wilkinson, left, and Becky Bennett. Photo by Paul Moffett
Karen Le Van introduced Scott Furlong, who has been rehearsing a rock 'n' roll band, Borderline, but who soloed this night. Playing only acoustic guitar, he delivered a mixture of cover and original tunes, including the title track from his recently released tape, Moonlight Dances. The tape is available on Forty Rod Records at Ear X-tacy on Bardstown Road.
Scott's beautiful "By The Way" was followed by Stevie Nick's "Landslide." He then showed an affection for the blues with Gordon Lightfoot's "Steelrail Blues." It was an entertaining story of a man who gambled away the money his girlfriend gave him for a train ticket home.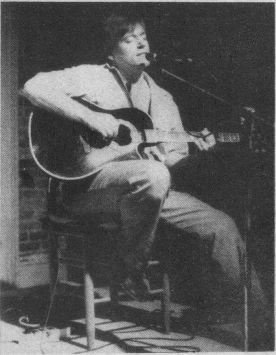 Scott Furlong
John Gorka's "Stranger With Your Hair" was a moving account of seeing a departed lover in other people: "I saw a stranger with your hair. I tried to make her give it back."
Late in the set Martha Pillow was called up to join on another Lightfoot work, a waltz tune "I'm Not Supposed To Care." They made a very enjoyable duo, and a couple of songs later Scott concluded with his "Moonlight Dances" and its gorgeous opening imagery "Moonlight dances in her window now ..."
The late round found Tom Flood on guitar in "NON"'s new formation as they kept their promise by rollicking through LASC member Alan Morris's "Too Hot To Handle." Kelly joyfully announced that "NON" had demoed it for Morris and that Debbie Hupp of Hupptown Music has agreed to publish it. Congratulations, Alan!
This round included additional songs from each of the previous acts, and the evening ended with Joyce Trammell's reminder that the next LASC Showcase will be Saturday, October 6 at the Rudyard.