A Lonesome Pine Special Review
The Saxophonic Summit
By Theresa Johnson
"I've never seen so many saxophones in one place in all my life!" saxophone great Phil Woods joked with the audience. What he was referring to was the "Saxophonic Summit," one of the Lonesome Pine Specials held at Bomhard Theatre. Against a colorful cornucopia of instruments in the background, I was treated to some of the best sax around.
The "heads" of the saxophonic "state" included the San Francisco-based Nuclear Whales; a five-piece Toronto group called The Shuffle Demons; the aforementioned legendary Phil Woods; and the Kentucky Center for the Arts Saxophone Ensemble, which was a culmination of the previous groups plus 15 of the most talented local musicians (minus Phil Woods).
The show opened with The Nuclear Whales. The very name suggests that this might be a very humorous and diverse group. True to form, they were! For openers, all six performers came out on stage in a kind of strut-walk, performing Shelton Brook's "Dark Town Strutter's Ball." That in itself may not seem so strange; however, they all wore Oriental headbands with Japanese characters. Nuclear Whale Don Stevens explained that a P.R. expert convinced the group they needed a headband as part of their marketing strategy. Unfortunately, English can be difficult to translate into Japanese; as a result, the intended phrase, "The Nuclear Whales," was translated as "Atomic Bomb, Big Fish." (I swear, folks, I'm not making this up!)
Next the group performed a Duke Ellington medley, then "Dickie" Strauss's "Blue Danube Waltz" -- but with a definite twist. The twist being a 6' 8" contra-bass saxophone in which Don Stevens himself almost became twisted! Stevens received a hearty round of applause from the audience as he wrestled with this unwieldy yet very rare (I'm told there are four in the world) member of the sax family.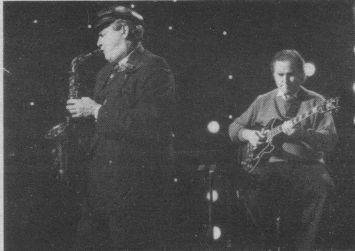 Phil Woods, left and Scott Henderson. Photo by richard bram
Other selections included the bewitching "Harlem Nocture," showcasing Kristen Strom on alto sax; and the Nuclear Whales' version of "Stars and Stripes Forever." Don Stevens concluded their segment of the show by encouraging the audience to "Hear the whales, save the saxophone!" Good advice!
Next on the bill was The Shuffle Demons. This group performed an interesting slur of rap, blues, funk and rock -- everything including the musical "kitchen sink!" Speaking of interesting, you should have seen their outfits. What a bizarre combination of stripes! One fellow looked like a walking tic-tac-toe board. Indeed, the gyrating teen-agers on Club MTV dress like sober nuns in comparison.
Members of the group included Demon Richard Underhill on alto and baritone sax; Demon Perry White on tenor and baritone sax; Demon Dave Parker on tenor sax; Demon Richard Stich Wynston on drums; and Demon George Roller on upright bass and vocals.
Selections included "Funkin Pumpkin," "Out of My House, Roach" (which received a CASBY award in 1988 for Best Indie Video), and "Gabi's Gimi Suit," an instrumental dedicated to the group's former tailor. (I wonder if he's responsible for Uptown Julie Brown's creations?)
"Out of My House, Roach" was a highly energetic, comical piece in that it featured a two-foot motorized plastic cockroach scuttling about the stage while the band performed. At the close of the piece, a solo saxophone mimicked the frantic scampering of the rodent while members of the band tried to stomp him to death.
"Gabi's Gimi Suit" was a ten-minute instrumental with a heavy Eastern influence. In this selection, bassist George Roller really got in on the action first by yodelling, then by playing his bass with his teeth. As if this weren't enough mania, he picked the bass up and held it over his head as though offering it as a sacrifice to the gods (or maybe Aldoph Sax). I must confess that for one breathless minute I thought he was going to smash it to pieces -- a la Peter Townshend.
The colorful antics and vaudevillian acts may be appealing to the generic jazz/pop listener; however, the true saxophone aficianado may weary of the band's gimmickery. I felt as if The Shuffle Demons focused their attention more on their antics and cockroaches than on how well they performed as musicians.
The manic mood of The Shuffle Demons was quickly dispelled as Phil Woods took the stage. Accompanied only by bassist George Roller and Scott Henderson on guitar, Woods played a medley of tunes including "Milestones" and "Steeple Chase."
It's quite dismaying that although I've made my living through the artful arrangement of words, my craft has somehow failed me when it comes to finding the right superlative, the right phrase to describe Wood's virtuosity. Suffice it to say that not a muscle moved, barely an eyelash blinked as audience members sat totally mesmerized by this master of the saxophone sporting a leather Greek fisherman's hat. Working with the simplest of melodies, Woods took the listener out over far-reaching hills and valleys of improvisation.
The Summit concluded with German-born composer Kurt Weill's "Little Threepenny Music" (1929). Originally written for a small pit orchestra, the score had to be transcribed for an all-saxophone orchestra. Not an easy task by any means, but a prominent local saxophonist, Mike Tracy, accompanied by Karen Massey, were up to the challenge. What resulted was an arrangement which -- from where I sat -- sounded like a full orchestra with all its family of instruments. There was no monotony of tone that I expected to hear from a stage full of saxophones. The score had a remarkable richness and depth that at least had me fooled into thinking I was listening to a "full" orchestra.
I had the opportunity to chat with Mr. Tracy following the performance, and I asked him what challenges he had encountered in orchestrating Weill's delightful music.
He told me it took a week to conceive the orchestration and six weeks to copy the parts. Other obstacles included the range of instruments and how well they would correspond; how well the players played (Mr. Tracy wasn't familiar with The Nuclear Whales or The Shuffle Demons) in order to figure out who to assign parts to; and the similarity of timbre.
Regarding the first problem, that of range, Tracy said the variety of instruments in the saxophone family (from contra-bass to soprano) took care of the range problem. Concerning the question of assigning parts, Tracy said that he gave local people, whose ability he was familiar with, the more prominent parts. The problem of timbre was solved by placing brass parts on one side of the stage and woodwind parts on the other. Hey, it's all in a day's work for this guy!
It wasn't hard for this interviewer to conclude that, judging by his beaming expression, Mr. Tracy took a lot of -- almost fatherly -- pride in bringing "The Threepenny Music" to its fruition.
I left the Bomhard Theatre with a new-found appreciation for the saxophone. Phil Woods said that before the age of 12 Adolph Sax was hit by a trolley, swallowed battery acid and fell down a flight of stairs. Thank God he survived these calamities or such an entertaining evening wouldn't have been possible. (Maybe it would have been an all-tuba summit!)