Burton's Back (For a While) By Patricia E. Finger
During the past two weeks, the people of Louisville and the surrounding perimeters have an outstanding opportunity to experience the music of one of America's finest jazz pianists, Rahn Burton. Like the pioneers of jazz and blues before him, this native of Louisville found the interest and excitement for these freewheeling sounds in the famous and infamous clubs of New York City.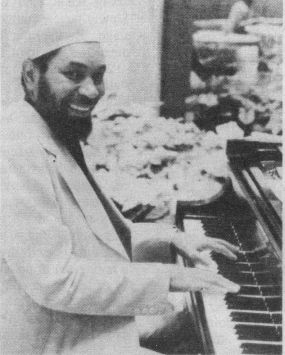 Rahn Burton
After moving there in 1967, Burton soon successfully recorded seven albums with the late respected reed player, Rahsaan Roland Kirk. His most recent recordings include Nostalgia in Times Square, with JEMEEL MOONDOC (on the Soul Note label) and Roland Kirk - Live in Paris, 1970 Volumes 1 and 2 (on the Esoldun-ina label). Downbeat Jazz Magazine gave their highest rating to his album Paradise Space Shuttle, featuring George Adams. This album is a testimony to the ability of Rahn Burton to swing and blend with some of the world's most renowned jazz musicians.
Beginning his Louisville visit with an appearance at the Rudyard Kipling on Friday, August 17, Rahn was assisted by some of Louisville's finest jazz musicians, including Willie Little on saxophone, Doug Woodson on guitar, Darryl Cotton on drums, and Andrew Smith on bass. From bebop to blues, from original tunes by Rahn to the torrential lines and involved harmonics used by saxophonist John Coltrane in the 1960s, the electricity between these musicians created a bond of emotion and involvement among the audience of varied racial and economic backgrounds present. Perhaps this kind of music, in all its cultural and ethnic permutations, has done as much to create an understanding and respect among all races as any other single force in the history of America.
During the pause between sets, a beautiful interpretation of poems by Langston Hughes, written by Tyrone Cotton, was performed on guitar by this Louisville composer. Langston Hughes became a champion spokesman for his fellow blacks during the dark days before the civil rights movement. The combination of folk music and blues used by Cotton lent a powerful sensitivity to the expression of feelings by this twentieth-century, black-American poet.
Although jazz has always had a respectable amount of followers in the United States, in the past several years there seems to be a resurgence of interest in this truly American musical idiom, coinciding with the interest of recent generations in other art mediums of the Art Deco period. Burton sees this as a positive sign that the people of the United States are putting jazz and blues in the category of "serious" music. He, in fact, refers to his music as "black classical." Frequently participating in jazz workshops, he stresses that anybody can learn to play and enjoy these syncopated rhythms and soulful sounds. However, the most important element, the expression of feelings, must come from within the performer.
Because Europeans have always had an appreciation of American jazz and blues, Rahn has often enjoyed success thee and continues to tour occasionally as part of the Austrian-based band, the Blue Brass Connection. From ragtime, New Orleans, and swing to bebop and contemporary avant garde, Rahn Burton continues to impress audiences in America and around the world. What does he want them to get from his performances? "I hope they leave feeling better."
Rahn's final appearance with the Axis band during his current Louisville stay will be Friday, August 31 and Saturday, September 1 at Luckett's Downstairs at Actor's, 316 W. Main (6-8 p.m. and 9-11 p.m., $6 advance, $7 at the door). Reservations may be made by calling (502) 582-2364.