Hammond & Lockwood: A Cross Generation of Blues
By Keith S. Clements, Secretary, KYANA Blues Society
The Lonesome Pine Specials always seem to include the blues in each of their series. This "historic" event of having both John Hammond and Robert Jr. Lockwood with his band together for the first time seemed a sure winner.
Both musicians have played the Lone­some Pine series before. John was here just last year in December and has played at Phoenix Hill. Robert was here in February 1989 as part of a program which included several other performers. Unfortunately at that show Robert per­formed only three numbers.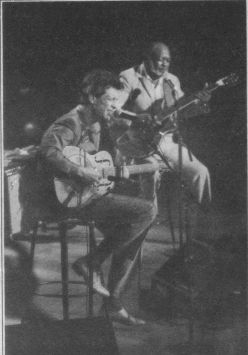 John Hammond, left, and Robert Jr.Lockwood. Photo by Richard Bram
I'll never forget the incredible show several years ago when Robert performed with both of the Schwartz brothers, Gene and Glen. It was a contrast of guitar styles with Glen, the born-again acid rocker from the days of Pacific Gas and Electric, driving his instrument and him­self to the limit and praising the Lord while Robert just sat and played his twelve-string. Gene still plays bass with Robert and has been with him for over twenty years.
Now let's talk about this July 27 show and what it could have been.
John came on first and did what he always does so well, which is playing the traditional Delta and transitional urban blues of Robert Johnson, Charley Pat­ton, Blind Boy Fuller and Arthur Crudup. He is a one-man show blowing on a rack-mounted harmonica, stomping his foot for rhythm, trading off playing two acoustical guitars including slide on a National steel guitar, plus singing his heart out. It is admirable that he is presenting this older music which is the roots of the American blues tradition.
Hammond got things off to a fast start with an impassioned version of "Drop Down Mama" and he closed his perfor­mance with a hard-driving song "Ride Till I Die." Overall, what Hammond's perfor­mance lacked was a strong rapport or dia­logue with the audience, but it was offset by his honest, fervent presentation of the blues. It seems Hammond's mission is to spread the sound of the classic country blues to as wide an audience as possible, using a no-nonsense approach.
Next Robert Jr. Lockwood and his blues band came on stage. The musicians included Maurice Reedus on tenor sax, Mark Hahn playing guitar, Rollin Clay­ton pounding drums, Wallace Coleman blowing harp and some vocals, and Gene Schwartz. Most of these very talented musicians in the band have been with Robert for a long time, so the band was polished and tight with a slick urban sound.
Robert just played back-up guitar until almost halfway through the set; then he finally started playing lead and singing. Lockwood did great renditions of "This Is the Blues," "Jelly Jelly" and "Every Day I Have the Blues," using his deep nasal-toned voiced to compliment his guitar work. I wished that Robert would have performed more during his set and even a few pieces with minimal back-up.
Robert plays a Guild twelve-string that creates a deep, rich melodic sound that is unique to the blues. His style has evolved dramatically from the first recordings he made in 1940 for RCA and when he per­formed with Sonny Boy Williamson II on the "King Biscuit Time" radio show. Robert now rejects the constraints of his earlier music as "old-fashioned bomp-de-bomp blues."
His current sound now mixes swing, jazz and blues, showing influences of Charley Christian and Eddie Durham. Lockwood along with Johnny Shines are the last of the living direct legacies of Robert Johnson, who was his step-father and first teacher. Lockwood now plays in a very contemporary idiom, while Ham­mond, a white performer from a later gen­eration, plays recreating the exact notes and cries of Johnson.
Following Lockwood's set came the big moment everyone was anticipating. John came out followed by Robert, and the two proceeded to play two Robert Johnson standards, "Terraplane Blues" and Ram­blin' Blues," with Hammond doing the vocals and lead guitar, and that was it.
This was a missed opportunity for both of them to do a whole set exchanging gui­tar licks and vocals. Maybe Hammond's solo style of performing and Lockwood's laid-back demeanor and distaste of the old blues was not the right chemistry for such a jam.
To satisfy my unfulfilled blues craving, I went later that evening to hear West Side Heat at the Cherokee Blues Club. They are a young, explosive electric blues band from Chicago, but that's another review.