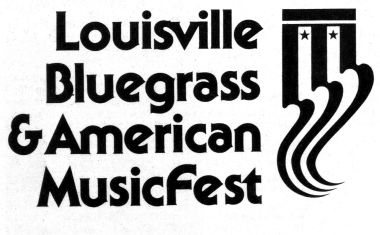 The homogenization of the Louisville Bluegrass and American MusicFest has been reflected in the changes, both official and unofficial, in its name. The original Louisville Bluegrass Festival became the Kentucky Fried Chicken Bluegrass Festival, then the Great Louisville Bluegrass and American MusicFest when the KFC money faded and now it has become the American MusicFest, at least as it was headlined on the cover of the Courier-Journal's Scene magazine in late August. On the street, it's just the MusicFest.
This extended transition merely reflects the long-term "McDonaldization" of American music, arts and culture. Local festivals across the country book the same, or similar acts, until "regional" events could now be moved en masse to any other part of the country without causing comment.
The Louisville festival has been the largest free festival of it's type, but like many others, has suffered a steady drop in the corporate and city funding necesssary to maintain it at earlier levels. Organizers have begun to consider staging the event as in a "controlled" environment and charging admission.
Until then, it's possible to enjoy a lot of excellent national talent for free. Thankfully, most of the acts are not radio fare, so it's still possible to "discover" hitherto unknown music and get an new appreciation of some familiar performers. Described as a "sampling of intriguing acts from across the U.S.," the MusicFest will run throughout Labor Day Weekend (August 31 September 1), presenting more than 70 hours of free music on three stages.
Popular artists scheduled to perform include steel percussionist Andy Narell, banjo wizard Bela Fleck and the Flecktones, Wayne Toups & Zydecajun, Tim and Mollie O'Brien, Randy Brecker, Marcia Ball, the hot, all cowgirl band Ranch Romance, jazz legend Buddy Guy and horn phenom Jon Faddis, who is being touted as the next Dizzy Gillespie.
Performances will be held on three stages, one of which will be located on the riverfront Belvedere park, with the other two on Main Street near the Kentucky Center for the Arts.
Festival hours are 6 p.m. to 11:30 on Friday evening, 1-11:30 p.m. Saturday and Sunday and 1-10 p.m. 'on Monday (Labor Day). The festival is produced by PRIDE! Events on behalf of a host of local sponsors.
For incoming guests and visitors, special travel packages have been assembled. Information on hospitality discounts and other festival details are available from the Louisville Convention and Visitors Bureau (local 582-3732; toll-free in Ky. 1-800-633- 3384; out-of-state 1-800-626-5646.)
Here's the schedule:
FRIDAY, AUGUST 31
Belvedere Stage:
(Rock/Cajun/Zydeco)
6 - 7:30 pm Another Mule
8 - 9:30 pm Terrance Simien & The Mallett Playboys
10 - 11:30 pm Wayne Toups & Zydecajun
SATURDAY, SEPTEMBER 1
Belvedere Stage: (Bluegrass)
1 - 1:45 New Tradition
2:05 – 2:50 Alan Munde & Country Gazette
3:10 – 3:55 Dry Branch Fire Squad
4:15 – 5:15 Berline, Crary, Hickman
5:45 - 6:45 New Tradition
7:15 – 8:15 Alan Munde & Country Gazette
8:45 – 9:45 Dry Branch Fire Squad
10:15 – 11:30 Berline, Crary, Hickman
Budweiser Stage (Main Street): (Jazz)
1:30 – 3:00 Bela Fleck & the Flecktones
3:40 – 5:10 Jon Faddis Quartet
5:50 – 7:20 Andy Narell Group
8:00 – 9:30 Randy Brecker
10:00 – 11:30 Hiram Bullock Band
SUNDAY, SEPTEMBER 2
Belvedere Stage: (Counuy/Folk/Bluegrass)
1:15 - 2:00 Bly Gap
2:30 -3:15 Robin & Linda Williams
3:45 -4:45 Tim & Mollie O'Brien
5:15 -6:15 Bly Gap
6:45 -7:45 Robin & Linda Williams
8:15 - 9:15 Killbilly
9:45 - 11:15 Tim O'Brien Band
Budweiser Stage (Main Street): (Country, Rgckabilly, Bluegrass)
1:00 - 1:45 Shady Grove
2:15 - 3:15 Killbilly
3:45 - 4:30 Ranch Romance
5:00 - 6:00 Shady Grove
6:30 - 8:00 Steve Ferguson & the Humanitarians
8:30 - 9:30 Ranch Romance
10:00 - 11:00 Joe Ely
MONDAY, SEPTEMBER 3
Belvedere Stage: (R&B/Rock/Blues)
1:00 - 1:45 Nighthawks w/Jimmy Hall
2:15 - 3:45 Lonnie Brooks
4:15 - 5:30 Big Shoulders
5:35 - 6:00 Salute to Labor
6:20 - 7:50 Mike Stern & Bob Berg Band
8:30 – 10:00 Marcia Ball
Budweiser Stage (Main Street): (Blues/Rock)
1:30 - 3:00 Omar & the Howlers
3:30 - 5:00 Buddy Guy
5:30 - 6:30 Nighthawks /Jimmy Hall
7:00 - 8:30 Robeen Ford
Salute to Labor Stage: (R&B/Jazz)
12:15 - 1:00 Dr. Don & Love Dogs
1:45 – 2:15 Dr. Don & Love Dogs
3:45 - 4:15 Axis
5:50 - 6:20 da Mudcats
7:50 – 8:30 Dr. Don & Love Dogs