Meet Albert-George Schram.
By Henry Mayer
"There's more to music than simply notes printed on sheets of paper. It's the conductor's responsibility to communicate the spirit of the music. If one fails to re-create this, he or she is in trouble."
The speaker is our orchestra's new resident conductor, Albert-George Schram.
"I was brought up on the Salvation Army Brass Band in The Hague," Schram told Louisville Music News. "My first experience was with the tuba, but I soon was getting opportunities to learn all the other instruments. I also went to music school and the conservatories both in The Hague and Amsterdam. I was exposed to basic theory and harmony."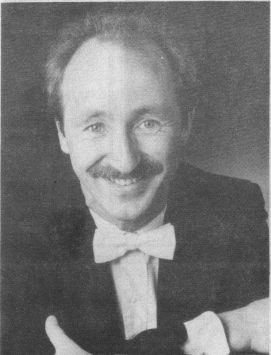 Albert-George Schram
"But at eighteen, I wanted to discover the world, so I came by myself to Canada, going to Calgary in Alberta, where one of my five sisters lived with her husband. I had a number of jobs unrelated to music but that led me back to school at the local high school at the age of twenty-one and then to the University of Calgary. At that time, my part time job was on a chicken farm."
After graduation, Schram's first professional musical experience was in show business.
"I directed a twenty-three piece ensemble called Stratus-Faction. We had a Las Vegas-style show group, with dancers, singers and a ten-piece band. For two years, we toured Canada and the U.S., playing at Las Vegas, Lake Tahoe, L.A. and also on national TV."
"I realized I needed more musical training, so I entered the University of Victoria where one of my teachers was a very good conductor, and he infected me with the bug." Schram later received a doctorate from the University of Washington and also studied under such conductors as Rafael Kubelik and Neemo Jarve.
What does it take to be a conductor? Why do you like it?
"You need to know the instruments. Piano skills will help you read the score. You learn how the piece fits together -- you get a sense of the whole. In a word, you dissect the piece."
"Music is a spiritual art. It aims at the soul, the heart and the brain as well as the gut; too much of either is not good. You have to master the inner soul of the music. That means you spend much time studying the scores."
Why should people go to a symphony concert?
"It's healthier to be open to more than one art form. This kind of music has something to say. After all, some of humanity's greatest minds have written it. Come to it with an open heart and mind."
"One way to do so is to try one of our NightLight concerts. The pieces we have selected have had an immediate appeal for many people over the years. Here's a sample: there will be music by George Gershwin, who I consider one of America's greatest composers; there is that lively number, 'Country Garden,' by Australia's Percy Granger; there are spirited numbers including the waltz from the younger Johann Straus' light opera, 'Die Fledermaus' (The Bat); Benjamin Britten's enticing arrangement of an earlier idea by Henry Purcell, 'Young People's Guide to the Orchestra'; some colorful contemporary Mexican music. And, oh, yes, we will take musical trips to Spain through the magic of Chabrier and Debussy and revel in the joyful, holiday-celebrating spirit of Wagner's 'Die Meistersinger.'"
Schram's selection climaxed a two-year search involving fifteen candidates recommended to the Orchestra and a fifty percent vote of confidence and acceptance by the local orchestra members. He has been at Columbus, Ohio, for eleven years, where he also directed three youth orchestras.
A local orchestra spokesperson told LMN, "Schram also will direct our young people's education program (for pre-adolescents), which will feature ten concerts yearly."
In an interview with William Mootz of Louisville's Courier-Journal, Schram expressed enthusiasm for the Louisville Orchestra's role in presenting new music, as well as admiration for Music Director Lawrence Leighton Smith, "both as a wonderful artist and a nice human being."
Schram, 41, is married to Deborah Mercer-Schram. They have two children, three-year-old Natalie and son Galen, who arrived in July.
"My family is my hobby," Schram noted. Due to existing contractual responsibilities, the Schram family may not move here for another year.