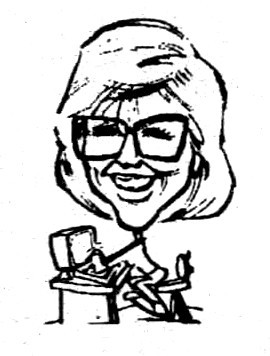 Newsical Notes

>

Claude Wayne will be appearing with Mini Minnie (and other characters) at Harrah's in Atlantic City, N.J., beginning on September 14 and continuing through December 22. (Yes, that's right, Harrah's!) He'll be doing impressions, original songs and other material. We sure are happy for Claude. Wouldn't it be fun to fly up and catch his act one evening?

There are other exciting things in the works for Claude on the West Coast and other places ... but we'll let him have the pleasure of being the one to tell you about them.

Oh, yes, Claude did his tribute to Loretta Lynn (using the voice of Gregory Peck, a favorite of Loretta's) on the stage at the Little Nashville Opry House on Saturday evening, August 18. (Yawn, another uneventful day in the life of Claude Wayne.)

North of Nashville (LASCers Becky Bennett and Kelly Wilkinson and others) competed in the local Marlboro talent contest at the Do Drop Inn early in August. They didn't quite make it to the finals but we are proud that they were in the running.

North of Nashville has been accepted as a contestant in the August 31 Everly Brothers Talent Contest in the famous duo's hometown of Central City, Ky. Becky and Kelly competed last year as a duo and came in third. (LASCer Debbie Tuggle won the contest.) Good luck, NON!

C. Lynn Riffle, performing with Robert Morris and the Lonely Roads Band, advanced to the local finals of the Marlboro contest at the Desert Rose Lounge on August 16. They won first place -- $7,500! They'll compete in the finals in Nashville in December, and a chance at $30,000 and other prizes. Good luck to you!

And to think that when I ran into Robbie (an old friend from early NSAI days) at the WAMZ July 13 birthday party, he was looking for a female vocalist. That must have been some intensive rehearsing. Understand Lynn did an original number for the contest. Congratulations, Lynn and all the rest!

Diana Black, our reliable secretary, attended Billy Edd Wheeler's Great Smokies Songchase in Swannanoa, N.C., August 7-12. She reported that she had a fine time. Although several other LASC members had made early plans to attend the camp, circumstances intervened. One of our North Carolina members, Donna Beck Michael, was there, however, helping out with the administration of the camp.

Papa Gene Adams is getting airplay of his two songs "Love On the Line" and "A Ship Soon to Sail" by a couple of stations in the area. WNKY in Neon, Ky. has aired "Ship" and WTCW in Whitesburg, Ky. has played both tunes. There have been other stations and more will probably be added. Good luck, Papa Gene, those are good tunes, and the demos (by New Horizon) aren't bad, either.

After performing two days at the Kentucky State Fair for the Kentucky Department of Travel/Tourism in the "Hometown Kentucky" area park gazebo, Debbie Tuggle flew to Minneapolis, Minn. to represent Kentucky at the National Guard's annual conference. While there, Debbie performed "I Am Home In My Kentucky" for the opening ceremonies, and was featured at other events during the week.

On September 8 Debbie will be doing a benefit concert for the Valley Women's Club at JCC Southwest. "Their scholarship program helped get me into college," Debbie said.

Special thanks to Becky Bennett (who brought along Hickory Vaught and Kenny White), Pen Bogert, Scott Furlong and Larry Standiford for representing LASC on the songwriter stage at Kentucky Music Weekend. Kelly Wilkinson was scheduled to perform but had to cancel because of illness.

Sorry I had to miss the performance. I've had the pleasure of attending all the past KMW's that the co-op has participated in. But on Sunday, July 29, your president and I were frantically putting the finishing touches on a newspaper we're closely associated with. Prez Paul was scheduled to perform, but the newspaper had to come first. Deadlines -- another hazard of newspapering.

"The Proof's Here In My Hand," a Walls & Reid original, is the title cut on a new eight-song cassette album just released by Larry Rollins. Larry, who joined the LASC just after the cut-off time for appearing in Diana Black's "Welcome, New Members" column, is the lead singer at the Little Nashville (Ind.) Opry House. More about Larry next month.

Congratulations to Larry and to Charlie Walls and Sammy Reid. That's getting those songs out there!