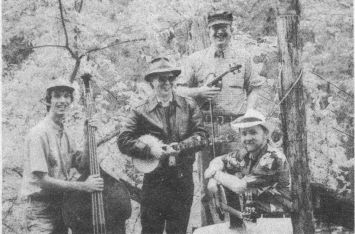 The Bald Knob String Band
The Bald Knob String Band
Cassette
By Paul Moffett
Bald Knob, Ky., is a real place, at least according to the liner notes. Don't let that little piece of reality stand in the way of enjoying a visit to the Bald Knob of this album.
The Frankfort, Ky.-based Bald Knob String Band has succeeded in creating a place as real as Garrison Keillor's Lake Wobegone or Faulkner's Yoknapatawpha County. A spot where the residents worry equally about avoiding the dreaded blue mold and paying off an excessive MasterCard bill, Bald Knob is immediately recognizable as the next town down your highway or the place where your parents grew up.
On top of that, the album is fun and funny.
Most of the tunes were written by the members of the band. The line-up of Bald Knob is John Wilson, banjo and mandolin; Stephen Porter, fiddle and guitar; Ray Bowman, guitar; and Ben Griffith, acoustic bass. The album was recorded at Falk Recording Service in Louisville; David Blythe, engineer.
The opening tune, "Mail Order Catalogs," details the consequences of unchecked desire on the budget, as the new-to-the-country-life main character indulges himself in his rural fantasies, only to find all the catalog "goodies" progress from being "wants" to being junk when the bills come due. The tune also has the first of many singable choruses:
I want me a rear-tine tiller,
And I want a big-wheel cart.
I want a genuine wood-burning stove, made up in Vermont.
I want some solar panels and a wedge to split my logs
And all that other stuff I see in those mail order catalogs.
"Blue Mold" is a song about a tobacco disease that wipes out a crop, leaving the poor farmer with nothing to eat and no money for food. Even while wondering how it is possible to write a tune about a plant disease, the listener will find him/herself humming along on the chorus.
The single life of socks is explored in "Socks Without Partners." The tune, which has a jazzy mid-Thirties swing feel, is a big shift from the string band sound of the first two songs and is a clue that this group is more than just another hot string band.
The next tune is a pragmatist's answer to eco-purism. In "Propane," the refugee from the city decides that a pilot light and flame is not such a bad idea: "I'm tired of cutting wood, gonna heat my house with propane."
"The River Knows" has some of the most lyrical musical phrases in this collection of tunes. It also includes a word that I had never heard: "riparian," to rhyme with "agrarian." Riparian means one who lives on a riverbank.
"Trout Truck's A'Comin'" is a favorite among followers of BKSB and contains the wonderful line "We use Federal cheese just to catch the state's trout." Sung with a melody and feel reminiscent of "Shrimp Boat's A'Comin'," the tune describes what some folks will do to survive when they are down on their luck.
The "A" side ends with "Fish Fry," an ethnocentric plea to the Japanese to learn how to cook fish.
The "B" side opens with a wonderful four-part hymn, "Agrarian Dream." Basses and baritones will have a wonderful time riding in their car, adding the bottom part to this melody. I kept wishing for Richard Sterban (bass singer for the Oak Ridge Boys) to join in.
"On the Beach" has the feel of a Dan Hicks and His Hot Licks number and is the only (actual) love song on the album. It's followed by a very curious, pleasant instrumental called "Plantxy: The Reminder," written by non-band member David Crandall.
"Hill Farm," written by non-Bald Knobber Larry Kelly, has yet another of the join-in choruses that are in such abundance on this album:
I've got land in the Bluegrass,
I've got land in Indiana
I've land all along the Mississippi river and down to Louisiana.
If I'd been a little bit smarter,
things would've never turned out this way,
but I plowed too deep,
on a hill too steep
and the whole dern farm washed away.
Coping with natural disasters is a regular part of a farmer's job and tobacco farmers have it different. "Strippin' in the Flood" describes a family trying to save their tobacco from rapidly rising water.
Just for a change of pace, the group throws in a piece called "Senorita Montar." There are almost no words and the thing jumps back and forth between an up-tempo four/four polka and a three/four Mexican-flavored waltz. The lyrics are: "Yah, yah, yah, yah." Most curious.
"John Hamilton" is a Frankfort real estate agent who sells farms in Bald Knob, where creative advertising is the name of the game.
The album concludes with what the band calls "The Executive Summary" and which has the title of "The Bald Knob Blues." Referring to all the songs on the album, the tune finds the country convert giving up and moving back to the city.
The album is a short, pleasant trip to Bald Knob, full of laughter and "in" jokes that don't come across as insulting or exclusionary. This band ought to be booked on every "Genuine Real Folk Music Radio Show," as they are as regionally ethnic as the Neville Brothers and as authentic as Ladysmith Black Mambazo. Even though some in the band are, in "real life," bureaucrats, I don't hold that against them. They have transcended that mundane world and invented this mythical place of Bald Knob.
I recommend that you make an effort to visit as soon as possible.
The cassette is available by mail from:
Modern Minstrel Productions
337 Strathmore Dr.
Frankfort, KY 40601