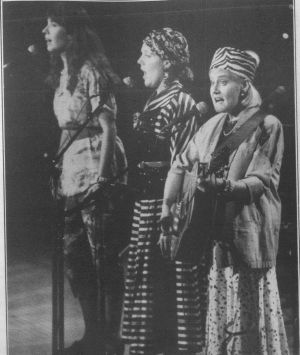 The Chenille Sisters: From left to right, they are Cheryl Dawdy, Grace Morand and Connie Huber.
They aren't really sisters, but "sisters of song." Described as kind of folksy, jazzy and '40s nostalgic," The Chenille Sisters are said to be "at home" headlining at The Soup Kitchen, opening for Andy Williams or Phyllis Diller and touring with the Ann Arbor (Mich.) Symphony. They're funny performers as well as talented singers.
The trio entertained at the Kentucky Center for the Arts on Thursday, August 2, appearing with the extraordinarily exciting "James Dapogny's Chicago Jazz Band" as part of the Lonesome Pine Specials Summer Festival 1990 at the Kentucky Center for the Arts.
Photo by Richard Bram