Dishman and Ballard
By Bob Bahr
Some artists say, Give the people what they want." Others will swear that "you have to follow your vision, do your own thing, no matter what. Who is to say which is right and which is wrong? For now, the duo of Dishman and Ballard seem to be falling into the first camp, they seem to be saying that priority one is pleasing the audience,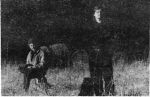 Dishmand & Ballard
A recent Friday night's performance at Phoenix Hill's Taproom found them in the Land of Popular Cover Songs, capably delivering covers of chestnuts such as "Me and Julio Down by the Schoolyard," "Amie," "Green River, "Brown-Eyed Girl," "Sister Golden and "Why Don't We Get Drunk and Screw."
The wild Phoenix Hill crowd was appreciative, acting as accurate measures of the songs current or past popularity, more dependable than a "Billboard" chart. Don McLean s "American Pie," surely the scourge of acoustic players, the Freebird of folkies, nearly brought the house down. The audience heartily supplied the vocals for one familiar verse and Dishman and Ballard must have felt like kings,
But personally, I find the title Kings of Covers almost a non-title I yearned, I ACHED, for Dishman and Ballard to play originals, A promising reputation piqued my interest, but they really didn't deliver. finally, around 1 15 a.m. the duo almost sheepishly delved into "Don't Reel Me In," an original they wrote while living and working in California. The promising endeavor benefitted from personal, confessional lyrics and harmonizing by Ballard. The song fit the tone of the rest of their cover-ridden set and was graciously applauded. And that was it.
The two youngish musicians divided up the duties by giving Jim Dishman lead vocal and rhythm guitar responsibilities and Mike Ballard handling back up singing and lead guitar chores. The duo sang in unison often, which made for a big sound but provided little to chew on musically. Ditto for acoustic guitar strumming, although Bal1ard's occasional solo turns added a touch of variety.
Dishman's sometimes heavy vibrato voice is clear and strong, hovering mostly in Tracy Chapman's register. The acoustic nature of the pair gave earthy, poignant depth to the Rolling Stone's weary "Brown Sugar," convincing me that the song was initially conceived and worked acoustically by the Stones. A spirited take on Garth Brooks' recent country smash, "Friends in Low Places" packed the place at a high point in the almost violent ebb and flow of people through the Taproom.
Ballard picked up the electric guitar for a while, enlivening Lynyrd Skynyrd's "Gimme Three Steps" a bit, but sparks never flew. Dishman and Ballard played many of my favorite songs, but revealed very little new about themselves or the tunes. Their impressive professionalism will, however, have me seeking them out again when they work out a complete set of originals for Louisville audiences. I regretfully missed most of their first set due to other obligations. If it had more original songs from Dishman and Ballard in it than the sets that I saw, then I'm the one who made the biggest mistake of the evening.