March Songwriter Showcase
By Michael Layman
March came in like a lion and the March Showcase come roaring in with five songwriters.
The evening began with the pop-folk sound of Debbi Graf (guitar/vocals) and Steve May (violin). Their first song was a beautiful ballad called "Helpless Child." The music was tender and haunting and Debbi sang with a strong, clear voice. They picked up the beat with their next song "Not Really There." Debbi and Steve create a unique sound and are both extremely talented musicians, with something to say. They say it very well. Debbi has traveled extensively and most of her songs are about the places and faces she's come to know.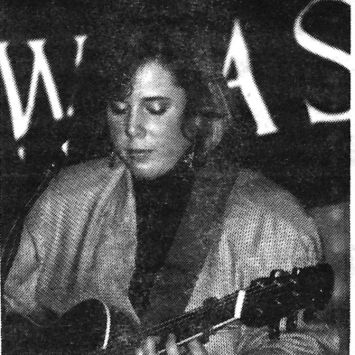 Debbie Graf.Photo by Jean Metcalfe
Next up. the harmonic voices of Bill Gee and Martha Pillow. Both are Monday-night open stage regulars, but this was their first Showcase. They began their first set with a country-folk original "lf You're Gonna Leave Me, Leave Me Now." Both Bill and Martha are accomplished guitarists. and Bill also blows a wonderful harmonica.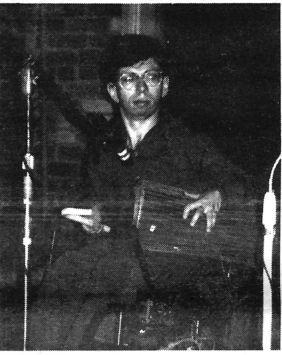 Fred Otto. Photo by Jean Metcalfe
They next did their version of a Paul Moffett (that's right, the LASC Prez) song called "Ticket On the Wind." They finished up the first set with Bill's favorite original, "Nor Do I."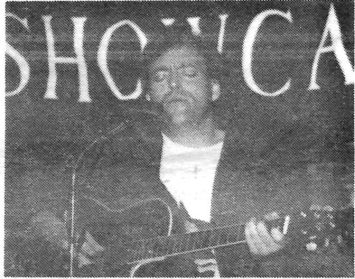 Scott Furlong. Photo by Jean Metcalfe
The third performer was Larry Standiford. If you had closed your eyes you would have sworn it was John Cougar Mellencamp. Larry showed he can rock the bricks off the wall or put a tear in your eye with his country-rock musical style. Larry was the only solo performer of the night, but you could hear the percussion section in his tunes. He began his set with his original "Remember Who We Are," and then did his favorite original, "Where Do Daddies Go?," a song about divorce as seen through a child's eyes. At the audience's insistence, he ended his first set with the JCM tune "Ain't That America."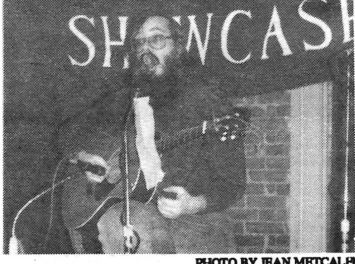 Bob Maples. Photo by Jean Metcalfe
Next up, the Hurry Chopin-like sounds of Scott Furlong. Scott plays a melodic guitar with a voice that matches. He began his set with two cover tunes and then broke into his original tunes, "Pony Man" (What'd you expect from a man named Furlong!). "The Border Song," "Those Three Words," and his favorite, "Moonlight Dances" off his tape by the same name. By the way, the tape is available at various outlets around town or from Scott himself and it deserves a listen. Scott was joined on various tunes by Fred Otto (flute), Robbie Herman (guitar) and Kelly Wilkinson (vocals).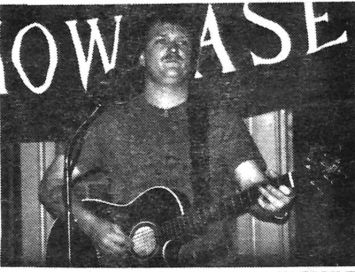 Larry Standiford. Photo by Jean Metcalfe
Last, but certainly not least, the unpredictable group Exploring the Cone, led by Bob Maples (guitar and vocals), Fred Otto (squeeze box and a thousand other tiny instruments), a very talented pianist, R. Smithington and Mike Durham, sound leader. The group writes message lyrics with an unusual musical style. if you're looking for alternative music, this is the band. They performed all originals, including the group's favorite, 'The Rain Song."
Each of the evening's participants came back for a short second set. The Showcase is not only a great opportunity for songwriters, but also for singers or groups looking for "fresh original material." Check out the Showcase. It's the first Saturday of each month at The Rudyard Kipling Restaurant. If you can't make the show. call the LASC; you might find that tune you've been waitin' for!