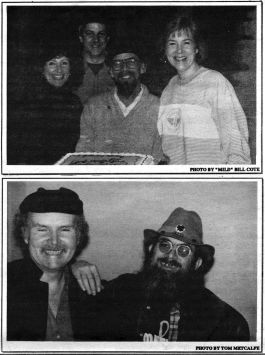 HAPPY ANNIVERSARY, TWICE!
The officers of the Louisville Area Songwriters' Cooperative, top photo, proudly displayed a birthday cake bearing the organization's logo and the inscription, "5 Years and Writing." From left to right, the officers are Diana Black, Secretary; Pen Bogert, Treasurer; Paul Moffett, President; and Jean Metcalfe, Vice President. Moffett and Metcalfe are charter members and co-founders of the LASC, which marked its fifth year on March 19. The anniversary photo was taken at the March 18 membership meeting at The Rudyard Kipling Restaurant by "Mild Bill" Cote.
Legendary folkie Tom Paxton, at left in the bottom photo, was on hand for a special March I5 concert to help observe the seventh anniversary of Louisville Homefront Performances. Dallas Embry, at right, a Homefront board member, is responsible for bringing Paxton to Spalding Auditorium for his first Louisville appearance. LHP also brought The Dillards to town, on March 9, as part of their anniversary-month celebration.
The photo of the weary twosome was taken by Tom Metcalfe following Paxton's performance.