Second Thoughts
'Tis A Glorious Thing to See A Pirate fling!
"A huge popular success! That's Thomson Smillie telling Louisville Music News of his enthusiasm for our community's support for KOA's production of "Pirates of Penzance" – the Gilbert and Sullivan opera which Americans saw before the people in England.
We then asked Thomson, now is his tenth year as our local impresario, "One could argue that 'Pirates' seems so English and Victorian; how does it remain so popular?" Thomson's smile grew bigger.
"There are several reasons. One is the continuing human need to laugh at our foibles such as pomposity and stale conventions. We all have met military officers like General Stanley who seem more in their element in the drawing room and the club than the battlefield. Simple misunderstandings can lead to unexpected outcomes. At the very beginning of this opera, the governess, Ruth, explains that she was supposed to take Frederick as a child so he could become an apprentice to a pilot. For some reason, she thought they said 'pirate.' And if you saw how frequently people thoroughly enjoyed the jokes in this production, you would realize how timeless Gilbert's cleverly written lyrics really are. And who has written such fresh, inventive and joyous melodies as Arthur Sullivan?"
Once again, Thomson has put together a winning team, including the resourceful director, Mark Phillips, and the lighting wizard, Jim Gage. Other factors added to this success. In 1980, Joseph Papp re-orchestrated the score with a 20th-century ensemble of synthesizers, electric guitars, brass and winds which made for a production both lively and vigorous.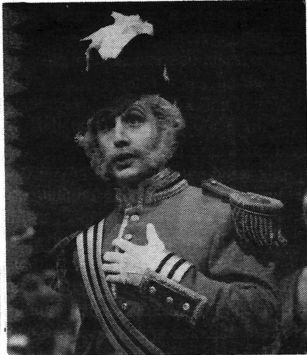 Michael Sokel as Major General Stanley. Photo by Patrick L. Pfister
Then, in what can only be described as a masterstroke, KOA retained William MeNulty, an expert in dialogue, who, in Thomson's words, "helped steer us through the perils of recreating authentic Victorian social distinctions through accented dialogue."
In no place did McNulty's expertise show to better advantage than in Michael Sokol's impressive and spirited rendering of the song, "I'm the Model of A Very Modern Major General." This is the kind of solo at once both humorous and extraordinarily demanding so that a slip-up on two or three syllables can mean the difference between success and failure.
Interestingly enough, one of the production's angels was Dillman Rash, himself a real major general. Another masterstroke was the inclusion of a few lines of local references in this song and that brought down the house.
Sokol was not the only singer whose performance was remarkable, if not brilliant. John Davies was "jolly good" as the Police Sergeant whose talent was a many-splendored one. Thus, he was thoroughly believable when he told us that "a policeman's lot is not a happy one." For a moment, this writer thought he was back at 10 Downing Street, watching the London police in action. Davies weds body language to a beautiful voice, making simply watching and listening to him sheer delight. Conductor Bob Bernhardt, a Gilbert and Sullivan specialist, led the orchestra with a knowledgeable and athletic vigor and musicianship. He thoroughly enjoyed what he was doing and obviously wanted us to do the same.
And one could go on and on.
Louisville Music News conversation with Thomson was revealing in other ways, so we will share some of the information he imparted to us.
"I begin a production by building a team with the conductor, director and designer and, in many ways, the director is the most important. I take special delight in discovering young singers and among those I'm proud of I would mention Edith Davis, Marilyn Mims and Roger Rohloff."
What does it cost to stage an opera?
Thomson smiled. "The cost of 'Barber of Seville' or 'Pirates' could be $220,000, though only one act, 'Salome' around $330,000, 'Aida' maybe $380,000 while a Wagnerian 'biggie' such as 'The Valkyrie' or 'Tristan and Isolde' might be $550,000. The reasons for the differences can include the talents of the singers, more rehearsals and now our top salary for a performance is $7,000."
"The competition for talent is intense. When Moritz Bomhard raised our first curtain in 1951, we were the twelfth opera company in this country. Today, there are 113. Though today Louisville is the 53rd city in the U.S. in population, we are 24th among the nation's opera companies in budgeting. I suggest that says a lot about the support we are getting and that people appreciate our performances, especially with the traditional favorites."
The angels for 'Pirates' besides General Rash, include Capital Holding and South Central Bell.
1A final word from Thomson: "We already have our schedule lined up through 1994 and hope to have a biggie for the 1994-1995 season."