The Hammerheads
By Bob Bahr
What's in a label?
Labels occupy the minds of bands. The third definition of the word label in the dictionary gives musical groups the willies: "a convenient generalized classification," according to Webster's. Many bands don't like their music labeled or categorized. Conversely, they show considerable interest in definition five: "an identifying brand of a company, as of a phonograph recording company." Most bands wish to get the label of a large recording company (with a business philosophy that fits their style) on their albums.
The Hammerheads have labels on their mind. The band has the interest of the record labels. They just need the right song to get them a record deal and break them wide open. Their live show demonstrates the hunger and drive of an up-and-coming band looking for that coveted record contract. At a recent show at Snagilwet Tavern, I got the chance to hear some of the Hammerheads' danceable, grinding funk originals and to talk to the band about their plans.
"Really, the labels know who we are," said Hammerheads guitarist Greg Foresman. "We're not really shopping the labels anymore. They're kinda just watching for our development."
"Yeah, I think we're past the shopping stage and they're just waiting for more tunes," agreed vocalist Jimi V (Vallandlngham). "Now we just send them tapes of more tunes even if it's just a rough mix of a practice."
The Hammerheads have two band members living in Louisville and two living in Nashville and their popularity is highest in Bloomington, Ind., which puts their base of operations "somewhere on I65," as their Louisville agent Elaine Ford quipped,
That stretch of interstate certainly isn't a stranger to the Hammerheads, as they hit the road preaching the gospel of their own particular brand of music. That brand of music defies labeling, which has caused the band considerable grief.
"We aren't categorizing our music anymore, because every time we do, we read it back and we sound like a-h–s," said Greg. After some discussion the band decided that their sound is a cross between garage funksters Royal Crescent Mob and funk rockers Faith No More, with a dose of "Presence"-era Led Zeppelin. But even the funk label must be qualified before the Hammerheads will accept it.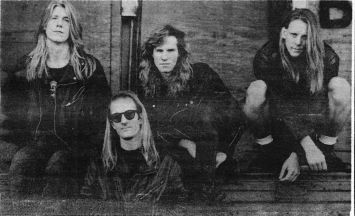 The Hammerheads. Photo by Nat Grauman
"I think our funk is a lot different from other people's funk, because it's more bluesy," explains Jimi. "It's obvious that Royal Crescent Mob is a James Brown funk band, that they're heavy into James Brown. And Faith No More's funk is almost thrash and there's a lot more rap involved. I think we all love the blues and we all love to groove too, man. So what's the greatest combination? Blues and funk."
The blues feel comes from Foresman's guitar and Jimi V's emotive vocals, lightly flavoring most of the Hammerheads' funk songs. It's even apparent in the cover songs they choose to sing. But once a show, the quartet delves deeply into the blues and plays "The House Song," a slow blues from the Zeppelin cloth. Heartfelt vocal belting a la Robert Plant pushes the song, with mounting guitar pyrotechnics gripping the listener from the heart, head and feet.
"It's probably my favorite song to do," said Jimi. "Every time I get finished singing the song, I'm like, whew!" Greg interjected, "We like to keep our show up. We like to keep people dancing, so we only pull a song like that out every once in a while."
"And that's why that song makes me feel that way, because we play all those other songs that are all up and everything," answered Jimi. "But then this is the song I look forward to, because you can sing from the heart. I probably use every ounce of energy I have singing that song, which [looks at Greg] you do too, because there's a mean guitar solo in it."
"It's just a traditional blues song about people falling in and out of love," responded Greg. "There's definitely a Led Zeppelin influence in that song."
"The House Song" is an excellent vehicle for Greg's considerable talent at the six-string, enabling him to stretch beyond the tight funk strumming that is demanded for much of the Hammerheads sets. His head back, Greg falls intensely into his solo, as if he were exercising a personal demon with his tool of choice, the Les Paul.
While not posing like a guitar god or playing impressive licks interminably, Foresman's solos indeed make an impression. Without a doubt, many listeners left Snagilwet Tavern talking about the hot guitarist on stage that night. Filling out the sound with tight rhythms and seething guitar embellishments, Foresman's work stands out even when he isn't taking a solo turn. But when he is soloing, look out. Greg's introspection during his solos is a point of considerable ribbing in the band.
"I think if you timed his solos all night, if you put all his solos together, it would be over an hour," Matt Thompson teased.
"I do get lost," admitted Greg. "I think when you take a solo, it should be like singing. It's not about getting up there and playing all your licks. And it's not something that you should think about, while you're doing it. You should bypass your brain and go straight from your heart to your fingers," he said.
Greg got a chance to show his command of the rock catalog with Edge-like guitar work on the original "I Run to Her," and on the covers that the band did on this particular night. The Hammerheads' treatment of other people's nines revealed much about the band's outlook and unity.
Bassist Eric Kephart took over vocal duties for a convincing and danceable version of Jethro Tull's "Locomotive Breath." The Red Hot Chill Peppers' "Green Heaven" sped by like a funky Porsche on the Autobahn. Demonstrating another side of their music, the Hammerheads rocked out on Stevie Ray Vaughan's "Little Sister," adding Texas blues to the mix. Domani's bass player, Sammy Anderson, fronted the band for a soulful rendering of Jimi Hendrix's "Little Wing."
The Hammerheads' encore consisted of songs from their two biggest influences James Brown -and Led Zeppelin. Greg's playing on "I Feel Good" was much busier than Brown would have ever allowed in his band and the result was a fuller sound, looser in feel but tight as ever on the breaks. Zep's "Fool in the Rain" whipped the crowd into a frenzy, climaxed by the free-form third-world jam in the middle. While Jimi dismissed the warm reception of "Fool in the Rain" to the fact that few bands cover the tune, it was evident that the Hammerheads were on to something that most Zeppelin cover bands miss.
The band said that they choose covers that they feel they can bring something to. Despite the success of their cover versions, Jimi said they are trying to get away from doing covers.
And with good reason. Their originals can stand alone. From the irrepressible "Pride and Joy,"to the beguiling "Lovely to See You," which has enjoyed success on Nashville alternative radio, the Hammerheads have begun to chart their course as artists with something to say. Their groove-oriented songs seem to take James Brown a step further, with a nod to the new funk movement. Here and there, Jimi's harmonica introduces an element shared with the more eccentric R .C. Mob. Their hard guitar edge is more in line with bands like Fishbone and Living Colour. More straightforward rock songs dot their sets, betraying the Hammerheads' Midwest roots. The funky "Soul Connection" marks the band's entrance into the sticky terrain of political music.
"It's about racism in America, which sucks," stated Greg. The band dedicated the song to Sammy Anderson, their friend in Domani.
"He [Sammy] faces that all the time," explained Matt. "He was telling me about it tonight."
The Hammerheads are about dancing and having a good time, but they don't shrink from tackling political issues.
"We write about anything that inspires us," Greg said. "We write about political stuff and we write stupid love songs. We don't feel like we have to limit ourselves in what we write about. If something inspires us, or p––s us off enough that we want to write about it, then we're not going to say, 'Oh man, we can't do this song, because it's too political,' or 'We can't do this song, because it's about my girlfriend.' We do everything."
"But even our political songs ... to me just because a song is political doesn't mean you have to be all serious and everything," Matt added. "You can still dance to it."
Dancing is made easy at Hammerheads shows by the tight rhythm section of drummer Matt Thompson and bassist Eric Kephart. Kephart seems to fully understand the idea behind a funk groove and, equally important, how to add depth and interest to a rock song at the bottom end.
Thompson is teasingly called "Johnny Thunder" by his bandmates, a moniker earned through booming, big-sound drumming. Who is his biggest influence? With conviction, Matt answered with one name.
"Bonham." Matt said with finality. "John Bonham is god on drums. If God came down and said; 'Okay, I'll make you look like John Bonham. You have to look like him, fat and ugly, but you also get to play like him,' I'd say 'okay, make me fat and ugly.' Even though I'm skinny and ugly," Thompson joked. Matt's cymbals are set high on his set, higher than his head by a good four or five inches. What gives? As a drummer, I don't have to reach as high up," said Matt. "As far as the cymbals, the higher up they are, the further in they can go. And you don't even have to hardly move to hit them. It doesn't affect the sound. Actually, it just helps the drummer," he said.
"You know I just noticed, you did raise those babies up," commented Jimi. "It looks cool though."
Looking cool comes easy to Jimi and the rest of the Hammerheads. Jimi fronts the band with considerable style and a dynamic presence, without lots of gymnastics and showy moves. His long straight blond hair matches the rest of the band's blond look. He's got the look, but Jimi's natural, honest actions on stage are definitely secondary to his voice.
Jimi V has a good rock 'n' roll voice and an even better funk voice. His solid, forceful sound brings to mind John Mellencamp and The Black Crowes' Chris Robinson – if they were to sing funk, that is. Jimi said most of his favorite singers are women, but he quotes Otis Redding, James Brown and Robert Plant as influences too. But "Corey Glover (from Living Colour) is my all-time favorite singer," said Jimi.
The Hammerheads have already had a taste of life in the big show. After being booked as a local act for FarmAid IV last summer, the band caught the fancy of Mr. Indiana himself, John Cougar Mellencamp. Mellencamp was putting together a soundtrack for his film "Souvenirs," and he asked the Hammerheads to play one of his tunes for the film. The Heads came away from the affair impressed.
"I learned a lot from him," said Greg.
"How to not waste time in the studio.. .."
"You know what I learned from John?" Matt interrupted. "Never stop on a take. Just keep playing. He's a great guy to work with. A really great guy," Matt enthused.
In addition to those days in the sun, the Hammerheads recently played a show at New York's CBGB and the band opened up for the Black Crowes at a February 25 show at IU's auditorium.
So the traveling funk show continues, with the Hammerheads delivering their scalding blues-funk gospel throughout the Midwest and South.
Hammering out new songs and honing further their sound, the Hammerheads are getting ready to break big with a record deal.
"They (the record companies) all want us," Greg said. "They just don't know it yet," he laughed.
"It won't be 1ong," said Matt. "No way."