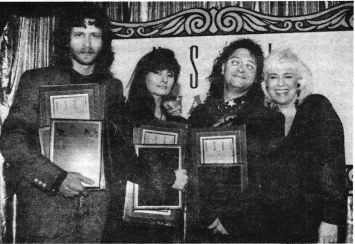 L to R. Jon Vezner, Janice Gill, Don Henry, Pat Huber Phoot by Alan L. Mayor
Well, gang, these are busy times in Music City. The following is just a brief account of the more prominent events I've attended in the past couple of weeks.
First there's the annual Country Music Radio Seminar (March 6-9). Besides the reception and workshops that went on all weekend, there was the Canadian Country Music Association's Luncheon and Show. Three of Canada's hottest country acts were showcased, performing three songs each:
Patricia Conroy, a spunky and attractive Vancouver, B.C., singer, who won 1990's British Columbia Female Vocalist award in country, gave an impressive set backed by her tight country-rocking band.
Next was Anita Parez, a more seasoned and more traditional country singer who dedicated the classic Hank Cochran song "I Fall to Pieces" to all the Canadian programmers, thanking them for their support over the past few years.
The show ended with my old buddies The Good Brothers, who I toured with a few years back. These down-to-earth veterans of the road made a three-song set seem more like a segment from a real concert, due to their great showmanship and connection with an audience. Winners of about eight Juno Awards (Canada's equivalent to our Grammy Awards), The Goods performed a Bruce Good original called "Inquiring Minds Want to Know." This tongue-in-cheek poke at the ridiculous claims made by tabloid papers stole the show and left smiles on all faces.
Speaking of faces, the next highlight of the weekend was the "New Faces Show," held in the huge Presidential Ballroom of the Opryland Hotel. The site of all the seminar's activities, the Opryland Hotel is one of man's more bombastic architectural achievements. The young and petite Shelby Lynne and handsome baritone Billy Dean were the standouts here.
Lynne's incredible vocal range and pure and natural emotion brought the 1500 or so crowd to its feet after her first song. Each act was granted only two numbers and, yes, she did it again on her second tune. Shelby is a little girl with a BIG future! .
Billy Dean showed a lot of presence for a youngster and has actually been in Nashville for ten years. His current hit, "Only Here For A Little While," sounds a little too much like "The Gambler" to me, but hey, what do I know? We'll let the musicologists figure that one out.
My co-writer on "The Mother Road" and new Reprise artist, Kevin Welch, made a good showing and had the front half of the crowd standing after his performance of his Moe Bandy hit, "Too Old to Die Young," c/w John Hadley.
Later that night on the upper floors of the Roman Empire-like structure, I took the opportunity to tell all the Canadian radio programmers about my current Canadian CD single release, "New Maria," which most of them already had and were playing, much to my happiness.
While I'm plugging my friends and myself, let me thank everyone who made my last appearance at Louisville's Rudyard Kipling the best night I've had there! We ran out of seats and hope to have just as big a time on April 27, my official "Derby Bash." So come on out and beat the crowd!
The Tuesday after the radio seminar, my bride Kathy and I were invited to a record release part for Mark Germino and the Sluggers. Germino, a real Bob Dylan disciple and folkie-turned-rocker on RCA, was celebrating his new CD called Radartown. The first single and video, 'Let Freedom Ring," should have no problem getting added to VH-1 and hopefully MTV. Lyric conscious rockers will enjoy this song and video full of carnival freaks and surrealistic tone. I had 12th & Porter owner Jody Faison, who hosted the party, a little worried when my jacket inadvertently caught on fire from a candle I was standing a tad too close to. Kind of fit the mood of the loud, crowded, but fun gathering. The Sluggers, led by Louisville export Tim Krekel, are featured well in the video and played live on the CD collection. They've been Germino's backing band for about a year and a half now. I got a free beer for my fire act.
March 15 was the kick-off date of the 24th Annual Nashville Songwriters Association' International's spring seminar. The Friday night Super Showcase was hosted by the fun and fabulous 78-year-old Minnie Pearl and country veteran Bobby Bare.
Among Minnie's moments was her recollection of a plane trip in the Forties with Hank Williams and a new song he played her which was never put down on record or even the files of Acuff-Rose, Hank's publisher. She pointed out that Hank had many songs in that category. Amazing!
Bare performed a couple of gems to start off his half of hosting and won over the audience with his easy-going manner and well-known favorites, "Detroit City," written by Harlan Howard and "The Winner" by Shel Silverstein (I think). (My sources agree on that. -Editor.) One other tune, "Time," I'd heard before, but do not know the writer's name. Among the fifteen or so writers on the show, the standouts were, without a doubt, Hugh Prestwood and Grammy winner Julie Gold.
Prestwood's natural and unique style of songs is a breath of fresh air among much of the cutesy and overly clever tunes of the evening by presently hot writers who will go unnamed, but who I feel have slipped drastically into their own little traps of repetition and reproduction in form and subject approach. Prestwood, the composer of such great songs as "That's That" and "The Moon Is Still Over Her Shoulder" for Michael Johnson, to name just a couple, seems to write out of pure inspiration and well-thought-out and original structure patterns. A man who looks to be in his late forties, Prestwood lives in Long Island, N.Y. and has apparently just signed a new writer agreement with the giant BMG Music Publishing Company for big bucks and part of his publishing as well. Go, Hugh!
Julie Gold was a pure treat to talk to as well as listen to. She's totally unpretentious and grateful for her recent worldly success and recognition. Her song "I Think I'll Go to Heaven," which she opened with, is a masterpiece of inner thought combined with poetic lines and beautifully executed piano work. Her warm stage presence made all 600 or so people in the Vanderbilt Plaza's ballroom feel like she was right there in your living room. She announced that her friend and publisher, Nanci Griffith, will include it on her next release. After her emotionally charged performance of her Grammy Award-winning classic "From A Distance," Gold left the stage to a well-deserved standing ovation. The show should've ended there, but unfortunately it didn't.
I'm a big Ricky Skaggs fan. After all, Skaggs is almost single-handedly responsible for the so-called "new traditionalist" movement of the last five years or so, with his combining of bluegrass harmonies and a kicking beat backed by hot electrified and acoustic instrumentation. But on this particular evening, he would've been better off sitting in the audience and enjoying the show with the rest of us. He seemed terribly troubled about his career and personal life and tried real hard to be entertaining, but kept slipping into self pity of some kind. However, he repeated himself several times, telling all the new aspiring writers in the crowd to keep believing in themselves and what they felt for their music. He meant well, but put us all through a painful forty-minute set. There were good moments, though and he left with an ever greater appreciation from the audience, after letting them know firsthand that show biz ain't no easy thing. I look forward to his new disc with co-producer Mac Macanally.
Saturday, March 16, brought more seminar workshops and the Songwriter Achievement Awards Ceremony and Dinner. Hosted by outgoing president Roger Murrah and executive director Pat Huber, who has done a phenomenal job of reshaping the NSAI, the semi-formal gathering brought record-breaking attendance, as did the entire seminar. The evening was dedicated to Cpl. Lance Fielder, the only soldier from Nashville to die in combat during the Iraq War and the band members and road manager of Reba McEntire's road show who died in a plane crash that morning. Cpl Fielder's mother Debbie Brady, a long-time NSAI worker, was in the audience and accepted a standing ovation. Director emeritus Maggie Cavender, while presenting an award, asked for prayers for NSAI Hall of Fame member Otis Blackwell, who was hospitalized recently for a stroke.
Blackwell is responsible for such classic tunes as "Great Balls of Fire," "Don't Be Cruel," "All Shook Up," and many others that established Elvis Presley and other artists. Presley is said to have copied Blackwell's singing style early in his career.
Pat Huber presented Murrah with a plaque of appreciation in the earlier going. Then Roger turned around and gave her the President's Award for all her recent hard work and leadership. One of the noticeable changes in this year's awards were the additions of categories, giving member voters choices in Country, Adult Contemporary, Rock/Pop, Gospel and Black/R&B. After some fifty achievement awards were handed out, the evening worked up to "the big three": Song of the Year, picked up by my buddies and co-writers Don Henry and Jon Vezner for "Where've You Been"; Songwriter/Artist of the Year, picked up by Janice Gill on behalf of her star hubby Vince, who was in Oklahoma. The Songwriter of the Year award was given out last.
"Where've You Been" has been a landmark song for Jon Vezner and Don Henry, having won the Song of the Year award from the Country Music Association, the Academy of Country Music and the Grammy Award for best country song. Henry, as well as Vezner, is having the year of his life. He co-wrote Ray Kennedy's latest single with Kennedy and Red Lane. "Scars," the hot new record, is accompanied by a wild video conceived together by Ray and Don, who makes a cameo appearance in the clip, but cohort Bobby David steals the show. You'll have to see it to understand what I mean. In addition to two hot singles and two cuts on Kathy Mattea's new disc, Time Passes By, as a writer, Don Henry is about to launch his own artist's career with his debut CBS disc entitled Wild In the Backyard, full of Don Henry magic. All I can say is the world is in for a treat from this highly inventive and immensely talented young singer/writer who has been opening dates for John Prine and wowing audiences at New York's Bottom Line. Find it and buy it! You won't regret it! It was released April 1st!
Now, let's see, where was I? Ah, yes, Songwriter of the Year award. When Pat Huber said, "and the Songwriter of the Year award goes to ... Jon Vezner," an already teary eyed Vezner took the stage for the fifth time that night. After apologizing for his tears of joy and taking a moment to compose himself, Jon humbly thanked everyone who had helped him along the way since he had first dreamed of being part of the songwriting community some eight or nine years ago.
Tom Long of ASCAP and Don Henry were among the list. Jon insisted Don join him on stage to share in the moment Lastly he thanked his wife, Kathy Mattea, for "taking the chance and cutting the song" and said he thought more artists should take chances like this which "opens the way for songwriters."
Jon's big year has included "A Few Good Things Remain" c/w Pat Alger and "Time Passes By," c/w Susan Longacre, both Kathy singles, in addition to "Where've You Been." After the ceremonies were over, I offered to fetch Jon a grocery cart to carry his five awards home in. I also told him of our latest cover of "Trainwreck of Emotion" by bluegrass great Del McCoury, which is the fourth recording of it after an independent release in West Memphis, Ark., an Australian release and Lorrie Morgan's top 20 version of it in February '90. The Del McCoury version is currently in the top 10 on the Bluegrass Unlimited magazine's monthly chart. It's a real hot track and I'm real proud to be on a record by such a legendary singer. For the uninformed, Del McCoury started out as the rhythm guitar player and one of the singers in Bill Monroe's Bluegrass Boys some thirty years ago and has been making great music ever since.
The already overwhelmed Vezner was genuinely excited about our new cut and rushed to tell Kathy who was fending off autograph seekers. Actually she was gracefully obliging them. You have to understand that these are three of the nicest people you could ever know. They just happen to be three of the hottest names in country music right now. And having Jon and Don Henry so honored that evening made me real proud to know them and Kathy Mattea as real friends and musical cohorts. So ended a very enjoyable and most inspiring weekend.
Folks, I'm about all shmoozed out for awhile and look forward to just getting out there and playing my music for the real heroes, you, the audience. Hope to see you April 27.
(Alan Rhody was born in Louisville and is a successful songwriter and performer now living in Nashville, Tenn.)