Jim Dandy's Black Oak Arkansas / Rikki Dee Hall Live at Uncle Pleasant's
By Steve Farmer
I have witnessed the resurrection of Southern Rock and it's name is Rikki Dee Hall & the 50/50 Band. For those of you who feel I may be exaggerating, obviously you weren't among the lucky few who caught their opening set for Black Oak Arkansas June 27 at Uncle Pleasant's.
Although opening acts are often ignored and sometimes even find themselves the target of an abusively rude audience, Hall and band were immediately embraced by the rowdy crowd. Few performers have sent chills up my spine, but it was the same feeling I had when I saw the Kentucky HeadHunters for the first time. You just know that this guy is going to be the next big thing. You had better believe me when I tell you that Rikki Dee Hall is going to be a superstar, because time is going to prove me right.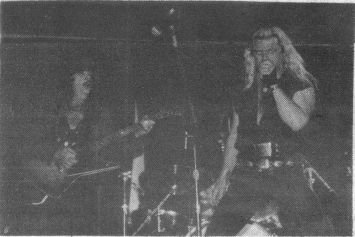 Jim Dandy and Black Oak Arkansas. Photo by AmyKeehn
Featuring a triple guitar line-up, the band took charge of the stage from the first note till the last. Slamming through their set, which included cover tunes by the Outlaws, ZZ Top, Savoy Brown, as well as their own rowdy tunes, Hall and crew stomped, sweated and blasted power chords like a latter-day Lynyrd Skynyrd.
Guitarist John Mitchell shared the lead guitar chores with Rikki Dee Hall, giving the band a nice balance of styles. Both are excellent guitarists and hearing them play together is nothing short of magical!
Vocals were divided between drummer Greg Underwood, rhythm guitarist Larry Smith, and Hall. Each did an excellent job when singing lead and their harmonies were most impressive. With an eternal smile on his face, bassist Mattias Lambert held it all together as he jumped, stomped, and threw his long blonde hair madly in the air.
Talking with an employee of the club, I learned that Black Oak Arkansas had personally requested that Rikki open the show for them.
"We've known Rikki Dee Hall over twenty years!" smiles Black Oak guitarist Rick Reynolds. "Besides being a he-- of a songwriter, he's always had an a---kicking band. Hopefully we'll be doing a few more shows together every chance we get. He's really good at getting the crowd off their a--es, which is what an opening act is supposed to do."
When Black Oak Arkansas finally took the stage around midnight, only the die-hard fans remained to see their heroes. Over the years the line-up has changed, leaving Jim Dandy and guitarist Rick Reynolds as the only remaining original members. They have also trimmed their trademark six-piece line-up down to their current five pieces. Through all of the changes, Black Oak Arkansas have retained their sound and image. Unfortunately Black Oak's set was mired by a bad sound mix, but even that didn't stop Jim Dandy and the boys from Arkansas from turning the club into a house party. Playing such favorites as "Hot & Nasty," "Taxman," "Lord, Have Mercy," "Hot Rod," "Jim Dandy to the Rescue" and many more, Jim Dandy was there with only one purpose in mind: To party and raise he--!
The fans were also treated to a few selections from their upcoming album which features several members of The Kentucky HeadHunters making guest appearances on a few cuts. Judging from the sound of the new material, this could be the album that will put Black Oak back in the arenas where they belong.
As I left Uncle Pleasant's that night, I couldn't help but wonder what next year holds for these two bands. Hopefully Black Oak will make that comeback that their fans have waited so long and patiently for. As for Rikki Dee Hall & the 50/50 Band, they're a young band, full of energy and determination. I don't think I will be surprised if I start hearing a lot about these guys.
The South Shall Rise Again! BOOGIE!!!!!