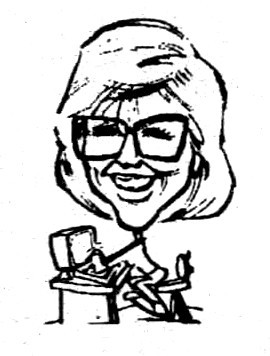 Newsical Notes
Marian Maxwell is back from her trip to the West Coast where she attended a national handbell ringers convention. She and a friend performed a handbell/guitar number that Marian had arranged, and they received many compliments. Don't know if the combination of instruments was unique. but it certainly was not commonplace.
Pen Bogert led off the entertainment at the Waterside Blues Festival and was filmed for the early evening news. The coverage (close-ups and all) was very good. Guess it doesn't hurt to be the opening act in some instances.
And there are other interesting tidbits involving Pen and television. Can't remember all the details, you'll just have to ask Pen. You can be sure that the self-effacing gent won't just run up to you and tell you all about it.
Karen Le Van, one Of music's most avid supporters, lined up a very successful and intertaining open stage at the Rud for Monday, July 1. She brought up several performers from Nashville. including LASC member Sally Mudd. who just recently moved to Nashville to pursue a career as a singer.
Marie Augustine's name just seems to keep popping up in the newspaper. The Courier-Journal's July 3 Neighborhoods section contained a feature on the Mayor's SummerScene activities. and Marie, who is one of the SummerScene performers. was profiled. complete with quotes.
"Argg!! I just finished writing you a letter and my computer ate it." That was the opening sentence of a nice letter (second version) from Hedy Hilburn. Hedy said that she had attended the Local Union Press Association Conference at Black Lake. Mich., in late May. Anne Feeney, a professional singer/musician-songwriter performed Hedy's "Union Miners" and asked Hedy to take a bow.
"l was pleasantly surprised (really, more like absolutely speechless, utterly amazed) when she asked me to stand up and take a bow for writing what she considers the best song to come out of the United Mine Workers/Pittston Coal Company struggle." Hedy said. Ms. Feeney had gotten a copy of the song in 1990 and had been performing it ever since. She'd also like to use it on her next album.
"And if that wasn't enough to keep me smiling for a year. At the Great Labor/Arts Exchange in D.C. this past June, Cathy Fink and Marcy Marxer asked me to send them tapes of some of my songs," Hedy added.
Hedy said that Ronnie Dee, "who was at the Labor/Arts Exchange in spirit only," got kudos for his song "Sit Back, Relax & Play Your Kazoo" from the chairman of the Labor Heritage Foundation, among others. Hedy performed the song as her part of the Exchange. As she took the stage she noticed that the chairman had whipped a kazoo out of his briefcase and was warming up. The song was a big hit.
Hedy said that when Si Kahn performed at a fundraiser in Louisville in 1988 he asked Ronnie for a copy of the song. Like so many of us, Ronnie didn't exactly break any records in getting the song to Kahn. According to Hedy, Ronnie said he was going to send a note along with the tape, but after the lengthy time lapse, he ended up putting "Per Your Request" next to Si's name on the envelope!
That's a great fun song, Ronnie! Isn't it about time you performed it for us again?
Hedy asked me to tell Bill Ede that Anne Feeney's favorite festival is the Kerrville Folk Festival. Are you listening, Bill? (Bill has performed at the Festival a couple of years and was one of six winners of the New Folk competition one of those years.) Hedy, who is the editor of her union's newsletter, sent along a nice compliment about the Louisville Music News. Thanks a lot, Hedy. Your words are greatly appreciated.
Congratulations and best wishes to LASC member John Limeberry who was married to Lora Fearnow on July 20. The couple will make their home in Louisville.