Oldies at Iroquois Amphitheater
By Wally Stewart
"I like that old time rock 'n' roll" asserted the first song at the Iroquois Amphitheater's 10th anniversary oldies concert on July 13. Around six hundred fans, from babies to those who remember when ducktails and poodle skirts were cool, hopped and bopped at this free party that featured the donated sounds of Butch Gray and the Cruisers, Time Machine and Autumn. For the first time, no local radio station was involved, but cooperation between Gray, the Iroquois Amphitheater Association and Metro Parks produced a show whose attendance attested to the magnetism of "Old Time Rock 'n' Roll.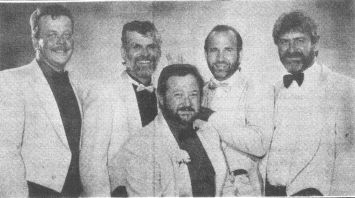 The Cruisers
Autumn's eight pieces delivered that very appropriate opening tune and covered others ranging from "Devil with the Blue Dress On" to Motown's "Soul Man" and "My Girl." A horn section added extra depth to Autumn's music and they got the good times rolling, as shade began to march across the partyers.
Time Machine impressed me last year and they didn't disappoint this night, handling "Brown-Eyed Girl," "Born to Be Wild" and more with ease. "Wild" was intended to be the band' closer, but this quartet, which sounded very much like Blue Cheer, rocked itself into an encore.
James "Butch" Gray and the Cruisers were "founding fathers" of this event back in 1981 and proved that they know what to do by getting revelers out of their seats, dancing to "Let's Do the Twist." The dancing carried on through much of their set, with tunes such as "Louie, Louie" and "Johnny B. Good" providing the impetus. "Earth Angel" put thoughts of young love in the air and "Tell Laura I Love Her" felt like an old friend stopping by.
The fans were very appreciative. Perhaps next year a radio station will hear of the fun and help keep the rock rolling at the Amphitheater.