Waterside Art and Blues Festival "Red Hot"
By Jean Metcalfe
If it's Waterside, it's hot! That's a given. This year Waterside cozied up to the KYANA Blues Society to present a three-day Waterside Blues and Arts Festival.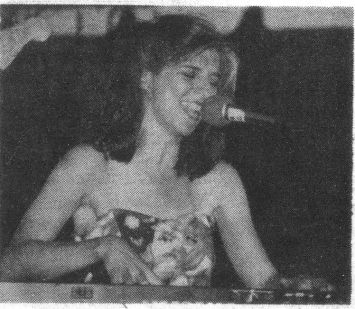 Marcia Ball
But that didn't fool Mother Nature. As the thin, red line on Louisville's thermometer flirted with the 100-degree mark, hundreds of blues and/or arts and crafts lovers converged on the grounds of the Water Tower for the July 5-7 festival. With lawn chairs and blankets, they marked their territory early, then left to see what was new this year. To browse, perchance to purchase fresh-squeezed lemonade and a corn dog. They would return to the entertainment stage to claim their place in the crowd as show time neared.
The promise of headliners such as Luther "Guitar Junior" Johnson, Marcia Ball, and Albert King, plus a supporting cast of some of Louisville's finest musicians, had lured the fans from the comfort of air-conditioned venues to the left bank of the Ohio for an evening of alfresco blues.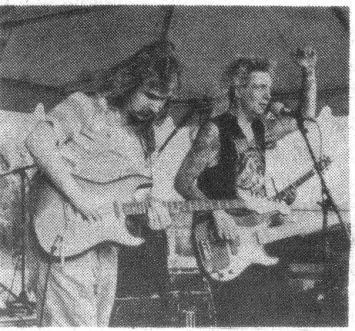 Mud Mouth. Kentucky HeadHunter Greg Martin cooks with Doug Cook at the Waterside Festival on July 7. Photo by Rob Gamage
Word has it that on the first evening the Metropolitan Blues All Stars both preceded and stole the show from the headliner. This writer wasn't there, but past experience would cause me to accept it as truth.
Saturday's performers were an entertaining lot as well, but the headliner was without peer on this evening. Wearing a bright, strapless summer dress and orange shoes with spike heels, willowy Marcia Ball, accompanied by her talented band, came out cookin'.
But it was the transformer that got burned, plunging the stage into darkness and silencing Ms. Ball mid-song after only a few selections.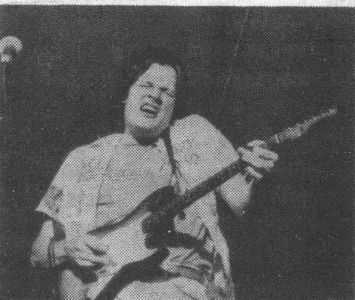 Mark Stein wails at Waterside. Photo by Jean Metcalfe
Several members of the audience headed for their cars amid rumors of a lengthy delay or even a cancellation, but Ms. Ball never left the stage. The talented lady turned the cow's ear into a silk purse by graciously autographing everything offered, from T-shirts to outstretched palms. Sitting on the edge of the stage, she signed her name while a small hand-held flashlight spotlighted her nimble fingers.
When the stage lights came back on and her keyboard came back to life, Ms. Ball sprang to her feet and moved swiftly to her microphone. She crossed her trademark long legs and lit into her repertoire with an enthusiasm that gave no hint of the earlier interruption.
After a lovely rendition of the achingly beautiful "The Power of Love," Ms. Ball made a very effective abrupt switch to the up-tempo "Going Down to New Orleans."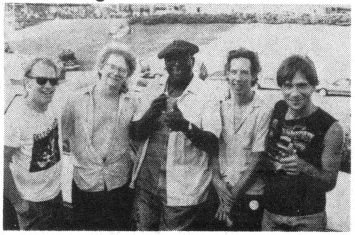 Albert King and Friends. L to R, Mark Hoestra, Lamont Gillispie, Albert King, Jimmy Brown, Ricky Mason at Waterside. Photo by Rob Gamage
"I'm sitting here looking at maybe one of the most beautiful things I've ever played in front of," Ms. Ball said, referring to the illuminated water tower. (The tower's shabby appearance -- it's undergoing a facelift -- was not apparent in the artificial light.)
Ms. Ball then started to sing a cappella in a prissy, little-girl voice: "You left me for the bright lights of the ...."
"Let's do all Kentucky songs," she suggested, then eased into "The sun shines bright in my old ...."
"La ti da," she said, "shut up and play." And she did. The song she cleverly introduced was "La Ti Da," one of several that evening from her album Gatorhythms. (Go out and buy it. "The Power of Love" alone is worth the price of the ten-song collection.)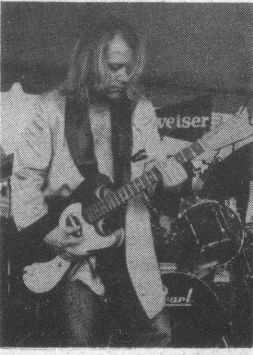 Mark Hoekstra at Waterside. Phoot by Rob Gamage
"Blue moon of Kentucky keep on a-shinin' ...." Marcia was at it again.
For her finale, she sang -- and she was -- "Red Hot."
The hour was late, but the considerable audience wanted more. On a tight schedule even before the power failure, Ms. Ball nonetheless returned to oblige the crowd. She glanced at her watch, then eased into the first of her several encore numbers: "It's three o'clock ...." "Eugene, come on home ...."
Let the record show that on the evening of Saturday, July 6 (and the wee hours of Sunday, July 7), Marcia Ball and her band were -- absolutely and totally -- MAGNIFICENT!
Let's do it again next year!