Bluegrass Beat
Back in September I was fortunate enough to have the opportunity to visit Bill Monroe's old home/birth place on Jerusalem Ridge near Rosine, Ky. During that same visit we also went to "Uncle Pen's" cabin, also on Jerusalem Ridge. If you have never been there, unfortunately it is too late. Uncle Pen's cabin is gone. Taken apart and hauled off. Who would do such a thing? James Monroe, Bill's son, in an attempt to turn Bean Blossom into a theme park tourist attraction, has moved the cabin.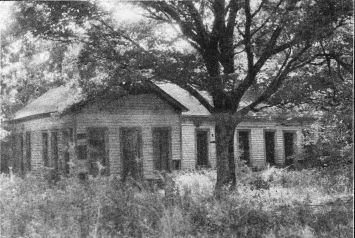 Birth/home place of Bill Monroe, Jerusalem Ridge, Rosine, Ky., September 1991. Photo by Berk Bryant
The good folks of Rosine, of course, wanted to keep the cabin up there on Jerusalem Ridge where it belonged. They weren't able to get their act together in time to prevent this from happening. As I understand it, it does belong to the Monroes and I suppose they can jolly well do with it as they please. As an outsider looking in, I feel like the cabin is, or was, more of an attraction where it was. It is not only what it is, but where it is, that gives it the significance associated with it. Jerusalem Ridge is also closely associated with the overall picture, scene, scenario or however you want to describe it. It's gonna take some doing to move JR up there to Bean Blossom to give the cabin the "proper" perspective.
Another feeling I have concerning this sort of thing, and not just this incident, but anything like it, is that the result is sort of an artificial thing. Real or reproduction may be a question in the mind of many who don't really know. Just a shell of a little old log cabin, the likes of which are, or can be, seen around the country at various museums or exhibits/displays. Back on Jerusalem Ridge, up that little old rough mountain road, up there in the woods, "high on the hill and above the town," it was, it really was, Uncle Pen's old cabin, up there on Jerusalem Ridge.
l
November was quite a month for our program [Sunday Bluegrass, WFPL]. The 17th found us involved in the Fall Fund Drive. As I knew they would, our listeners came through again, resulting in a very successful Sunday.
Those of you who may be interested can contact WFPL and inquire as to how you can get a Sunday Bluegrass long-sleeved T-shirt.
We have been able to bring live performances to our show again this past month. On the 10th, Gary Brewer and dad Jim came in with two guitars and did us quite a few "good 'uns" from their Two of a Kind tape. Jim and Gary, you know where we are. Come back! Also during the fund drive Kentucky Blue came in to help. At their invitation, Al Purnell came along and had a good time. Al said, "It's gooooood."
If that wasn't enough, Annie Kaser, formerly of the New Coon Creek Girls, came over from Richmond, Ky., to add her banjo talents to the whole thing. At the time of this writing, a friend from Radcliff who has been picking some with Annie, Brian Skurski, was also on hand. There is more of this sort of thing but I'll do the rest next time, after the fact, you know. Be listening, you don't know what you might be missing. That's WFPL 89.3 FM, Sunday night, 8-10 p.m.
Shepherdsville Country Music Place has had a full month of great Friday-night bluegrass shows this past month. The Kentucky Bluegrass Band, Larry Sparks, Gary Brewer and the Kentucky Ramblers, Del McCoury and Bluegrass Cardinals, Randall Hylton, New Tradition, and ... I hope I haven't forgotten anyone. If you were there you don't have to ask how good a show they all put on. If you weren't, you're not going to know what you missed, but you did miss a great one, two, three. If that was the case then don't miss this one. December 6, Paul Adkins and the Borderline band, one of my favorites, and Gary Brewer and the Ramblers. February 14 is a show that no serious, real honest-to-goodness bluegrass fan should -- make that would -- miss. Jim and Jesse AND the Legendary Mac Wiseman. Mark it down NOW.
Another year is drawing to a close and as of this reading the holiday seasons and spirit are here and showing everywhere. Please keep it safe; we need all the listeners/readers we can get out there. A sincere wish for a very special -- make it a traditional and old-time -- Merry Christmas that will bring friends, family and loved ones together for peace and satisfaction with what we have and blessings to come. As we enter the new year, look forward to what it can bring. And a very Happy Bluegrass New Year to each of you!