Bobby Blue Bland
By Karen Le Van
What B.B. King is to blues guitar players, Bobby Blue Bland is to blues singers. He's been singing the blues for forty-plus years, and on Sunday, October 28, he held the two-thirds-filled Macauley Theatre in awe of his soft and mellow tones.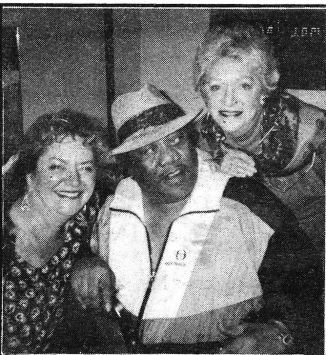 Sally and Maggie German visit backstage with Bobby Blue Bland. Photo by Karen Le Van
Complaining that the theater was too warm, and sounding a little short of breath at times, Bland still had the crowd begging, "Sing it to me, Bobby." His rapport with the audience was almost one-on-one as he stopped several times throughout the laid-back performance to chat with those in the front rows.
His band included a great brass section that danced as they played, and Bland had the crowd singing along on many tunes, including "Ain't No Sunshine When She's Gone."
His songs cover the gamut of many of his hits, with love won, lost, and stolen being the central theme: "That's the Way Love Is," "That's the Way Love Works," "Share Your Love With Me," "I'm Gonna Take Your Place," "Members Only," and, of course, "Stormy Monday." One of the lines that especially got my attention was, "If you're gonna walk on my love, the least you can do is take off your shoes."
Another song that caught me was a love-triangle number, "I'm Gonna Take Your Place," which tells the story of a man who still wants the guy's friendship, but wants his wife's, too.
The thing that captured me most of all was Bland's delivery. Always wearing a devilish smile, singing in a smooth, mellow, and almost-effortless way, seems to me to be what has kept Bobby Blue Bland a favorite in the world of R&B music for well over forty years.