Getting to the Met
Metropolitan Opera auditions a ticket up and out for Louisville singers
By Bob Bahr
Green Rooms, the rooms where performers wait to go on stage, are hardly ever actually green.
But perhaps in the interest of promoting storybook endings for performer's dreams, the Green Room at UofL's School of Music is literally green. So was Steven Paul Spears, the youngest contestant in the Kentucky District Auditions for the Metropolitan Opera National Council Auditions Program held on November 9. Spears' hands were cold, sweaty, and mottled with nervousness, but his voice was even and his outlook steadily optimistic on that fall Saturday afternoon.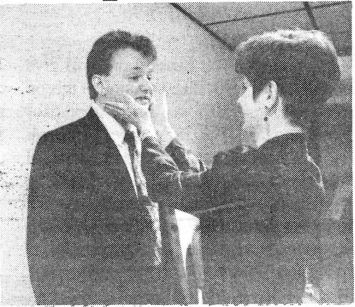 Spears' accompanist Jennifer Gordon offers last minute support
At the starting time of one o'clock, the first contestant, a 28-year-old tenor from Cincinnati who had gained special permission to compete in Kentucky, was nowhere to be seen. The second contestant backed out with a cold. Spears, having drawn the third spot, was suddenly first by default. Spears had just finished a little last minute practice elsewhere in the building when he heard the news.
Spears smiled tightly, held on to his composure with a death grip. "Yes, I'm nervous, but I'm pretty confident," he said. His accompanist, Jennifer Gordon, seemed sympathetically nervous. Her eyes studied Spears' face, and she smiled. "You ready?" she stated more than asked.
The two disappeared into the darkness backstage. Members of the Kentucky Opera's auxiliary, the Guild, offered a few words of encouragement while he waited for his cue. Thirty seconds before Spears was to go on, he asked, "Can I have some water, please?" He was on cruise control. "Thank you," Spears said in between sips. "Gosh, I was just so dry," he remarked to Gordon.
At stake was a chance to compete in the regionals of the Metropolitan competitions, held December 7 in Bloomington, Indiana, and then, for the three finalists of the regional, on to the national competition in New York City on March 22, 1992. For this, the Kentucky District, eight contestants were to compete. Their ages ranged from Spears' youthful 21 to age 32, one year younger than the cut-off age for the auditions. The program is designed to find and award young talent, with the ten national finalists getting a two-week internship with the Metropolitan Opera in New York, $10,000 in cash, and the opportunity to perform at a winners concert at the Met with full orchestral accompaniment.
"It's a truly a wonderful opportunity," said Carol Bonura, district auditions co-director. "This can get them to the Met a lot quicker than they can get there on their own."
For some contestants, it was the last chance to make their way through the tough ranks of opera singers. For others, like Spears, it was a taste of what the future holds: Auditions, competitions, hopes, wins, losses, green rooms, nerves.
Spears had ten minutes to impress the judges, and whoever else may be in the audience with influence and connections in the opera world. He was to sing two selections, one of his choice, the second aria to be chosen by the judges.
Spears and Gordon walked out onto the bare stage, and settled in by the piano. Gordon and a page-turner sat at the keys, Spears stood in the curve of the piano, his cherubic face in a pleasant grin. With a nod from one of the judges, Spears started into "Un aura amorosa," an aria from Mozart's "Cosi Fan Tutti." He was dressed in khaki pants, white shirt, blue blazer and tie. He looked proudly and confidently into the audience then sang with charisma and fire. Spears chose to sing without drama, eschewing the gestures and expressions other contestants brought to their arias.
The judges listened to the first selection, then chose a second aria that would show a different side of the singer. For Spears, the judges asked to hear "Vainement, ma bien-aimee," from Lalo's "Le Roi d'Ys." Spears switched from Mozart's Italian to Lalo's French, his lyric tenor light but articulate. After finishing, the judges thanked him, and he left the stage of the recital hall in the same steady gait that he entered in.
The judges' choice of the Lalo aria suited Spears just fine. That particular piece was one of his favorites, and Spears said he was pleased that it was chosen.
"I did pretty well," Spears said as he stepped from backstage. "I was pleased. And I felt pretty good about the first selection. It was consistent, I was used to it. I had sung it before in public."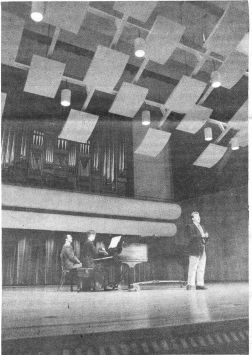 Spears performs one of his arias on the Recital Hall sage at UofL's School of Music
Although he worked hard to produce an appearance of confidence, Spears admitted that he was quiet nervous on stage. "I was thinking, 'I'm not going to freak out. I'm going to do my best.' And I did."
Spears disappeared somewhere to unwind, and the next contestant quickly entered the stage for her ten minutes of trial. The soprano soared to high notes that penetrated the doors of the acoustically perfect recital hall. Next, a mezzo-soprano ably sailed through two arias with considerable polish and professionalism. A baritone, Barry Lawrence, performed two bubbly and entertaining pieces, and the judges asked for a third aria. The first contestant showed up, and was inserted into the lineup. A tenor by the name of Shawn Tally, the latecomer sent a murmur through the audience with his powerful performance. The judges again asked for a third selection.
One by one, the contestants performed. One big tenor had the audience in a buzz again and the judges asked for an additional aria. Spears sat in the back row taking it all in. After all the contestants performed, the judges retired to consider their decision. Call-backs were anticipated to give the judges another chance to hear some of the singers. Spears waited in the hallway outside of the Green Room, evaluating the events in a practical manner.
"I listened, and there were some pretty mature voices, and I am 21," he said. "That might count against me. Not count against me so much for my age, but my wealth of sound. Sitting in there, I was thinking, 'My goodness, they sound like they should be on an opera stage already! Not here!'"
Spears was ready for the worst. "This is getting me prepared," he said. "If I don't win, then it's a good experience because I'm in front of people, and there are some people in the community who have heard me. In a few years, when I do it again, they'll hear it and say, 'Look how much he has improved.' And if I don't win it then, then I'll try to win a couple years after that. Kind of pace myself, and not get in a hurry." Still, stars hung in his eyes.
Spears has been at ] for three years, studying voice in UofL's School of Music. He attended the Youth Performing Arts School during his high school years, but he didn't decide to pursue singing as a career until he was urged to do so by his voice teacher at UofL.
"I came here [UofL] to learn how to sing; I had a scholarship," Spears explained. "I was going to study art song and oratorio, but my teacher, Mrs. Tidwell, got me interested in opera. I didn't know for sure that I would be in the arts until my senior year of high school. I knew I was going to do something with music. But I wasn't sure if I was going to be a teacher, or write music, or what."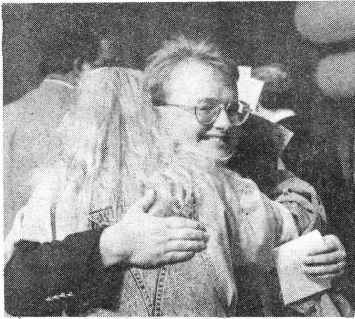 A friend congratulates Spears on his third place finish
Spears' teacher is a notable one: Edith Tidwell, perhaps known better as Edith Davis, diva of the KOA and a performer at many prestigious opera houses across the country. Davis first achieved fame with the KOA, and now she seems to be giving something back to our area by teaching young talents such as Spears. The auditions program in Louisville and the Charme Riesly Bomhard Award given to the first place winner also feed the cycle by promoting local talent. The award, according to Moritz Van Bomhard, signifies his late wife's efforts to promote new talent.
But the district auditions don't just provide area singers with a fast track to the grandaddy of all opera companies. The KOA and other companies also use the auditions as a chance to scout talent for their own organizations. Kentucky's auditions have already produced a famous winner that's a KOA favorite.
"The great success story, of course, is Marilyn Mims, who won here about 6 or 7 years ago, and went on to win the finals in New York and now has a great career," said KOA General Director Thomson Smillie. "But a number of great singers, such as Marilyn Taylor, have come through here and now sing regularly with the opera company. The principal purpose is to help singers in their way up the ladder towards eventually, with luck, winning the internship with the Metropolitan. But on the way we find quite a lot of talent too," Smillie said.
While the judges deliberated, the audience, the organizers, and the singers mingled in the lobby, snacking on food from a surprisingly lavish refreshment table. Speculations on who would win the competition flew around the room, often in hushed tones to avoid hurting the feelings of the singers standing nearby. It was announced that the three judges requested no call-backs, and the audience filed back into the recital hall to hear the results.
Smillie, "in the fine Miss World tradition," said he would announce the winners starting with the third place winner. The audience hung on every word, with the contestants showing a bit of interest as well.
Steven Paul Spears had won the third slot, $300 in cash, and the chance to compete in Bloomington. The obviously surprised Spears ambled up to the stage with a smile. Shawn Tally got second place, and Barry Lawrence won first, for the second year in a row. KOA founder Moritz Von Bomhard awarded the Bomhard Award plaque (temporarily) to Lawrence, and delivered a short speech. A crowd quickly developed around the winners on the stage.
Later, Spears attributed a portion of his success to his accompanist, who has been with him for two years. In addition to being a "shoulder to lean on," Spears said Gordon helped with coaching.
"She has a very good ear for hearing things that are wrong and points that out, and she remembers what the voice teacher says during a lesson," Spears said. "She takes as many notes as I do. She's a big help."
"When they first said, 'Steven Paul,' I wondered if there was someone else named Steven Paul," Spears said. "Then I thought, "Oh my! Okay.' I was pretty excited and a little surprised."
The third place award makes a powerful statement about Spears' talent. He beat out contestants with more polished voices, indicating that the judges see a lot of potential in his young voice. "One woman said that all I needed to do was get older," Spears said after talking with the judges.
Finishing behind two other singers means nothing now. All three finalists move on to Bloomington, and all three received the same amount of prize money. Spears already has the prize money earmarked for expenses.
"Half will be going towards my trip to Bloomington (the regionals) for gas money and feeding my accompanist, and maybe for a new outfit," Spears said. "And the rest is going to my bills."
Spears' dream had come true, but its promise was primarily one of hard work in the years to come. The young singer seemingly has his head on straight, and is looking at things realistically.
"For the next three years, we'll be here [at UofL], then I'd like to go away for graduate school," Spears said about his future. "My concentration would be vocal literature, all together. Like all kinds of vocal music, like opera, oratorio and art song."
Still, the auditions have already changed the friendly and polite blond from Louisville's South End. "Before, there was not really doubt, just insecurities. This has given me a lot of self-confidence."