"The Unsinkable Molly Brown'
By Paul Moffett
Upon taking my seat at Derby Dinner, I immediately began scanning the program to see who the players were in the show. I also muttered that question out loud and one of my table mates said: "Everybody."
He was pretty much right. The cast list was long, even allowing for the fact that almost everybody had two roles. It looked like every Derby Dinner player still in town was hired for this musical.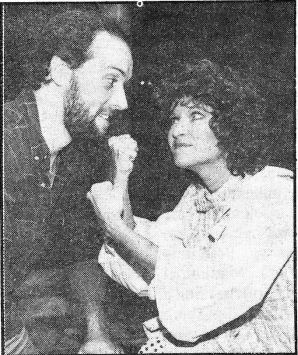 Brian West as 'Leadville' Johnny Brown and Barbara F. Cullen as Molly Brown
That led to my second comment: what prompts Derby Dinner to constantly stage what should be big production numbers on their tiny stage?
The answer is, because they can.
Derby choreographer Barbara F. Cullen must have worked nights figuring out how to have all those people dancing around enthusiastically, dodging props and making it all look relatively easy. "Molly Brown" demands room, larger-than-life gestures and acting to match and the Derby crew manages to pull all that off with aplomb.
Whether the Meredith Wilson play is still interesting is another question. The affairs of immensely wealthy people don't have quite the fascination that they once had, in light of the extreme excesses of the rich during the Eighties.
Regardless of that, the Derby folk do an excellent job of presenting the work. In addition to choreographer's duties, Cullen handles the title role with verve and even makes Molly a believable character, though somewhat shallow, driven as she apparently is by a lifelong obsession to be accepted by the wealthy classes of Denver.
Brian West's portrayal of Molly's husband Johnny "Leadville" Brown is somewhat less successful, perhaps due to the fact that he is essentially a supporting character. West also did not manage to convey the look and feel of a Colorado miner, looking, as he did, too good in a tuxedo.
Melissa Combs gets the award for handling the most divergent pair of roles: first as a bawdy woman in the Leadville saloon where Molly starts out, then as the snooty Mrs. McGlone, self-appointed maven of Denver society. William Theisen is exuberant in his depiction of Molly's stereotypical Irish father Shamus.
Costumer Tom Klipsch also stretches his imagination for this work. His only failure, if that is not too strong a word, was for Molly and Shamus' earliest costumes. These should have been ragged and tom, with crude patches. Mostly the neatness of the patches was noticeable.
My wife, who had seen several other stagings of "Molly," commented that she missed the usual full orchestration that goes with the musical. The singers generally out ran the accompaniment, at times singing almost a cappella. t Overall, if you like "Molly," then by all means take in this production. If you haven't seen it, then this is an excellent opportunity to see a 'famous' musical professionally staged in a friendly, intimate room.
"The Unsinkable Molly Brown" will run through January 5 at the Derby Dinner Playhouse in Clarksville, Ind.