The Friday Night Showcase
By Ronnie Dee
The Showcase got the big weekend off to a start with the venerable Charlie Walls, who was responsible for inviting most of the Nashville cats to our shindig, doing his "Next to You," "going to heaven would be number two."
"Doc" Dockery made the first of numerous appearances in the show to perform his "1-800-I-LUV-YOU," and Prince Phillip Mitchell took the mike to sing Karen Le Van and Danny Arena's soulful "Strangers Again."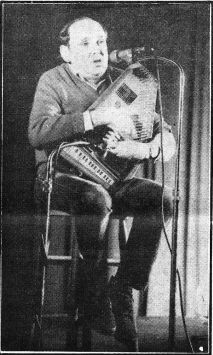 Ronnie Dee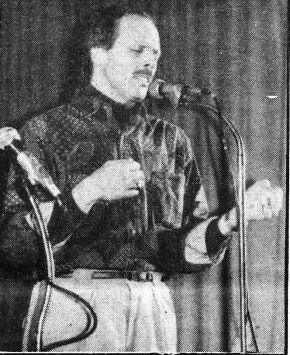 Mike Layman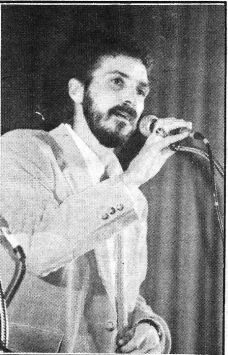 Ron Allgood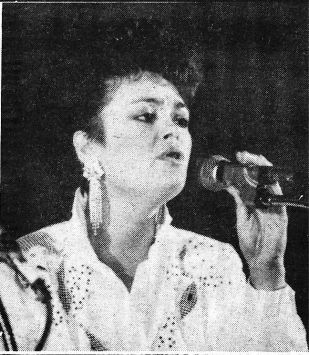 Cheryl Lynn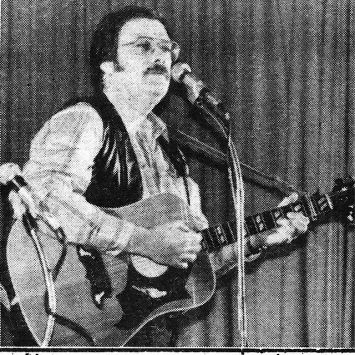 Larry Easton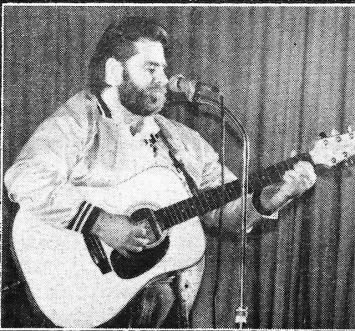 Charlie Walls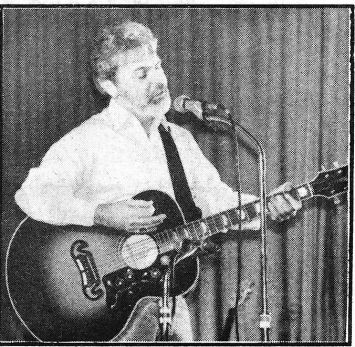 Ray Burden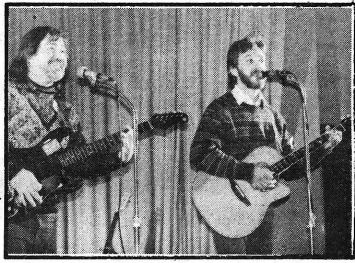 Doc Dockery and Alan Morris
The show moved along with Ron Allgood singing his "Your Memory," and Cheryl Lynn followed with two Diana Black tunes, "Behind the Times," and "Same Old Song and Dance." Larry Easton did one of his more familiar numbers, "Highways of My Mind," then Mike Layman came on to do "I Found You."
Earl Meyers sang "She Took It All But the Blame," and Paul Moffett, once again playing Doc's white guitar, nicely performed his own "There Aren't Any Chains," with additional percussion from the kitchen crew working in the next room.
Alan Morris took center stage to do "Can't Get Enough," and Ronnie Dee with his banjo did "Wild Wyoming Woman." Marian Maxwell accompanied herself on piano with the whimsical "Maybe Tonight," and Paul came on again to do his and Jean Metcalfe's "Lucky In Love."
Ray Burden sang about "Fiddlin' Luther" and Charlie Walls returned to do his slightly revised version of "She Kept Everything But Her Word." Doc sang Earl Meyers' "Touch of Fire," from the LASC's second tape, Almost Famous and remained onstage to accompany Alan Morris with Alan's "Baby, Take a Look at Me." Being in a singing mood by now, Doc stayed around to do a duet with Mary Pirtle on "Just One More Time," another Ron Allgood tune.
Kelly Wilkinson then made her first appearance in the spotlight to perform a Karen Le Van/Alan Morris composition, "End of the Line." Doc came back to play his own "Daddy Played Those Jimmie Rodgers Blues."
Mike Layman returned to belt out his "TCBs" and Larry Easton made his second appearance to do "Would I have Heard You Whisper Good-bye?" Ronnie Dee, hiding behind an autoharp this time, sang "Pop's Overcoat," co-written with Hedy Hilburn. Two members of the group John Allen wrapped things up by rocking through the Moffett/Metcalfe/Walls creation, "Upright Lady."
Space inhibits an in-depth review here, but suffice it to say that things were well enough. The room, however, as cavernous. A smaller, more intimate atmosphere would have enhanced everyone's performance and made the audience more comfortable, too.