A Sparse Christmas music?
By Bob Bahr
At this time of the year, people do strange things. They get teary-eyed looking at a manger scene. They reminisce about a red tricycle once under the tree and a homecoming long ago. They put aside their Jethro Tull records and dig out their Mitch Miller Christmas records.
On the other side, the musicians come off the road to be with their families. They seem almost ordinary for a week or two. Christmas does weird things to people.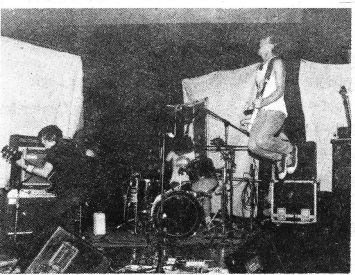 Antietam invites you to join them for a very special holiday concert with their friends Women Who Love Candy and Don't Mean Maybe.
The result of all this is a sparse month for music. If you want to do something befitting the season, you'll have good luck. Christmas music is in abundance, although it's mostly lodged in the concert halls and churches of Louisville. Past that, December is as bare as the trees.
Start the month off with a big band bang, if you so choose. The Bob Gilewski Big Band will play "classic standards" for the Annual Stardust Holiday Swing Dance. It'll be held Sunday, December 1, from 2-6 p.m. in the Galt House East Ballroom. There'll be a cash bar and tix are $2 for WXVW-WAVG Stardust Club Members and $4 for non-club members with discount certificates that can be obtained at participating sponsors' locations: Citizens-fidelity Banks, Monfried Optical locations, AAA Kentucky Travel Agency, Human Hospital (Senior Services Ofifices) and the J.C. Penney catalog departments in greater Louisville. Whew!
UofL's School of Music gives December a jazzy kickoff on December 3, when Steve Crews and Mike Tracy direct jazz combos through the music of John Coltrane, Sonny Rollins, Charlie Parker, Miles Davis and others. The straight-ahead jazz show starts at 7:00 p. m. in the South Recital Hall in the School of Music You just might hear the next Wynton in the present batch of students playing down at UofL.
Lexington artist Jay Bolotin returns to the Rudyard Kipling on December 5. There's quite a number of people who enjoy plumbing the deep waters of his originals. Adjectives thrown around regarding Bolotin include thoughtful, emotional, enigmatic.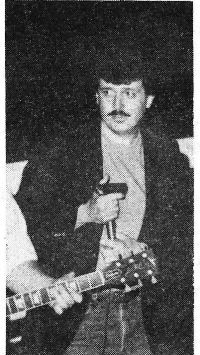 Uncle Pleasant's December 7, 1991 No R.S.V.P. necessary ... but Christmas and the Doug Wright Blues Band are coming. Doug & C0. play December 21 at Stage Deli.
Super producer Jimmy Iovine is rumored to have interest in the Cactus Brothers, the country alter ego of Walk the West. See what s got the big boys all worked up December 6 at Uncle Pleasant's.
You may want to pitch a tent and spend the night down on Preston, because Uncle P's has a heckuva show the next night. Antietam headlines a triple bill with Women Who Love Candy and Don't Mean Maybe on December 7. Women Who Love Candy is enough reason to head out your front door; Antietam's pop-punk rock sound is nearly legendary.
Not even close to legendary, but easily one of the most interesting of things going on this month is the music and persona of Carlos Zentina, an authentic Mexican singer. is in town to play at a couple of area schools, but he will perform his music for us big kids at (where else?) the eclectic Rudyard Kipling. That show is on December 11.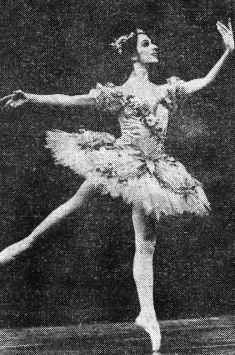 The Nutcracker. Holiday ballet. December 13-22 at Whitney Hall
The Homefront show of the month is Stealin' Horses, one-time residents of Lexington and one-time Arista recording artists. Stealin' Horses always had a pretty good following in Louisville, so the Stuart Robinson Auditorium should be cozy. The Homefront Show plays on December 14, with Tim Krekel opening.
Also on the 14th, the Royal Crescent Mob plays Tewligans with national act the Snapdragons opening. Those who have sweated in the past with the Mob are already making plans for the show, those who aren't, should. That's what I think.
Others might disagree, seeing that Jerry Butler is playing at the Kentucky Center for the Arts that night. The ex-Impressions vocalist with the smooth, mellow voice will perform at the Bmhard Theater on December 14. Tickets are $10.
Luther Vandross headlines a show with Lisa Fischer, Sounds of Darkness and Sinbad at Freedom Hall on December 8. For info call 367-5000.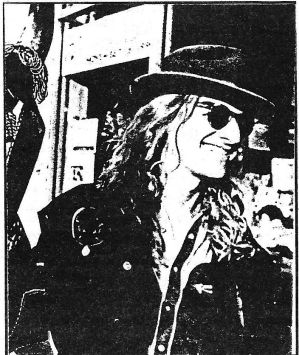 Get your buns to Tewligans on December 14! It's the Royal Crescent Mob! Maximum funk! Minimum ennui!
At the other end of the spectrum, the testosterone-soaked grunge of the Four Horsemen roars into Phoenix Hill on the 15th.
The Horsemen have a single out right now that's raw, Stonesy and loud. The band has a former member of the Cult within its ranks and day-old beef jerky stuck between their molars.
As I said, there's no shortage of Christmas music out there this month. Here's the music - take your pick.
"The Gift of the Magi" returns to Actor's Theatre from November 29 through December 22. The one-act musical is a retelling of O'Henry's classic holiday story about a husband and wife really screwing up in the gift-giving department. Love is the impetus behind mishaps, as it always is. And love conquers all in end, which always does. The musical's matinee shows are 8 p.m. Evening show Tickets cost $6.50 and up. For more info, call 5021 1210.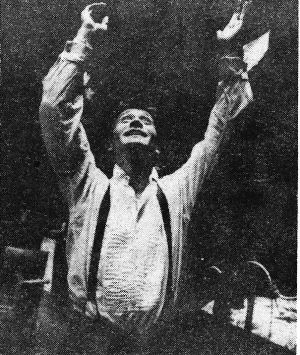 'The Gift of the Magi,' at Actor's Theatre through Decmeber 22.
On the darker side there's Ebenez Scrooge in ATL's ' Christmas Carol." He ain't musical but Dicken's words are quite melodious at times. "Christmas Carol" runs now through December 28, same number for tix and times.
Some people have a harder time than others getting into the Christmas spirit. May you need a blaring trumpet in your ear blowing "Grandma Got Run Over By a Reindeer. The Commonwealth Brass Band will give you a much more civilized version of this on December 10 at 7:00 p. m. in the Cathedral of the Assumption. The 38-member band will perform a free 90-minute conceit of traditional Christmas music.
Perhaps a little surrealism will jump start your yuletide spirits. How much more surreal can you get than a "Singing Christmas Tree?" One hundred and five singers, 1,000 twinkle 1ights, 24 feet wide, 26feet tall and weighing 30,000 pounds, the Highview Baptist Church's Singing Christmas Tree is celebrating its tenth anniversary. A donation of $1.50 is requested per ticket. See this decidedly large statement of faith December 6-8, 10-12 at Highview Baptist Church, 7711 Fegenbush Lane
"The Nutcracker ballet" is such a big deal, it now has its own festival, including a boutique, a chi1dren's parade, a ball, a children's party and yes, the Nutcracker Inflatable. Remember there is a ballet behind all this. It runs December 13 through the 22nd and tickets for this holiday favorite disappear faster than free beer. But seriously, no other event evokes the magic of Christmas better than this popular ballet, written by Tchaikovsky. More information is available by dialing 456-4520.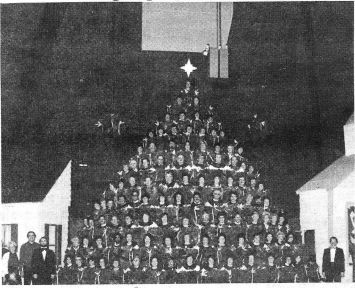 The Singing Christmas Tree makes a big, joyful, Christmas-y noise December 6-8, 10-12 at Highview Baptist Church.
It's not terribly surprising that Christ's birth inspired a wealth of good music throughout the ages. Another classic is Handel's "Messiah," a breathtaking work featuring the powerful "Hallelujah Chorus." The Louisville Bach Society will do it for the fourth year in a row and the press information says that the quartet of soloists this year are truly outstanding. "Messiah" will be performed Sunday, December 8 at 3:00 p.m. at the Kentucky Center for the Arts. Call 585-BACH for info, 584-7777 for tickets.
Perhaps you'd like to hear amateurs perform holiday standards, executing them with all the fire but less of the finesse of the old vets. Then check out the Louisville Youth Orchestra on December 8 at Whitney Hall, KCA. Tickets start at $2.50 for students under 21, $7.50 for adults. These young musicians are perfecting their professionalism, give them support. The 150 voices of the Louisville Youth Choir add more young muscle to the show and luminaries such as Lawrence Leighton Smith and Daniel Spurlock add sparkle and direction.
Outside the green and red, a very big show in folk circles is coming to the first Unitarian Church. Jean Ritchie, arguably Kentucky's most-celebrated traditional music artist, will perfonn at the Church December 21, at 7:00 p.m. Ritchie recorded for the Library of Congress Folk Archives and her first book, "Singing Family of the Cumberlands," is a classic still in print today. She sings and plays mountain lap dulcimer and autoharp. Her appearance, bolstered by sets from John Gage and Ten Penny Bit, will center around the theme of Christmas in Kentucky. Tickets cost $8.50 for adults in advance, $10 at the door. Kids 12 and under get in for $5. Proceeds from the concert go to the church's Organ and Piano Fund. Both instruments were destroyed in the 1985 fire at the Fourth and York church.
Like to attend a world premiere? Attend the world premiere of a commissioned work by Ellen Taaffe Zwilich. Her "Concerto for Violin, Violoncello and Orchestra" will be performed by the Louisville Orchestra on December 5, 6 and 7 in the KCA's Whitney Hall. Also on the program is Mozart's "Symphony No. 33" and Beethoven's "Symphony No. 6, "Pastoral." The number is 584-7777.
And lastly, the Doug Wright Blues Band will play at Stage Deli on December 21. An incarnation of this band opened the Anson & the Rockets show last month and they killed. With Greg Martin on guitar and veterans at the keys, drums and bass, the Doug Wright Blues Band seared my brain with hot blues.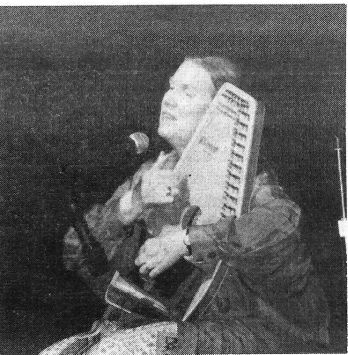 Jean Ritchie. Performing at the First Unitarian Church, Fourth And York, December 21
It sounds painful, but I'm the better for it now. If Greg Martin attends this gig, it's a must. If he doesn't, it's a near miss. Cross your fingers.