Showcases
January Showcase
The LASC January Showcase featured Dan Colon, Diane Kessler, Larry Easton and der Vision.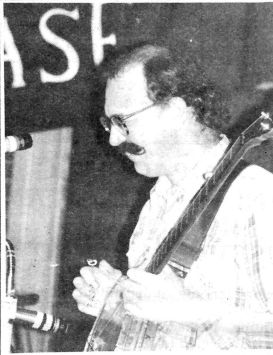 Ray Major. Photo by Jean Metcalfe
I had not heard Dan perform before, although he had been on the Monday Night Open Stage manyl times. A talented songwriter, musician and singer,. Dan was accompanied by Steve May on the fiddle, who added to the emotions in Dan's songs. They performed "I'm Sorry," "I Would Not Call It Love," "Rosemary," "Dream Song," "Open the Door, Miguel," "Lay, Lucie, Lay," and "The Crustacean Song," a rocker with the crowd-pleasing chorus line "I'll eat the tail, but I won't suck the body."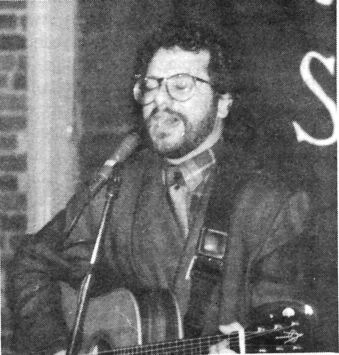 Dan Colon. Photo by Tom Metcalfe
Larry Easton and his sister Nancy Jean sang an Easton/Jean Metcalfe tune called "We Can Make It Last." They followed up with a string of familiar Easton compositions, including "We All Make Mistakes," "I'd Love to Hear All That Noise Again," "The Magic's All Over," "What Ever Happened to You," "Would I Have Heard You Whisper Goodbye?," and Larry's personal statement about pop music, "The Only Kind of Music They'll Be Playing in Hell (Is Hard Rock)."
Easton's smooth vocal style has a soothing effect. It especially had that effect on the two ladies who shared my table. He sings his sentimental lyrics effortlessly and with feeling.
Nancy Jean's harmonics added to Larry's songs. She is gaining confidence with each appearance.
Diane Kessler is rapidly becoming one of my favorite performers. Modest about her talents, her songs are designed to make people feel good about themselves for a little while.
It surprised me to discover that Diane had only been singing for six years. Shortly after joining her church choir, she met Michael Kessler, her future husband. He asked her to work with him on some of his songs. Soon she was singing harmony and playing various percussion instruments with Michael on the various open stages and local programs they produced.
Their music has taken them to the Soviet Union and back. They spent a month there sharing their music in the name of peace.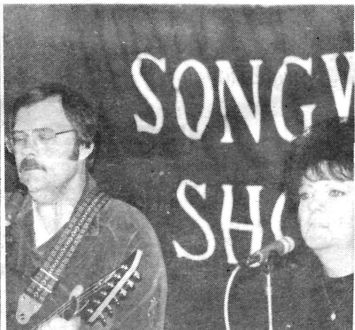 Larry Easton and Nancy Jean. Photo by Tom Metcalfe
This was Diane's first featured appearance on the Showcase. Originally scheduled to play with Marie Augustine, she had to find someone else to perform with her when Marie got an unexpected gig on a cruise ship. She rounded up Jerry Hopkins on guitar, her husband Michael on guitar, Joyce Trammel on keyboards and vocals, Deanna Hopkins, vocals, and Robbin McGraw, vocals and ukelele.
In addition, Diane had a special guest, Sergei Zaslovsky, a flutist and keyboard player from the Soviet Union. Zaslovsky is a graduate of the Institute of Culture in Moscow and studied music therapy at the Institute of Medicine for two years. He has been in the U.S. for six months, performing around the country.
The Kesslers, Zaslovsky and Misha Feygin, another Soviet musician, will be on tour from January through March and will be at the Rudyard Kipling on January 31.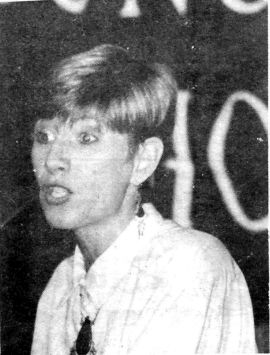 Diane Kessler. Photo by Tom Metcalfe
Der Vision, an instrumental quartet composed of John Goodin, Ray Major, Tom Flood and Tim Sears, has only recently been assembled, although all of its members have performed together in various combinations over the years. This group formed in order to perform their compositions, particularly those of Goodin.
Goodin, mandolinist and guitarist, has written for the Louisville Mandolin Orchestra, most recently "The Louisville Symphony," which was first performed by LMO in the fall of 1990. His compositions have also been played by most of the groups with which he has performed.
Ray Major plays banjo, harmonica, guitar and, occasionally, accordion. He describes the style of der Vision as "relaxed intensity." Rhythm guitarist Tom Flood is well-known to members of the Co-op, having appeared many times as a solo act and with Rusty May in the "swing grass" band NoZmo King. This group is scheduled for a reunion show on the Louisville Homefront radio program on February 9. Goodin is tentatively scheduled to join them.
Tim Sears adds an unusual sound to what would otherwise be mis-described as a folk/bluegrass group - congas. His noodlings and non-drum-kit percussion gives der Vision an extra dimension and fills in the rhythmic bottom of the compositions.
The titles to their tunes are indicative of their droll humor. For this show, they did Ray Major's "Docratism," a tribute to a friend of his; the ragtime stomp "Fly City"; "Dry Fork," a wordless ballad about Major's local watershed; Goodin's "Bent Fingers," "Lucy's Stroll," and "Cookies and Milk"; a Flood piece destined to be the theme of a spaghetti Western, "El Pistolero;" and a mystical Goodin "planxty" for the above-named Docrates, "Doc Takes A Walk."