Marvin Hamlisch Helps SuperPops Set Attendance Record
By Patricia Finger
The Yellowstone SuperPops featured Marvin Hamlisch on Saturday, January 12, in the adequate-size Louisville Gardens for the largest crowd to ever attend a SuperPops concert. Although the acoustics could have been much better, this man knows how to keep an audience happy, and this audience was no exception.
The evening began with von Suppe's "Fanfinitza March" and a lovely performance of the Ponchielle "Dance of the Hours," directed by Skitch Henderson. The highlight of this segment of the program, however, was the "Salute to Cole Porter" which included selections from "Kiss Me Kate" and "Can-Can," and the original score to "Begin the Beguine." The Louisville Orchestra performed beautifully and should seriously consider doing more of this repertoire.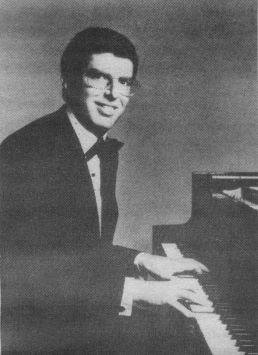 Marvin Hamlisch
Marvin Hamlisch began his segment of the show with the usual and familiar tunes, the theme from "Ice Castles," "Looking Through the Eyes of Love" and the hauntingly beautiful suite from "Sophie's Choice." Although no overture was originally scored for "A Chorus Line," Hamlisch tried out his version of one on the audience. The original melodies to the Broadway production are independently wonderful, but together as a medley for an overture they seemed rather mushy and tedious.
In a pre-concert phone interview, Hamlisch admitted to the need to switch the concert repertoire around so that the music and the program remain fresh for the audience and himself. "I sense tremendously the enjoyment that certain songs bring to the audience; on the other hand, I try to change my concerts every couple of years so that they're not exactly the same."
The "Rent-a-Composer" segment of his show is always great fun for the audience, and it gives Hamlisch an opportunity to show off his tremendous musical abilities in a very unassuming way. (He went to the Juilliard School of Music in New York for fifteen years, beginning at age seven.) He asks for song titles from the audience and proceeds to sit at the piano and compose music and lyrics for the titles. Someone shouted out "Souls Touching" ("How sweet!," Hamlisch replied.) and someone else added "Yellowstone" which were combined to become "Souls Touching in Yellowstone"! "Madeline and Jerry" became a honky-tonk styled ballad, and "Save My Gallbladder" started out in the style of a Mozart opera and ended up something more of the twentieth century.
Hamlisch ended the concert with an emotional song meant as a plea for peace and unity between all nations entitled simply "One Song." Hamlisch referred to this song in the interview as a global anthem for the world. He enlisted the help of adult and children's choirs from Beargrass Christian Church and Strathmoor Presbyterian Church. Nina Hennessey (from the Broadway cost of Les Miserables) provided the solo voice with the strength and emotion needed for such a timely song.
Married for less than two years, Hamlisch and his wife, Terre, have no children, but he has some great advice for parents interested in a musical education for their children. "One has a propensity to try to harbor the talent one sees in a child; however, it is important to make it a happy thing for that child . . . making sure that practicing doesn't become so arduous that they are turned off on the one thing that you want them to really love . . . it's a very delicate balance requiring very understanding parents. I would say that making it (music) enjoyable for the child is the best thing you can do."
Marvin Hamlisch has great musical plans for the future which include writing the music scores for two movies, a comedy called "Missing Pieces" and a film starring Al Pacino and Michelle Pfeiffer called "Frankie and Johnny." Hamlisch said of new Broadway shows, "I never talk about them anymore; I just quietly do them!"
Besides the debut in Louisville of his "One Song" promoting world peace, Hamlisch composed another song, commissioned by the Dallas Symphony Orchestra, entitled "Anatomy of Peace," based on a book by Emory Reeves. "I think we have finally reached a point where it is possible to achieve peace on earth," states Hamlisch. "I'm sick and tired of always hearing that at Christmas . . . and then the olive branch gets lost on January 1st. We are living in one world, and that's my cause right now, trying to get some unity here."