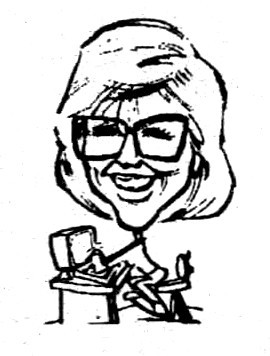 Newsical Notes
Just after we took the newspaper to the printer, we received a Christmas card from former LASC Board Member Krit Stubblefield. "Tell everybody in NSAI and LASC I said Hi," Krit said.
Krit also asked us to pass along that he is still alive and has just finished his B.S. Degree at Murray (Ky.) State. Since they offered him a Graduate Assistantship, he decided to stick around to get his Master's Degree. That means he will be living in Murray for another year. He is currently working as news director at the campus television station, which keeps him fairly busy. He is still writing songs, but is thinking about expanding into short stories and perhaps even a novel. The latter idea came about as the result of encouragement he received from several of his professors. "Seems they are impressed with my writing -- they say I have a way with words -- but we knew that didn't we." That sounds like the Kritter I remember.
Krit's address is Rt. 5, Box 479, Murray, KY 42071, phone (502) 753-3l87.
Got a real kick out of hearing Hall & Oates wind up their Sunday, January 6, appearance on Arsenio Hall's television program by singing "Starting All Over Again." I had received a welcome phone call from Karen Le Van just in time to load up the VCR and watch H&O sing the Prince Phillip Mitchell original. Good song, Phillip.
Had a Christmas card and note from Susan Tomes who lives in Berea, Ky. Susan quit school a while back (she was a teacher) to devote more time to her job -- singing, picking and emceeing at Renfro Valley. She's been a performer there for ten years or more, and those of us who have heard her play and sing know why her contract keeps getting renewed. Sure miss having Susan around. Not only is she a good performer but a good friend as well.
It was good to see Larry Standiford back at the membership meetings the first of the year. He's been working out of town quite a bit, which interferes with his songwriting activities. Larry has written parts of several songs, but he's just too tired to put the finishing touches on them after a hard day's work, he said. I'll buy that, Larry.
Charlie Walls sure has been getting a lot of mileage -- I couldn't resist, Sammy -- with his song "10,000 Miles." The song about the National Guard from his home town (Springfield, Ky.) being called to active duty as part of Operation Desert Shield (now Operation Desert Storm) has received lots of airplay and press attention, mostly because the Music Man has worked hard for it. And, besides, I've heard it and it's "a pretty good little tune." (Actually it's a very touching song about a real-life situation, and it's clearly from the heart-felt, but those are the words Charlie frequently uses to describe tunes.)
"Papa & Doc." How's that for a songwriting team? Well, maybe it ain't Rodgers & Hammerstein, but Papa Gene Adams and Doc Dockery have been doing some collaborating recently. I believe this is Gene's first experience with co-writing, and we're expecting some good demos from these two members.
Look for them on the February Songwriter Showcase.
Exploring the Cone, "six guys who think tuning up is a sign of weakness," cleverly advertised their Friday, January 25, debut performance at The Rudyard Kipling in an interesting flier that was passed out (and executed ) by member Bob Maples at the January 21 meeting. (Besides Bob, other "Coneheads" are Fred Otto and R. Smithington.) We wish them well and congratulate them on the use of the printed word to publicize their gig. "Be part of recording history," the flier invites, with the further suggestion to "sign up for a free physical examination by a professional musician."
Now that oughta pack 'em in!
Donald Ray McGrew also knows the value of promotion. He recently sent out an attractive press release concerning his upcoming performances. Donald Ray announced plans to travel to Washington, D.C. where he would perform his song "A Spirit Of Peace" for the national demonstration for Peace in the Middle East, on January 26. (He and his wife Shirley were pictured at the demonstration in a photo in the Courier-Journal.)
Donald Ray is a regular performer on the LASC Monday night open stage, where he often includes songs from his cassette album underground turbulence. Proceeds from sales of the album are earmarked for Louisville musicians' substance abuse treatment fees.
Bill Gee had the unusual experience of traveling to Baghdad, Iraq, just prior to the Big Unpleasantness. His job was to videotape the activities of a group of American clergy who were making a last-minute attempt to head off the war. We're glad you got back okay, Bill.