The Power and Peril of Going Solo
By Bob Bahr
The second chorus has come and gone. The song now showcases you and your instrumental solo. The attention has shifted, and you're up there on stage feeling naked. None of your bandmates can really help you. You're on your own. You've got to be ON.
For solo performers, the spotlight is eternally centered squarely on them. They must always be "on." If the music stops, people who were previously busy talking look over at the performer. If the performer blatantly muffs a note, everybody notices. If the performer even pauses, the room tenses up.
On the plus side, solo performers can play anything they want. As long as they want. In any key they feel like. And at the end of the night, all he money goes to them. Clearly, making music solo is a vastly different beast than performing in a band.
A natural curiosity comes over people as they watch a solo performer lug the amplifier up on stage, tune the guitar, take a swig of something, prepare for their first set. What makes them tick? Why are these people going it alone?
What follows is a peak into the minds and lives of solo artists in Louisville.
Londa Crenshaw
Just sitting in the audience when Londa Crenshaw is playing can be intimidating. This feeling comes from a number of sources. Her hearty cries for "more vodka!" let you know right away that she is no demure Southern belle. Her verbal assault on a prancing, flirtatious girl in a revealing body suit is another clue. Certainly her earthy, engaging blues voice dispels any remaining visions of a coy crooner type.
Crenshaw is an in-your-face, talented original, and if you don't agree, you don't belong in the audience. Shining best on romping blues stomps, Crenshaw wastes no time getting the crowd in the palm of her hand. She bravely accepts vocal help from the audience, but woe be tide the volunteer who can't deliver.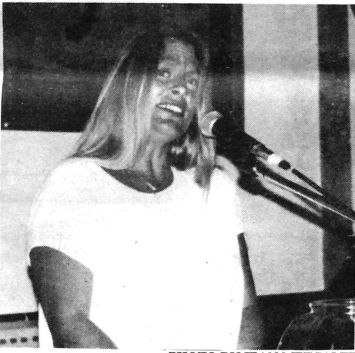 Londa Crenshaw
Don't get the idea that she's a bullying ogre. The worst an offender gets is a tongue stuck out behind his or her back. But Crenshaw is there to have a good time, and idiots and hecklers are not tolerated.
For the majority of us who fall into neither of the above categories. Crenshaw is fine listening. Her perfect phrasing and urgent strumming and flat-picking are Louisville treasures. And her ballads are vivid and touching. The song "Cullowhee" demonstrates the thoughtful side of Crenshaw.
"Cullowhee" is a little town in North Carolina where I lived for a while," explained Crenshaw. "That's one of those songs that just sort of came all at once. I wrote it in about 15 minutes after working as an electrician all day."
Crenshaw said she believes the songs that come easy are the best.
"I get a tune in my head that I just can't get rid of, and I'm forced to sit down and do it," she said. "Those are the best, I think. The ones that just come. I can sit down and work at writing a song, but the good ones are the ones that you don't have to work for at all. It just sort of passes right through you. Does that sound too hokey?"
Hokey is not an adjective to describe Crenshaw. And yet her songs often deal with nostalgic visions. Her poignant song describing her childhood growing up near Churchill Downs, "Win, Place or Show," could have been a pratfall for an unwary songwriter. Crenshaw deftly avoided being maudlin, and the song shines brightly.
Crenshaw seems to enjoy the crowd, the job and the songs. This shows the essence of her philosophy of solo performance.
"If you don't give them something of what they want, they won't give you what you want," Crenshaw stated. "I think it's a real give and take. It's that part of being a single act that I like. That interaction between us. I'm having a real bad night if I've got nothing to say. You know, if I'm playing my songs one after another, and looking at my watch, and thinking, `it's almost break time,' it's no good."
Crenshaw continued, "If a crowd gives you nothing, sometimes it's hard to give them anything back. They get what they give, I think. Because it's just you and them. They don't have anyone else to blame either," Crenshaw laughed.
A 15-year veteran of solo performing, Crenshaw revealed one remaining fear of solo work.
"The worst thing is when something happens to the equipment. You can continue on, acoustically, if you have the gumption. But that's really my only fear on stage. That's the only thing on stage that I don't know much about," said Crenshaw. "I know how to turn on the amp and how to set the sound, but I really don't know how to fix it if it screws up right there on the spot."
And the biggest draw of performing alone?
"You make more money," she said flatly. After a bit of silence, she elaborated. "You're up there by yourself. There's no one to blame but you. And there's no break from it. It's not like the drummer can sing lead on one song or something. You end up working all the time, which is I guess why you make more money," Crenshaw said.
Her sharp riffs on the round-back guitar and playful treatment of lyrics underline the fun that Crenshaw has on stage. She embraces cover tunes with gusto, giving them life, and shows no apprehension that well-known covers could overshadow her powerful originals. And the crowd responds, joining in on treatments of "The Gilligan's Isle Theme," "Margaritaville," "When I'm 64," and "Mercedes Benz."
It's readily apparent why Crenshaw plays at the prize spot (financially) in Louisville. Phoenix Hill recognizes her talent by booking her several times a month.
Danny Flanigan
In the Blues Room at Anthony's by the Bridge, a full room of attentive music fans sit nearly silent as a bald-headed, cherub-faced young man in his twenties sifts through his catalog of 30 original songs, painting pictures, portraying emotions real enough to touch, obliging two persistent fans with a moving cover of a James Taylor hit. The performer confidently rivets attention to center stage using naked talent and polished musicianship.
Guitarist Danny Flanigan has regular solo performances at Anthony's by the Bridge, Dutch's Tavern, and Snagilwet, giving him a high profile on the Louisville rock circuit. His "Monkey Hour" open stage show held every Tuesday night at Dutch's allows songwriters to play their creations in front of a live audience for a sort of trial by fire. Flanigan says he feels that he is giving something back to the music scene by hosting these open stage nights. He is undoubtedly providing a fine example of how it is done for aspiring performers.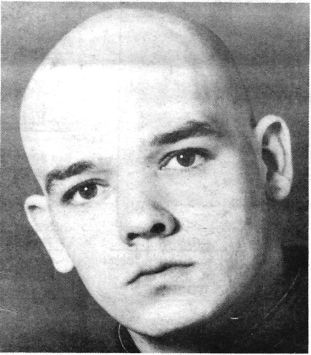 danny flanigan
Very few of the brave souls participating at Flanigan's open mike sessions have the presence and charisma that seem to come so naturally to Flanigan. But make no mistake, Flanigan's enviable stage presence is not an accident. Before striking out on his own, Flanigan was lead guitarist for Hopscotch Army, marching with them to the height of their popularity. But while they ruled Louisville's college rock scene, the band was having problems. An observation by a major record label confirmed what Army members already knew, that the band had different elements within that would never mesh into a common voice or sound. Flanigan gallantly left, taking his darker, more somber tone with him.
And did quite well, thank you. Gigging an average of three nights a week as a solo artist saved him from doing the unthinkable: getting a day job.
"I refuse to do anything else. I buy into that starving artist b...s...," laughed Flanigan. "I believe in it."
Now Flanigan has a new band surrounding him on some gigs, the Rain Chorus. The name comes from a Kurt Vonnegut book, The Sirens of Titan. The music comes from Flanigan. "I'm not going to tell them how to play their instruments," Flanigan said. "But I know how I want it to sound."
Even with his new band, Flanigan retains an interest in solo performances. "With a band, you got lots of things to distract you," he said. "You know, the drummer is twirling his sticks, and oh look, the guitarist is kinda cute...But there is a certain intensity that comes from vocals and one or two instruments. The focus is on the voice. There's a certain power."
Flanigan says the ideal solo job for him is a short set opening for The Connells, James McMurtry, Jimmy River, and Larry Crane. "That's my favorite thing to do," Flanigan said. "It means a one hour set and good exposure."
Flanigan is unflaggingly professional as a solo performer. He makes it look easy, but he'll readily admit that it isn't.
"You have to concentrate real hard when you play solo," Flanigan said. "It's real easy to get shook, and you start thinking everything's wrong. You start thinking your song is no good. You gotta concentrate the whole time."
And if the unexpected happens?
"If I break a string, then I ask the people questions -- `What'd you do today?' You know. They love it. People like to be talked to. And if I tell them about the song, then they listen more," Flanigan explained.
While he misses the additional instrumentation and musical interplay that comes with a band, Flanigan says he enjoys the freedom of solo performing too.
"I like to be able to play around with time," Flanigan said. "And I've been playing guitar for 15 years so I have pretty good time. I don't have to worry about losing it."
Ray Johnson
Most people go to Jack Fry's to eat dinner. Pianist Ray Johnson understands that. But that doesn't mean the accompanying piano jazz has to be flat background music. Mixing standards, swing, ballads, Latin tunes and waltzes, Johnson makes sure that the chef at Jack Fry's isn't the only one who cooks on Thursday nights.
Sometimes Johnson has to fight to be heard over the patrons. The piano is tucked off to the side of the restaurant, between the bar and the kitchen. Still, Johnson swears it's an appreciative audience that he plays to.
"They express themselves very generously as they leave," Johnson stated.
Even though Johnson's music at Jack Fry's takes a back seat to the delectable dinners being served there, Johnson seems satisfied. It's a damn good thing. His piano gets decidedly pedestrian treatment. The servers leave things on top of it. A busser leans against it to croon along with an old standard. Johnson smiles, plays a blues, walks a bass line with his left hand, solos casually with his right. Stride rhythms dart in and out of nearly every tune. Considerable dexterity brightens Johnson's playing. He has found a deft way of pleasing people with old warhorse songs without resorting to hackneyed musical cliches.
Johnson discusses his three-year job at Jack Fry's with a marked weariness, but while he's playing, he's bobbing and moving to the music like a performer in love with his craft.
"I've been doing this for 35, 40 years," Johnson said. "I've been playing so long, I've got confidence. But you have to do the whole thing, you know? Use both hands, play both parts, keep it going. You have to rely on yourself. The challenge is building your psychological muscles. You know how it is, man."
His repertoire ranges from Gershwin to light pop from the 1970s. While admitting to the inclusion of certain favorite composers such as Jerome Kern and Harold Arlen, Johnson says he doesn't deliberate over his playlist. With one sentence, Johnson at once explains both how he chooses songs and how he enjoys such consistent popularity.
"I know what they want," he simply said.
"Now you'll excuse me while I step outside to get something," said Johnson. Off he went out the door, across to Pic Pac for cigarettes and fresh air that was free from questions.
Doug Woodson
Watch a table at Anthony's by the Bridge fill up with lunch diners. Watch them take off their coats, and pick up a menu. Then see how long it takes them to look up, smile pleasantly, and hunt down the source of the beautiful acoustic music created in the dining room.
In the middle of the room, against the wall opposite the kitchen doors, Doug Woodson plays a six string acoustic guitar with impressive technique and considerable taste. Woodson's outlook and playlist suggest that flexibility is the key to successful solo performing. In a sample Woodson set, Bill Evans butts up against Bob Seger. A classical guitar piece from Francisco Tarrega forms a sonic cathedral, and in steps a jazzed up "Blackbird." For a tricky low note in Thelonius Monk's "Round Midnight," Woodson, with a comedian's knack for punchline execution, deliberately places his nose on the top string of his guitar and nails the note.
"Did you like that?" Woodson asked mischievously. "I call it the nose bass. I don't think I invented it. Somebody's probably done it before. But all five fingers were taken," he shrugged.
In addition to his talent at the nose bass, Woodson has amazing facility and technique. Employing harmonics, finger-cramping chords, fiery flat-picking and dizzying runs, Woodson dazzles you. He is an unabashed lover of chops.
While he performs primarily as a solo artist, Woodson enjoys working with a band also.
"I like both equally," Woodson said. "It takes a steady diet of both. What do I miss most about playing with a group? The chance to WAIL! I like music that is loud and fast," he said with a grin that was intensely devilish. With these dangerous words spoken, Woodson gently eased into "All the Things You Are." For someone who loves to "Wail," Woodson is very tasteful. In the middle of this stately standard, the guitarist bent a note with incredible power and even more incredible restraint.
Bouncing joyfully into Vince Guaraldi's "Lucy and Linus," Woodson talked about his current role models. His favorite is Chick Corea's guitarist, Los Angeles guitar ace Scott Henderson. His blending of jazz-rock fusion and bebop is particularly attractive to Woodson. When asked about Louisville's Scott Henderson, Woodson paid tribute to the bebop guitar pro without unduly pumping up his local competition.
"I thought enough of Scott's new album to transcribe all his solos," Woodson said.
Woodson has poor eyesight, a condition that comes with his albino complexion. He doesn't hide behind it though, nor does he embrace the myth of the blind guitarist.
"My laziness hinders me more than my eyesight," Woodson said. "It's hard not to use it as an excuse sometimes. This morning I got here all by myself," he added quickly with visible satisfaction. I suddenly realized that heavy amplifiers and TARC busses don't mix well, and Woodson's statement gained resonance.
Woodson said his vision didn't push him into music, rather, he was drawn to it. He said it probably kept him in music, though. He started playing guitar at age eight, took lessons from David Kelsey, and had "exactly two lessons with Jimmy Raney." Woodson has cut a demo tape to get more gigs, on which he plays "Blackbird," "Prelude to a Kiss," "Synchronicity II," and "Misty." A typical solo set for Woodson is heavy with standards and recognizable pop tunes, with space for imaginative soloing. The lone original in his Anthony's set is totally written out. There's no improvisation, and for a good reason.
"It's got changes all over the place," Woodson said. "Like eight per measure. There's no way I could solo over it."
When asked about the peculiar problems with solo performing, Woodson said with characteristic humor, "It makes a man out of you."
"You have to keep the whole thing going. But on the plus side, you can play whatever the heck you want."
Alan Rhody
A veteran of 20 years on the solo artist circuit, Alan Rhody has endured all. And still one little mishap puts the fear of god into him: the dreaded broken string.
"That's why I always carry two guitars," Rhody said. "If you break a string, you're on your own.. You've got to keep the set going without interruption."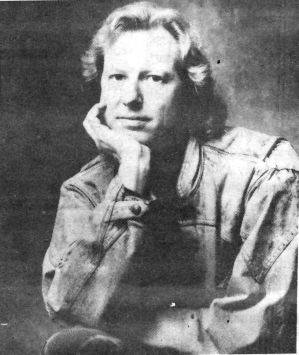 Alan Rhody
An interruption of one of Rhody's sets would truly be regrettable. He is the consummate solo artist, his sound being as big as any three or four piece band. His grip over the audience is tight. Harmonica, voice and acoustic guitar in the hands of Rhody will simply spellbind even those easily bored with folk music.
Rhody extolls the virtues of solo performing enthusiastically.
"With solo playing, you're not confined to any set list or arrangement of songs," Rhody says. "You can really roll with it. And you feel more at one with the audience when you're playing solo. It's just the sound of harmonica and guitar that I really like."
Rhody demonstrated this sound with finely-crafted originals. Indeed, Rhody infuses his songs with force and vitality, much like Bob Dylan. His set of originals flirts with the comparison to Dylan, while clearly staking out musical ground belonging solely to Rhody. To prove his point, Rhody performs an exceptional cover of "Leopard-Skin Pill-Box Hat" that delivers more than Dylan's original.
Mark Rosenthal
Music serves different purposes for different people. For performers, one of the primary purposes of music is usually to provide cash. In this respect, Mark Rosenthal isn't usual.
"I'm not doing it for the money," said Rosenthal during one of his performances at Clifton's Pizza. "I do it for myself. It's mainly a stress release."
Rosenthal is the art director at Doe-Anderson Advertising. On Wednesday nights, he gets away from it all and gets into his music.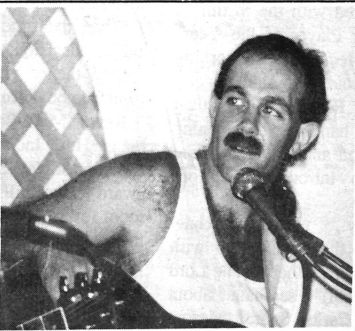 Mark Rosenthal
"I just love this room," Rosenthal said. "It's just a nice place. And if the people are into it, I'll keep playing till 1:00 a.m. I just close my eyes and get into it."
Rosenthal was a member of the celebrated Louisville rock band Daddy's Car. Guitarist Vince Emmett, currently of Shaking Family, was lead guitarist, and Rosenthal still considers Emmett one of his guitar heroes. Rosenthal says playing in a neighborhood bar like Clifton's reminds him of his days with Daddy's Car at Phoenix Hill.
"I had the honor to be in one of the first groups to play the Taproom there. It used to be really great. This place reminds me of Phoenix Hill before it got real big," Rosenthal said.
Clifton's does have that peculiar neighborhood bar feel, like an intimate Fat Cats with a similarly interesting cast of characters. Not all of them pay attention to Rosenthal's playing. Their loss. On this particular night. New Horizons mandolinist Mike Schroeder sat in with Rosenthal, beefing up Rosenthal's folk sampler.
A solid rendition of "White Freightliner Blues" was followed by a sparkling turn on Doc Watson's "Milk Cow Blues," featuring Rosenthal's blues and falsetto vocal abilities. Excellent mandolin playing helped put folk clothes on the Grateful Dead's arena rock anthem "Friend of the Devil." Rosenthal added life the Beatles' chestnut "Rocky Raccoon," then made good on a pleasant treatment of the Eagles' "Take It Easy." A rousing "Dixie Chicken" gave me goosebumps.
Perhaps Rosenthal's success stems from his incredibly laid back approach to his solo work.
"It's an alternative to watching T.V.," Rosenthal said. "I take breaks when I want to. I play what I want to. I didn't even want to get paid a lot for this because I didn't want it to be a job," said Rosenthal.
His approach to song selection is maddeningly simple and common-sensical.
"Everything I play I have a tape of in my car. I figure if I'm entertaining myself, if I can do that, then I'm probably entertaining the listeners," he explained.
Rosenthal revels in solo performance, with a glance back at the best times with Daddy's Car.
"The crux of it is, you don't have the pressures of rehearsals, and you have the luxury of spontaneity," he said. "You don't have to do anything twice. On the other hand, I miss the energy level and big sound of playing with a band."
Nearly all the solo performers agreed that going solo primarily provides freedom. In this way, solo artists may be the very heart of music. I mean, isn't freedom what music is all about anyway?