Second Thoughts
An Invitation to Dance
A Visit with Mary Long Hanlon Burke
Have you ever wondered what ballet is all about? I know I have. I still do. Yet seeing is only one part of believing, so I recently visited with Mrs. Mary Long Hanlon Burke. A Louisville native, for some years she divided her year between our city and New York, taking part in a large number of ballets and teaching it and many other forms of the dance to more than two generations of our youngsters. At one time she had 400 pupils. There were no wallflowers in her class; she made sure that for every girl there was a boy.
To appreciate ballet, let us realize, with Charles D. Boulogne, O.P., that "dancing is a holiday for the body … it confirms the fullness of life … it fulfills one of our nature's happiest needs ... the incarnation of beauty and grace." And ah, that takes us to ballet where, as in Boulogne's words, "the body is used in the service of art." (My Friends the Senses, New York, 1953 pp. 174-186).
Now I put our first question to Mrs. Burke. "I can't pretend to say it all about ballet." Her smile gave life to her words and suggested the delight dancing has been for her. "But here are two approaches to ballet. Sometimes, ballet simply expresses music in motion or makes it come to life. That was what we did in Les Sylphides. Or there are other times when the ballet tells a story such as Tchaikovsky's Romeo and Juliet."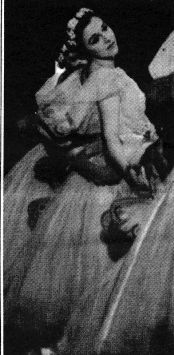 Mary Long Hanlon, circa 1934. Photo by Paul Hansen
But what does it take to become a ballet dancer?
"Practice, practice, practice! – often at least four or five hours a day. You have to be in excellent health. You have to like to dance or you would not do all that it requires. You need to enjoy the music!"
Mrs. Burke began to dance shortly after her third birthday. When a relative took her older sister to Mame Wastell, then this city's premier dancing teacher, the youthful Mary Long Hanlon not only watched her sister and classmates, she would go off on the side and mimic them. So one day the relative said to Ms. Wastell, "Why don't you let her join the class?" And so it happened. She continued taking lessons till she finished high school. She also took violin lessons for twelve years from our leading violinist of the time, Charles Letzler. For-some years, there was a tug-of-war inside her between the dance and the violin. The dance won, for after high school she went to New York. Her teachers included Ted Shawn and the Russian immigrant, Michele Fokine. Mrs.
Burke showed me a receipt from Fokine dated September 7, 1932. It read: "six lessons for $16.50." "That was a small fortune in those days!"
For a number of years she performed here and in New York. One of her many local triumphs came in 1930 when the Young Men's Hebrew Association's orchestra directed by Joseph Horvath staged a festival of ballet in which Mrs. Burke, then still Miss Hanlon, was a star performer. Though the Great Depression had begun, a local paper reported, "An overflow crowd was on hand and literally hundreds were turned away." Four years later at New York's Lewissohn Stadium, fifteen thousand witnessed another Ballet Festival in which Miss Hanlon became first a bewitching harem member in Scheherazade and then an equally charming performer in Les Sylphides. A critic wrote: "talented particularly in lyrically lovely movements of hands and arms, unfailing good taste, by turns elegant, touching, amusing and delightful."
And there you have some of. the range of ballet. But, I asked Mrs. Burke, how do you go about learning to watch and enjoy it? "Hopefully you can go with someone who knows something about it. But don't ask them – about it. Instead, after seeing it, tell your friend what caught your eye and would not let it go – what were you most aware of?"
But most people today know her as a dance teacher who had no peer. She simply says, "I enjoyed dancing but I enjoyed teaching about it even more." Not the least of her teaching triumphs was in 1939 when she launched the Children's Creative Arts Group, enticing Robert Whitney and the Louisville Orchestra to provide the music.
But by her own admission the love of her life as a dancing teacher took place at the Cerebral Palsy School. "It was the most rewarding thing I have ever done. The moment the music started, the children lit up and started to go. It's great therapy for them and for me; it makes me so grateful for good health – for the things we take for granted.
Like her husband, Frank Burke, a retired L&N Railroad executive, she grew up in Limerick as a member of St. Louis Bertrand. As she walks around today, one could almost say she pirouettes to life these words which a local poet wrote about her:
Shimmer of white like a cloud
in the sky,
Behold the Spirit of the Dance!
On twinkling toes. with head
tossed high.
She seems a goddess of high romance!"