Bluegrass Bits
By Berk Bryant
The Country Gentleman
A look back at a couple of recent gooood events:
December seventh at Shepherdsville Country Music Place, two of the legends of bluegrass music gathered, to the delight of fans who turned out. Unfortunately, it appeared as though a lot of fans of Bill Monroe, Ralph Stanley and bluegrass music were probably Christmas shopping. Probably out buying Ralph or Bill or me a Christmas present. Now if you buy that, I've got a used set of reindeer harness straight from the back of Rudolph. Picked them up at a North Pole yard sale. However, those that were there had a full evening of some of the tops in bluegrass music. Mr. Bill was in good form.
Visiting around through the audience before the show, proving once again that the mandolin master's hands and wrists are still in control of that favorite mandolin; dancing when the music really struck him; and singing in a strong, high Bill Monroe-trademark voice.
Ralph Stanley – Dr. Ralph Stanley – also treated his many fans. One of Ralph's bits he includes in his programs is when he really turns it on with the old-time claw hammer banjo. "I've Got A Mule to Ride and "Rocky Island" are two of Ralph's must-do and audience pleasers. He also frequently gets into the claw-hammer segment with the explanation that he learned it from his mother and would like to play it for us just as he learned it from her. He then demonstrates with a rousing round of "Shout Little Lulu."
All of the band contributes in a big way. One member that has been with Ralph as long as any others is fiddle player Curly Ray Cline. Curly cuts up, jokes with Ralph and provides some top-notch fiddling.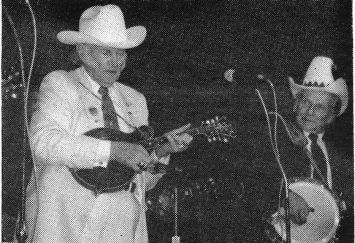 Bill Monroe and Ralph Stanley. Photo by Tom Metcalfe
Ralph could wait a bit longer to feature his young, twelve-year-old son. A number of folks expressed the sentiment that the young Stanley is not ready, or that they could have done without that part of Ralph's show. I am in agreement but I guess we have to accept the fact that it's Ralph's son, Ralph's show and Ralph is the boss and can do what he jolly well pleases with it under these circumstances.
If there is one question I wanted to ask Ralph that I didn't get to, I guess it is this: When you first learned to play that banjo, did you think you would ever have to play it as much as you have? Before the show began Bill and Ralph got together down front and did a verse or so of "Christmas Time's A'Coming." It's little treats like these that you miss when you are not there. Those of you who were not there missed it big time. You missed a show that prompted one fellow to remark, "That's the best show I've ever seen."
The other event we really enjoyed to the max was December tenth when we were fortunate enough to be able to go on the bluegrass cruise from Huntington, W. Va. on the West Virginia Belle. Good music, good friends and good food. The good friends we had the opportunity to visit included The Lewis Family and Randall Hylton. 'The good music was provided not only by them; but also by Doyle Lawson & Quicksilver, The Tony Rice Unit and The Warrior River Boys. Randall does an entertaining one-man show. This five-time Bluegrass Songwriter of the Year-award winner has the talent, personality and ability to entertain as a solo. At every I performance, Randall Hylton makes new friends and fans. He did a new gospel song of his that I am anxious to get and program on my show. Randall is going to record it and so is the Lewis Family. I am sure there will be others. The Lewis Family, incidentally, have recorded over fifty of Randall's songs. Keep it up Randall. Keep it up!
I must confess I didn't catch all of the performances by Doyle Lawson or Tony Rice. My wife tells me that they were both very good. I think she prefers Doyle Lawson of the two. We think Tony is best when he is performing the more traditional numbers he does so well. There is no denying that he is an outstanding guitarist.
My only fault with Tony and I do like him, is that he is not as accessible to his fans as most of the performers are. I would like to see him much more approachable than he appears to be. The reason I didn't catch these performances is that I was upstairs visiting.
The Warrior River Boys presented another of their fine shows. I first met and liked this group at a festival in Georgetown, Ohio. They turned in a very good show on the boat in spite of being handicapped by throat, cold, etc. problems with the lead guy. Throat problems die not hinder his mandolin playing. This Alabama group seems to have a sizeable number of fans in this area and you will all be glad to know that the Warrior River Boys are coming to the Shepherdsville Country Music Place on February 8. This will give all the bluegrass fans who were shopping when Bill and Ralph were there a chance to make up for it. Don't miss them.
This was a great cruise. The prime-rib buffet was superb, the entertainment was top-notch and the weather cooperated beautifully. They are going to do it again next year – even bigger and better I understand. Watch for it and go. My wife liked it much better than she thought she would.
Start this year off right and plan now to attend bluegrass shows, festivals and listen when you have an opportunity. Your best opportunity in Louisville is WFPL each Sunday night from 8-10 p.m.
A Happy Bluegrass New Year to you all and I'll see you on the radio and at Shepherdsville where there is bluegrass music.