Louisville Homefront Doubles the Fun - - and the Radio Programs By Paul Moffett
Every time Yank Rachell was led onstage by his drummer, seated on a stool and had his mandolin strapped on, he would say:
"There they go, thinkin' I'm a mule, harnessin' me up again."
At eighty-one, Rachell has boiled down, ground fine and generally clarified his music and his stage patter, as befits a "legendary bluesman." Seldom introducing his tunes, he blended them together into a blues burgoo, with chunks of his aggressive mandolin solos here and there to flavor the mix.
His band, consisting of granddaughter Sheena Rachell on bass, Gordon Bonhom, guitar, and Stormy Johnson on drums, garnered admiring comments for their ability to follow Rachell. Frequently he would begin a solo or a verse in the middle of a measure and their slight smiles and quick glances at one another would be the only indication that they had to "adjust."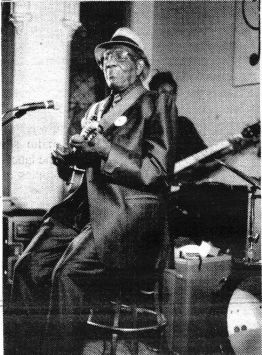 Yank Rachell. Photo by Paul Moffett
Spencer Bohren, on the other hand, was dazzling on the several guitars he had at hand. A Louisiana native, Bohren has established himself as a remarkable blues instrumentalist and singer. His last appearance in Louisville, at Uncle Pleasant's, was the talk of the town among blues aficionados. Homefront program chairman Dallas Embry, who also works at Uncle P's and is in the KYANA Blues Society, was determined that Bohren would get another crack at the Louisville market. When this blues program was put together, Bohren was at the top of Embry's list to perform.
Upcoming Shows
Upcoming shows include the regular January show on Saturday, January 12, featuring Uprising, a reggae band from Baltimore, and Serpent Wisdom, a Louisville world-beat trio. In addition, a special January show featuring guitarist Duck Baker is in the works. A date for that event has not been announced.
The February show has Fred Koller, a songwriter whose credits include a pair of hits for Kathy Mattea, "Life As We Knew It," which was a #1 hit, and "Goin' Gone," also a #1 hit.
Koller is also the author of a songwriting book, "How to Pitch and Promote Your Songs."
On the program with Koller will be the reunion of the Louisville cult group NoZmo King. The group, which never settled on a particular grouping, features Rusty May, a diminutive redheaded fiddler with a penchant for playing anything at speed and the smooth guitar work of Tom Flood.
March will have two Homefront shows - the annual Anniversary show and a Tom Paxton show.
Beginning with a 1928 National Steel guitar, he ripped through "Cairo Blues," and followed that with a tune about automotive excess called "Straight 8." Switching to a National Lap steel, Bohren moaned through a mournful "The Sky is Crying." That tune was dedicated to the late Stevie Ray Vaughan.
Bohren then yielded the stage to former Louisvillian Vikki True, who is currently living in Massachusetts. A jazz singer who appeared on the very first Homefront program, True was an "unadvertised special." She did a soulful a cappella version of "Jesus is on the Mainline," before Rachell returned to close out the first radio show of the evening.
Louisville Homefront Performances shows have been broadcast as a radio program from the very first, but early on, the emphasis was on staging a quality concert for the audience. The "radio show" side of the event was accordingly deemphasized.
For a while, the program was broadcast via National Public Radio satellite, picked up and rebroadcast by public radio stations across the country. This period of national exposure was made possible by a grant from South Central Bell. Homefront was one of two live music programs that WFPL put "up on the satellite," the other being the highly successful and widely praised "Lonesome Pine Specials," taped at the Kentucky Center for the Arts.
The national broadcast brought some performers to Homefront who might not have appeared on the show, including Bell and Shore and Catfish Keith. When the South Central grant was gone, however, it was not possible to continue the satellite uplink.
Last winter, the decision was made by the Homefront board to move toward producing a year-round radio program. That decision required the organization to produce twenty-six shows per year to fill the airtime on WFPL FM 89, the local public r
adio station which tapes and broadcasts the radio program.
Homefront responded to this need for additional shows by "doubling up," so that at a Homefront concert, two complete one-hour programs are taped. The same guests appear, but in a different order and with different material. This extends the concert slightly, although efforts have been made to keep the entire event under two and a half hours.
In addition, concerts not on the regular schedule are also taped for broadcast. As a production-oriented organization, Homefront has been imaginative in arranging to "piggy-back" other organizations' shows into the Homefront format, frequently cutting a deal to handle the sound for a show in exchange for a taped show. The first such "double show" was in conjunction with the KYANA Blues Society and was staged at Wyatt Hall at Bellarmine College.
This schedule has put some stress on the all-volunteer organization, as the group adjusts to the new demands. In part due to these demands, some long-time members of the organization are leaving the board of directors. A January General Membership meeting will see the election of new members to the Board.
Following the intermission, a new program was brought on the air and once more Yank Rachell said:
"There they go, thinkin' I'm a mule, harnessin' me up again."
Gee. And haw.