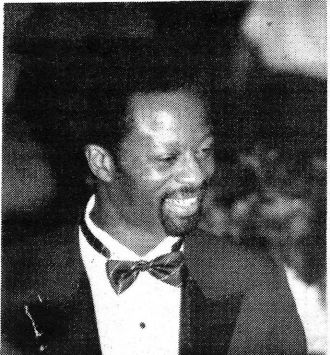 Larnelle Harris greeted well-wishers and signed autographs following his December 17 concert. Photo by Jean Metcalfe
Larnelle Harris At Valley View Baptist Church
By Paul Moffett
It is said that a prophet is often without honor in his own country, but that could not be said of Larnelle Harris, who brought his "Young Messiah Tour" to the Valley View Baptist Church on Sunday, December 16. Harris, a Louisville resident, displayed his awe-inspiring vocal ability before an adoring and near-capacity crowd in the 2000-seat sanctuary of the church on Old Third Street Road. The afternoon show brought a packed house, according to associate Pastor and music director Don Williams.
Singing a mix of standard Christmas carols and songs from his 1988 Grammy-winning album, Larnelle Christmas, Harris was relaxed and polished "at home," referring to his presence in Louisville, even though he had stated in an earlier interview that he was very nervous about performing in his hometown. Backed by his group Friends, he gave new feeling to the old songs, and mixed in just enough Christian testimony to remind that he is a man with a mission. The enthusiastic audience was equally happy with his testifying and his singing and joined in whenever he indicated, be it clapping or singing along
The group Friends also got the chance to show off their exquisite harmonies on a couple of songs. The group records and performs on their own as well as with Harris.
The Men's Chorus of the church backed Harris and Friends for the second half of the program and handled their parts very well, as they sounded very well-rehearsed. A group of children also got to sing a part, standinbg up in front of the audience and Harris.
The production was wonderfully slick, with the kind of values normally associated with Broadway-style theatrical productions. The sound was excellent, the lighting precise and tasteful and the many poinsettias arrived at the stage smoothly.
In short, it was a very great pleasure to listen to an international-level singer perform, knowing that many people would not listen to him because he sings Christian music.
Too bad for them, good for those of us who were there.