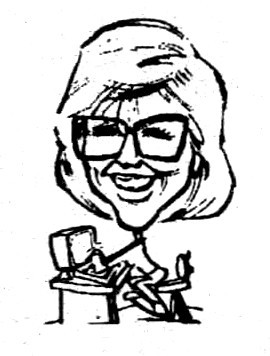 Newsical Notes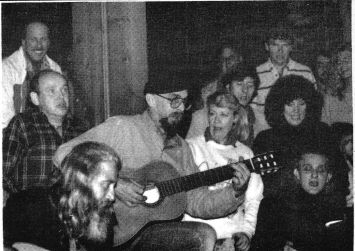 Members and guests gathered around LASC President Paul Moffett for an informal carol sing at the Rudyard Kipling on December 17. Photo By Jean Metcalfe
Had a recent letter from Rich Lober. Says he has written dozens of new songs. and "believe it or not" only one is about the outlaw creed.
He's also been playing in a seven-piece band. Rich said that the band is "not too shabby" (sounds like a good name for a band) and at the time of his letter the group was preparing for a Christmas show at an Ohio Penal System facility. Rich asked us to "forward Merry Christmas to everyone."
Marie Augustine will be spending the holidays on a Princess Cruise Line ship. She is booked for a month-long gig at sea and is looking forward to the experience. She feels she will miss her friends, especially on New Years Eve. But if I know Marie. she'll find some new friends to keep her company in her spare time during the tour. Sounds exciting to me.
Bon voyage. Marie. We wanta hear all about it when you return.
Dan Colon and Steve May are workings together onstage these days … rather, these nights. They got together a couple of times on the Monday night open stage. and Dan says with Steven's accompaniment his songs never sounded better. If you're looking for a dynamic duo. get in touch with Dan and Steve.
Ron Gambrell called to say that he is now incorporated as Ron Gambrell Music, Inc. He will do demos and record production for anyone in need of those services. Good luck. Ron in your brave, new venture.
A post card with a photo of the Los Angeles skyline on the front came to us from Thomas Styles. He moved to the West Coast a couple months ago and says: "I've been to an open stage!" He included his new mailing address so that he can keep up with local happenings via the newspaper. Tom's new address is: New Hollywood Apts.. Apt. #319, 5217 Hollywood Blvd. Hollywood, CA 90027. Phone number is (2l3) 469-271 l.
Sounds as if Tom's "gone Hollywood." (Couldn't resist, Tom.) L.A.S.C.'s freaquent (and capable) roadie Tim Lynch, was just recent|y married. Our best wishes to you and your new bride, Tim.
A special thank you to our hostess with the mostest, Karen Le Van, for once again throwing a Christmas party for the members and other friends. Your house looked great, Karen. and it was obvious that you had spent a great deal of time decorating it for the occasion. 'Twas a swell party and a good turn-out, even though we inadvertently didn't get it listed on the calendar.
Member Bill Matz and his friend Anne Spink will soon be opening up a spice shop in Shelbyville, Ky. And that's our spicy story for this month's edition of "Newsical Notes."
Charlie Walls was busy folding tape inserts on December l7; otherwise our faithful Board Member would have been at the regular LASC meeting that night. The inserts were for a cassette tape recording of a song Charlie was inspired to write after watching a parade honoring the Springfield, Ky., National Guard unit that was activated as part of Operation Desert Shield. Charlie is a Springfieldian. (And I'll bet that last word won't get by my spell checker.)
The Music Man played the song at the December 10 NSAI meeting and we thought it was very touching. Naturally, we couldn't resist the urge to offer a few suggestions. Doubt Charlie had the time or the inclination to make any changes from the version we heard. (Free advice is worth what you pay for it, huh, Charlie?)
New member Sally Mudd was at the December l7 meeting, however, with "stars in my eyes." Seems Sally had just returned from a weekend in Music City, where she Christmas-partied with some of the Judds' band members and the Pirates of the Mississippi.
It has been suggested by a person or persons who shall remain nameless that Sally might wind up replacing Naomi Judd when the elder member of the famous award-winning mother-daughter country duo retires in a year or so. How does this grab you?: Judd and Mudd. Sounds like a winner!
(Sally, do you have a minute to listen to ...?)
Ronnie Dee is looking a bit worried these days and I think l know why. He and his wife Donna are in the throes (yes, throes) of building a new house, one at this writing they weren't sure whether it would be finished before or after Christmas. As if the problems of selecting wallpaper and light fixtures aren't enough, Ronnie has to make up his mind which return address to put on his letter to Santa. Not to worry: Yes, Ronnie, there is a Santa and he knows where all the little boys and girls live.
Seriously, Ronnie, we're happy for the two of you and wish you much happiness in your first home.
Better put a lawn mower at the top of your list and make sure you're good, at least until after December 25.