Bluegrass Beat
If you missed the Lexington festival in June, then you missed, as we say, a good 'un. Now don't hold me to this, but I heard one of the vendors say that there were 45,000 -- but I am sure he meant 4,500 -- paid admissions there Saturday. The 4,500 estimate I can go along with, as there was a big crowd. I made it a couple of days and got to see, hear, enjoy and visit with some of my favorite people, friends and performers, including our boss lady Jean Metcalfe and husband Tom. Gonna make a bluegrass fan of her yet. (Yes, it was an especially enjoyable festival. "Not a bad one in the bunch," my husband summed up. -- Editor.)
Had a little visit with Charlie Sizemore, one of my favorite young bluegrass performers. Charlie finished at UK last year and is planning to continue on and get his master's degree. Also met his wife Robin and two youngsters. Left them with a "Be looking forward to seeing you in Michigan in two weeks." Charlie was supposed to have had his new tape/CD at the show but it hadn't arrived.
As those of you who listen to my radio show know, The Lewis Family is definitely one of my favorite groups. They put on their usual knock-'em-out show. A hard act to follow. They, too, have a new release coming out, and none too soon for me. The Lewises and several of the other acts were going to Michigan [for the bluegrass festival] June 21-23.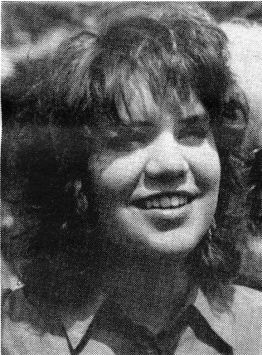 The New Coon Creek Girls were there, and they put on a good show. In fact, there wasn't a bad or even mediocre show that I saw in the two days. The weather was great and that didn't hurt either. The "Girls" have a new Turquoise release due along soon. They, of course, sang some of the songs from it, and from the samplings it is something to look forward to. Hey, maybe some of you saw Carmella's picture in The Courier-Journal. That little West Virginia lady is one fine fiddler. Don't know when, don't know where, but the girls would like to get together with Evelyn Perry. She is also a fiddle player, and a rather special one. The last living member of the original Coon Creek Girls, she was known as Daisy. The New Coon Creek Girls can be seen at Renfro Valley on a fairly regular basis. To find out if they will be there when you plan to go, call 1-800-765-7464. As of now they are scheduled for several Friday and Saturday nights in the near future.
We saw so many fine groups that we could use up space for several columns if we tried to put them all in this time, but I think you get the idea. I feel I must mention one other before we depart this subject and that is Alison Krauss. As was expected, she was definitely a crowd favorite. For those fans out there, Alison and Laurie Lewis will be in town on July 26 to tape a Lonesome Pine Special.
Our show at WFPL, "Sunday Bluegrass," 8:00 to 10:00 p.m. on Sundays, is growing each week. We continue to get calls from fine folks who tell us they are new listeners and have just found us. The second of June, as close as we could get to the fourth on Sunday night, was our second year, thanks to the terrific response from the many bluegrass fans and listeners out there.
Our underwriter, South Central Bell, has been with us all the way and will continue to be. The gentleman at SCB, a dedicated bluegrass fan who was personally responsible for their underwriting our show, is Mr. Stan Dickson. Stan has become a friend over the last year and we look forward to seeing him at more festivals now. Why now? Stan retired from SCB at the end of June and we wish him the very best for a most enjoyable retirement. Stan didn't know it but his secretary was telling me that "Stan's grin gets bigger every day." Stan, I know you have heard this another time and another way by now, but I would like to say THANK YOU. Thank you for your faith in bluegrass music and dedication to my show. Thank you for the folks at WFPL and an equal thanks from the many listeners and bluegrass lovers in the Louisville area. Come on, Stan, get your hat and let's go to a festival!
•
A letter from Max Rynearson up in Indianapolis asks us to mention the Annual Little Eagle Creek Bluegrass Invitational Bluegrass Festivals at the Rynearson Farm, 16840 Little Eagle Creek Ave., Westfield, Ind. The farm is located 15 miles north of Indianapolis and three miles west of Westfield. Signs will be posted to show the way.
Dates for the summer festival are July 18-21, with Ralph Stanley (Friday only), the Lewis Family, Vernon McIntyre's Appalachian Grass, Emma Smith, Hurricane Creek, Red Wing, Buck Jackson & Leisure Time Band, Denham Brothers, Southern Horizon, and The Fishermen Quartet.
The fall festival there will be September 26-29, and will also feature the Lewis Family, plus many other groups.
Additional information can be obtained by calling (317) 896-2985; (317) 896-5337 or (317) 257-5391.