June Showcase By Mike Layman
Who said LASC Board members are like cops, never around when you need them? Not one but three of the four performers at the June 1, 1991, Showcase were Board Members, as well as the emcee and sound man.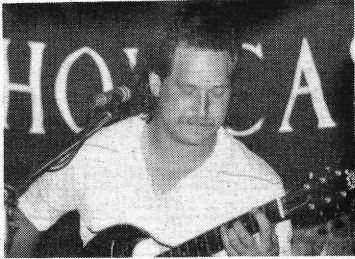 Tim Lynch. Photo by Tom Metcalfe
The show began with the rock sounds of Tim Lynch. Tim is the LASC's newest Board member. His lyrics are witty and entertaining. He began with a song called "Move Over, Rover" about a fellow whose night on the town put him in the doghouse. Tim is a fine lyricist and it shows in two of his novelty tunes, "Anything But Ruff," and his latest, "Helium Man." This was Tim's first full performance on a Showcase and he did very well.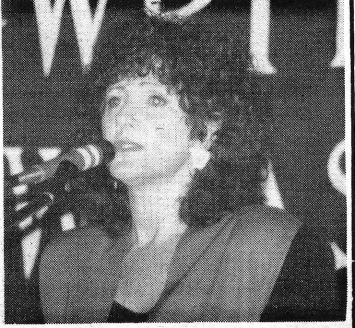 Diana Black. Photo by Tom Metcalfe
The second performer of the evening was the current LASC Secretary, the energetic, lovely and talented Diana Black, Diana was accompanied by yet another Board member, Joyce Trammell, on piano. She started off with a tune called "A Little Love," then moved onto a soft ballad "Behind the Times." In addition to being an excellent writer, Diana has a strong, clear voice which is apparent on all her songs, but never better than on her "Every Good-bye Ain't Gone." She ended her first set with two songs co-written with (Board member) Sir Charles Walls, "Same Old Song and Dance," and "The Heart of Dixie." For all you female singers looking for fresh new material, look no further than Ms. Black.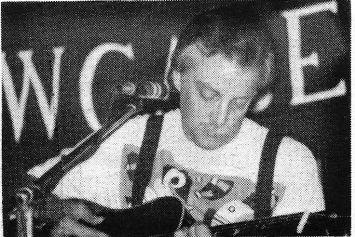 Pen Bogert. Photo by Tom Metcalfe
When you hear the name Bogert, do you think of Casablanca, Bergman and Rick's Place, or do you think of Ken's Place (aka the Rudyard Kipling) and our third Board member to perform, Pen Bogert? Fresh from a gig at Air Devils Inn, Pen displayed his considerable talent for the blues. He began with an instrumental Georgia blues tune called "Bean Creek Joy," then moved on to his first original tune, "People Could Fly." I don't know about people flying, but Pen's six-string sure can. The guy hit every note that Gibson had.
Pen completed his first set on guitar and harmonica with a number of blues tunes, including "Midnight Hour Blues." The next time he's out working at a local night spot, be sure to check him out.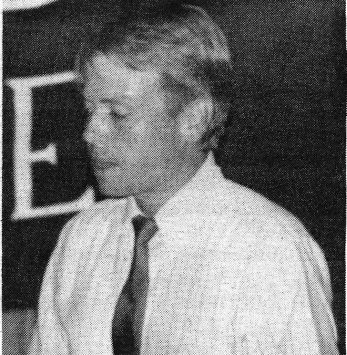 David Pitt. Photo by Tom Metcalfe
However, the loudest kudos belong to the fourth performer of the evening and to the magnificent voice of David Pitt. David hits as many notes with his voice as Pen does with his guitar. He classifies himself as a gospel singer, but his songs are more in the contemporary Christian category.
Pitt was accompanied by Joyce Wilkerson on piano. He began his set with the crossover hit "Just See the Love She's Found in Me," and it's never been done better. He then strapped on his guitar and sang an original tune called "A Token of My Love." I don't care where you are, in L.A., New York, or Nashville, you won't hear a finer voice - David Pitt is as good as it gets. He brought the house down when he ended his first set with "The Wind Beneath My Wings."
Each performer then returned for a much-too-short second set.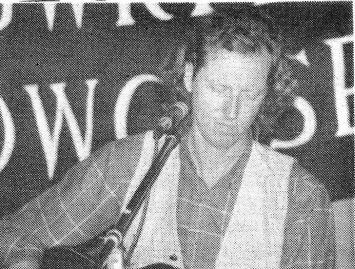 >Alan Rhody.Photo by Tom Metcalfe
This Showcase had all the variety you could ask for - rock, country, blues and gospel. In addition, there was a surprise guest, Mr. Alan Rhody, who popped in and played a couple of his newer tunes, including one that was so new he had not yet learned it completely.
The next Showcase will be the first Saturday in August. Watch the LASC Letter for the lineup.