Louisville Native Gets Bluegrass Cut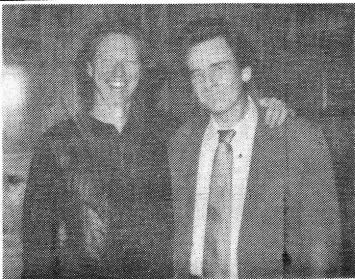 "Trainwreck Of Emotion," written by Louisville native Alan Rhody and Jon Vezner, is currently at No. 5 on the Bluegrass Unlimited's National Bluegrass Survey. Bluegrass legend Del McCoury and his band perform what has been described as the hottest version of the tune to date.
Esquire magazine's Kurt Loder said of the effort: "Masterly. Maybe even a masterpiece."
The song has also been released by Anne Kirkpatrick in Australia.
Additionally, "Somebody to Care," which Rhody co-wrote with Bill Caswell, has just been recorded by Hoyt Axton, with James Stroud producing.
Rhody, writer of such hits as "I'll Be True to You" and "Wild-Eyed Dream," in addition to "Trainwreck," was recently in Ontario performing some dates. He will return in September for Country Music Week in Canada.
(Photo caption: Alan Rhody, at left, and Del McCoury backstage after McCoury's show at the Station Inn in Nashville.