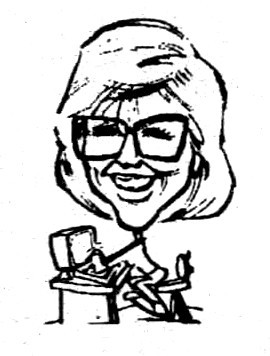 Newsical Notes
Papa Gene Adams called recently to tell us that he had just returned from a visit to his hometown Letcher County. Ky., where he played music with his cousins. I understand that Adams family gatherings are a lot of fun.
Gene invites LASCers to the Adams family reunion the first weekend in August of this year. Here's how Gene describes the event:
"Music: on the Mountain: the Adams Family Reunion: A site of beauty as far as the eye can see from the top of Adams Mountain in Letcher County. Ky. Saturday entertainment will feature Doc Dockery, Mary Dockery, Papa Gene Adams and Hugh Hill, all songwriters from the LASC. along with a host of other entertainers."
More recently Papa Gene and Doc went to Music City to call on a few music biz folk and left a couple of demo tapes. Let's hope something good happens to these gents and their songs..
Got a Ziggy greeting card from Sally Mudd earliyin June. Said she's "loving every minute" in Nashville, Tenn. and asked me to say "Hey" to everyone in the LASC.
Karen Le Van and Wally Stewart traveled to Nashville and got together with Sally to attend "Summer Lights Festival 1991 the last of May and first of June. They hated missing the LASC Songwriter Showcase on June l, but they heard a lot of great music in the town that touts itself as Music City, U.S.A. Look for more of the exciting details elsewhere in this issue, space permitting. And don't forget to ask both Karen and Wally for a look at the photographs they took.
As of this writing. the Monday night open stage formerly sponsored by the Co-op has continued with various hosts. including Tim Herms, Karen Le Van and Marie Augustine. We're happy that this Monday night tradition started over five years ago by our Prez Paul Moffett. is continuing. It's a great place to try out your act, new songs. etc.
Our best wishes to Nancy Ferguson and Co-op member Roscoe Bland who let us in on their plans to be married on June 24 in Pigeon Forge, Tenn. Roscoe said they wanted to be just a little bit different and tie the knot on a Monday. By the time members receive this newsletter, Roscoe and, Nancy should be Mr. and Mrs. They will make their home in Frensch Lick, Ind., where both are employed at the same, company.
If you've been missing Ronnie Dee like we've been missing Ronnie Dee, then you will be happy to learn that he'll be back with us as soon as he can. His wife, Donna, had a serious operation on her ankle and is virtually immobile these days, Ronnie said.
"I don't think I'll answer any ads for a male nurse," Ronnie added, in his own inimitable style.
Get well soon, Donna.
I'd like to take a little space here to say a big thanks to everyone for their expressions of caring and concern on the occasion of my recent surgeries. I appreciate you very much.