"Band Music is Distinctively American Culture" – Keith Brion
By Henry C. Mayer
The setting was fit for a King – and a March King at that. On May 18, Centre College and its exquisite Norton Center was alive with music by John Philip Sousa, rendered in the traditional setting and with other music he might have chosen.
Keith Brion, who has done more than any other person to revive thoughtful appreciation of Sousa and his musical legacy, was on hand with The New Sousa Band.
The New Sousa Band is not just another musical aggregation; it is truly unique in its personnel and their abilities but especially in the man who wields the baton: Keith Brion. Brion has not only a flair for showmanship but is primarily a knowledgeable musician. He conducts with verve and gusto and I cannot really say who enjoys the musical menu he dishes up more, him or his players, who he entices from some of the great orchestras in this country.
When one hears such orchestral music as Verdi's "Triumphal March" and Rossini's "William Tell Overture," one does not really miss the strings. Brion has mastered the art of the grand flourish, a feature particularly enjoyable in Sousa's work. When he conducts this band he becomes Sousa.
So much fun is this for him and so meaningful is it that when LMN asked if he had written any music himself, he smiled and said," I'm having too much fun bringing Sousa to people; he is America's classical composer par excellence." The delight he brings is echoed in his generous number of encores and, thanks in part to him, Sousa is no longer merely a name in the history of American music.
Brion emphasizes that Sousa was not just a band leader. He was a talented musician who was originally a violinist and was a concertmaster at a very early age. A prolific composer, with first class musical training, Sousa had as a mentor the teacher of the Austrian composer Anton Bruckner.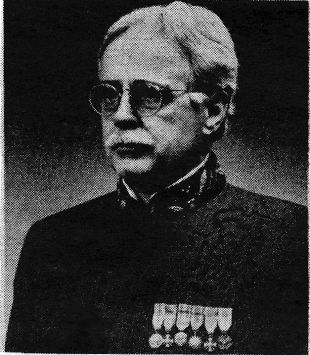 Keith Brion as John Philip Sousa.PHOTO BY JOHN PILVERTZ
At only twenty-four, Sousa's musicianship impressed the French composer Jacques Offenbach, under whom he played and for whom he made arrangements. Sousa's compositions have been compared to those of Offenbach, Arthur Sullivan and Johann Strauss, Jr.
The program at Centre was a lively mixture with several outstanding solo performers. Vincent Di Martino, from the University of Kentucky, and Frank Hosticka treated us to two cornet numbers written by Herbert Clarke, Sousa's cornetist.
Kimberly Parsons displayed a talented voice and charming manner with her two vocal numbers. Clad in a gorgeous full length white evening dress, she revealed a stage presence bordering on the majestic. Her encore, Stephen Foster's "Beautiful Dreamer," which she sang backed only by the harp, was memorable.
John Beck showed why the xylophone can offer us so much delight. His rendition of "Nola" won the house.
It was an unforgettable evening.