King Beats General on Evening of Pegasus Parade
By Jean Metcalfe
B. B. King's stellar performance at the Macauley Theatre outshone Gen. H. Norman Schwarzkopf's four stars on Thursday, May 2.
Basking in the adulation generated by the success of Operation Desert Storm, the Pegasus Parade Grand Marshal waved to the cheering parade-goers as he rode west on Broadway into the setting sun.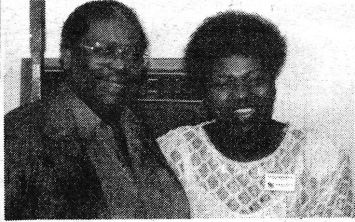 B. B. King and Shirley Mae representing the Black Jockeys Association.Photo by Jean Metcalfe
The throngs of parade watchers, swelled by the promise of a glimpse of "Stormin' Norman," had snarled both pedestrian and vehicular traffic in the downtown area. Traveling on foot to the Macauley's Third and Broadway location was painful to the feet (at least a two-blister trek) and painfully slow. Travel by car was out of the question.
Although King's performance, sponsored by the Black Jockeys Association, was not an official Derby Festival event, it was for this writer the high point of Derby week.
The B.B. King Blues Band also shone and King was generous in his praise of them. Not a shabby player in the bunch. And the electric bass player was outstanding.
Even the fetching and proper placement of a chair for King by one of the players was cleverly handled. Do not be misled, however. The 65-year-old bluesman was on his feet for easily the greater part of his dynamite performance.
Backstage after the show had ended, I was struck by the sheer size of the man, who had swapped his flashy metallic jacket for more conservative togs.
King patiently. greeted all who waited in line outside the small dressing room and I felt especially fortunate to have been in the first group to gain entrance. KET people made up the other members of my group. They were there to film a PSA of King urging young people to stay in school and finish their education: "If you want a better future, stay with it."
I was especially appreciative when King invited me to sit for a moment, even as his representative was politely reminding us that it was time to make way for the next group. When he asked me to sit down, I sat.
"What is the best thing and the worst thing about being B. B. King," I asked, hoping his answer would not be, "Silly questions."
He spoke in a sincere voice: "The best thing is meeting people. People are very good to me. The worst thing is having to leave when I don't want to."
Gathering up my camera and the photograph he had autographed for me, I exited past the line of people still waiting to see King, hoping I had been able to snap at least one photo that wasn't blurred due to nervously shaking hand syndrome.
To have gone to Churchill Downs on Derby Day would have been anticlimactic.
B. B. King and Shirley Mae representing the Black Jockeys Association.