Mr Popular at Yogi's Bar and Grill on May 16
By Leonard January
What are some of the more common sayings? I mean the ones that you tell yourself when things are going not exactly the way you want them to. Maybe something like, "making lemonade out of lemons" or "keep on keepin' on."
I'm sure Tim Chewning, ex-drummer fantastic for the now-defunct Shaking Family, must have said one of these to himself to keep his spirits afloat. I mean, one day it appears that you have the world by the proverbial drumsticks by being in a label-signed band like Shaking Family and the next thing you know is that you're welll ... not. But that was then and this is now.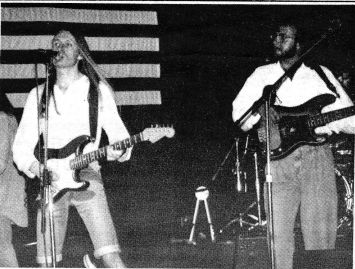 Mr. Popular's Tim Chewning
A couple of new things have happened to Mr. Chewning. One, he gets to front Mr. Popular with tremendous Michael Bolton-like vocals; and, two, he finally gets in a band that appears to have a musical direction.
Mr. Popular's roots are firmly embedded in rhythm and blues, as evidenced by their selection of songs ranging from Van Morrison's "Domino," Hendrix's "Stone Free," C.C.R.'s "Born On A Bayou," Janis Joplin, to Bob Dylan's "Knockin' On Heaven's Door." Mr. Chewning can flat out capture the gutsiness that all the songs have to offer and he does it with the same effort as the original artists did.
I would like to have seen originals in that bunch, but they are a new band (two months old) and they did have a change of drummers right off the hat. Bill Miles on drums was solid and he blended nicely with bassist Tim Halcomb. Todd Nickens handled all lead guitar, which was solid but a little too notey on some selections. Chewning played rhythm, guitar and acoustic throughout the night and managed to glide effortlessly around the stage. to create the front-man image.
He's good. The band is good. I hope they get some good originals.
Go see them and have a good time.