April Showcase Prime Cuts II By Wally Stewart
April's first Saturday night came on the 6th and brought the Rudyard Kipling audience another offering of entertaining songs from members of the LASC. However, this was not just a regular monthly concert. Billed as "Prime Cuts II," this was the second annual "Publisher's Night."
A solicitation for this event had been made in the LASC Letter and at regular Monday meetings. LASC members were invited to submit up to three songs and the tunes heard this night were selected from those submissions. Two sets of all-original compositions were followed by a high-spirited round of cover songs from "The Traveling Beer Bellies."
The house was full, both in numbers and anticipation, as emcee Jean Metcalfe began the evening with a short synopsis of what was in store. She then introduced and thanked Nashville publishers Sherrill Blackman of Buckhorn Music and Jerry Vandiver of Little Big Town Music, who were there to hear the songs.
Tom Greenfield's "Ever Loving You" started the first set and was a clever effort about a man trying to get a particular woman to love him. He was followed by Tim Lynch doing a hilarious blues novelty tune, "Anything But Ruff." "Ruff" explored the easy life from a dog's viewpoint, and when Tim invited the crowd to join in for some "four -bark harmony," he got a howling response.

Bob Maples brought some tasty reggae to the stage with "Hey Man" and showed excellent judgment in recruiting help. Harmonies from Jak Son Renfro and keyboard wizardry from "Professor" Rob Smithington added great flavor to the performance.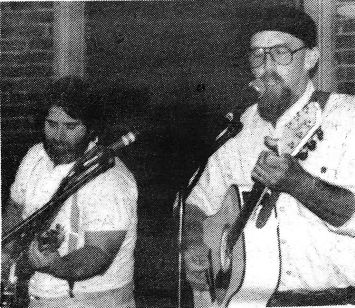 Charlie Walls and Paul Moffett
Sally Mudd then changed the writer-performer format with first-rate renditions of Co-op Board member Diana Black's "Heart of Dixie" and "Same Old Song and Dance." "Dixie" was written with Charlie Walls and told the story of a young man on a bus who was "living in the heart of Dixie." Just when you knew he was south of the Mason-Dixon line, the fellow got off the bus in Toledo, Ohio, and headed straight for the waiting arms of his loving Dixie. "Dance" appropriately waltzed as we felt the emotions of a woman seeing her man "eye" other women.
Mike Layman is a very willing worker for the LASC and usually sits at a keyboard when he's on a Showcase. This time, however, he played a guitar for "After All These Years," a tune he composed for his in-laws, who are "still madly in love after forty years of marriage."
Listening to Alan Morris is always enjoyable and this night was no different. His smooth voice filled the room with his "Can't Get Enough," "End of the Line," (co-written with Karen Le Van) and the Le Van / Debi Knight collaboration, "Can't Take the Taking." I enjoyed the imagery of "It's time I catch the golden ring before it hits the floor" from "Taking," and from "End," "You broke my heart just like it was glass." This one expressed an emotion that has been felt by too many people – "You loved my lovin' but you didn't love me."
Alan's set brought us to the first intermission and I got to spend a few minutes with publishers Blackman and Vandiver in the Rudyard's lower room. They complimented the songs and said the support for the concert was great. When they returned to Nashville, some of the tapes of the night's songs went with them for further listening.
Larry Standiford opened the second set with his Mellencamp sound on "Where Do Daddies Go?" At that point, the crowd was having such a good time that emcee Metcalfe had to ask for quiet to allow the publishers to hear the songs. (She didn't care to do that, but it was necessary for the songs to be heard.)

Eddie Burch started his part of the show with the country sound of "The Best Mistake," saying "You're the best mistake . . . I want to keep making them again and again." Switching to rock for "Bone Bad Lady," he finished up sounding somewhat like David Clayton Thomas.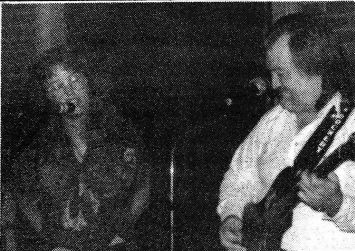 Mary and 'Doc' Dockery
Ron Allgood's "Just One More Time" had a positive effect on at least one couple in the crowd.
I enjoyed the sincerity of Gary "Doc" Dockery and his wife Mary, with such lines as "Let me hear you whisper softly that you're mine." After his wife returned to the audience, "Doc" dedicated his collaborative effort with Craig Panther to her. "It Takes Two" spoke of several things in life that take two, then followed with "Why not me and you?" Dockery then introduced Earl Meyers' "She Took it All But the Blame," saying "This is by one of my favorite Co-op members and I could see George Jones doing it."
A very active and supportive Co-oper concluded the evening's original works when Charlie "Music Man" Walls strapped on his guitar for his up-tempo "Face to Face." LASC President Paul Moffett joined him for "Upright Lady." This tune was a collaboration among Moffett, Walls and emcee Metcalfe, all of whom are members of the Board. It has some plays on the title word "Upright," such as "When she gets me home and we're all alone, she's gonna show me what gettin down's about."
Walls soloed on his "Stop Me if I'm Wrong," saying "I don't think you love me, but stop me if I'm wrong. Please stop me before I'm gone." Charlie's "Next to You" was the last of the original tunes.
After a brief intermission, the "Traveling Beer Bellies," aka Charlie Walls and "Doc" Dockery, offered a number of well-known covers, closing out the show.
There were some problems with the sound during parts of the evening, but overall "Prime Cuts II" provided a very welcome opportunity for local writers to pitch their work 'live" for publishers. Thanks to all who worked to make it a success and to Sherrill Blackman and Jerry Vandiver for coming up from Nashville.
There will not be a Showcase in May due to that other 'minor' event held that same day.
The next Showcase will be June 1, at 9:00 p.m. at the Rudyard Kipling.