The Kentucky HeadHunters
ELECTRIC BARNYARD
Format: CD, cassette, LP
By Paul Moffett
The first time I listened through this album, I thought that there wasn't a song on it that your brother and his band couldn't figure out and work up. The second time through, I decided that there wasn't a song on it that they wouldn't, with the possible exception of "Take Me Back."
Subsequent listenings to this eagerly awaited second album from the HeadHunters have not seriously altered those first impressions. The sound remains as it was on Pickin' On Nashville, the group's smash first album – the kind of music you might hear out the highway a piece, at that little bar with the yellow mosquito lights outside and the single red stage light inside.
When Side One opens with the theme song for Munfordville's (Ky.) WLOC, "Chitlin' Time," you know that you're not far from that town. (Bartender, get me a beer in a bottle, so I can peel the label off with my thumbnail.)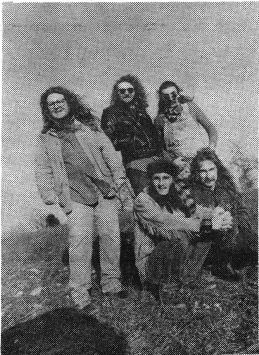 The Kentucky Headhunters
I admit that "The Ballad of Davy Crockett" was something of a surprise at first, but, like every other tune on this album, it fits. After all, don't you want to get the audience singing along on something familiar, but not too current? It's a case of following country radio format rule No. 1 – 80% oldies, 20% new stuff. The HeadHunters just seem to have carried it a bit further.
The next song, the Ivy Bryant-penned tune that Waylon Jennings had a hit with in 1968, "Only Daddy That'll Walk the Line," confirms that this is, indeed, a roadhouse album. Serious dancers will be on the floor in a flash, followed by the more timid souls.
The HeadHunters go to the Bill Monroe well again for "Body and Soul, " a tune written by Virginia Stauffer, and do the same kind of arrangement of it that they did with "Walk Softly," from their first album. They follow that with a tune the band wrote with Jeff Davis, "Diane," a ditty about a fellow in a bar watching his former lady friend leave with another man. This tune has popped into my head at 6:00 a.m., so it seems to be memorable – a big plus.
"Sixteen and Single" is the HeadHunters' rewrite of "Sweet Little Sixteen," or maybe "I Saw Her Standing There." In any case, it's a young male's tongue-hanging paean to fresh, full-blown teen-age femininity.
Side One closes with "Wishing Well," written by Richard and Fred Young and Anthony Kenney. Despite several listenings, I still don't know what it's about. It rocks, however.
Side Two cranks right up with the Norman Greenbaum hit, "Spirit In the Sky." Those opening licks are instantly recognizable and aren't you glad you wore your dancing feet? Everybody else turn up the volume and sing along.
I played the next song, "Always Making Love," for a friend of mine and asked him to tell me what it made him think of. About half a verse into it, his face lit up and he beamed "The Beatles." Ah, but it's not a song swipe, it's just in the style, particularly with the Lennon-esque harmonica and McCartney harmonies. (Alright, that bass walk-up line is a lift – you'll recognize it right off.) Another friend heard this one as a very Fifties tune, which merely demonstrates that Lennon-McCartney also had their influences.
"Love Bug Crawl" is a hoot – pure-dee Elvis and Jerry Lee and the Big Bopper. In some ways, it reminded me of "All American Boy." Rockabilly's not dead, it's just disguised as country music.
I confess that I would like to hear from the HeadHunters what the Texas Tornadoes, with whom they have been touring, think of "Big Mexican Dinner." For that matter, what any person of Hispanic descent thinks. In these days of Political Correctness, it takes muchos cojones to perform a tune like this – in a fake Mexican accent, no less. Sort of Amos and Antonio. (The Big Mexican Dinner is, of course, a woman.)
I like the sound and feel of "Kicking Them Blues Around." With any luck, you'll be hearing this song in country blues jam sessions for a long time. Lyrically, there's not a lot to it, other than the title, but the music is swell.
Side Two closes with "Take Me Back," the requisite I-wish-I-was-a-young-boy-again-in-my-hometown song. It's not a bad number, just one of those songs that has been written by everybody else and a whole lot better by some.
My other first impression upon listening to this album was that there's not a "Dumas Walker" on it – and, even though I like the album a lot, I think my first impression was correct. That's unfortunate only because the country music market has become as obsessed with finding what's the latest and hottest as has the pop market. Consequently, groups without current hits sometime disappear. In the case of the HeadHunters, I don't think that's too likely, however, because there are some solid hit tunes on this album and these boys can play 'em.
The question might be, "Is this – gasp – a theme album?" It's a good question, but I suppose you would have to ask the HeadHunters. It does sound a whole lot like two sets from a real good roadhouse band, the kind of band that would make you go up to 'em and ask, "What're you guys doing here?" In that sense, this album has a theme, even if it's not a theme album. It really appears that this is how this band sounds, and the band's recordings sound like them. Seems to be a pretty fair way to do things.
All in all, Electric Barnyard ain't too shabby for a second effort, guys. Keep on pickin' and we'll keep on coming out to hear you, drink a little beer and have a good time.
Last call.