Little Charlie & the Nightcats
Live at the Cherokee Blues Club
By Marc Hayes
On April, 2nd, Little Charlie brought his Nightcats into Louisville. Now, I knew these guys were good but I never expected them to be breathtaking. As soon as Little Charlie plugged in his semi-acoustic Gibson and the Nightcats kicked in their first number, I was sure that these guys were the real McCoy. The band played two hot sets, drawing on choice selections from their four albums on Alligator Records. The evening was packed with bright moment after bright moment as Charlie Baty and his supporting cast aggressively mixed the blues with the edge of rock 'n' roll.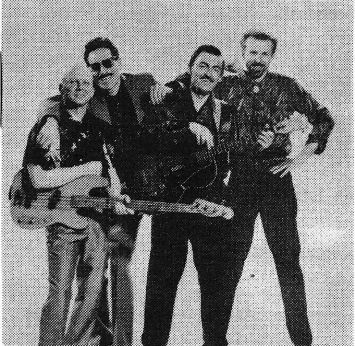 Little Charles and the Nightcats
Two or three nights a week I'm downtown searching out the local club scene for hot new guitarists and I thought I had seen the best of them, but Little Charlie was the cream of the crop. Quite simply, this man with an incredibly rich assortment of sound and styles was the hottest guitarist I have ever seen. I can't wait for the band's next rip to Louisville.
Little Charlie and the Nightcats are touring in support of their new Alligator release, "Captured Live." This was a hot record I'm sure you've been wearing WFPL's Saturday Night Blues Hour. My favorite cuts include a killer version of "Crawling King Snake, "Smart Like Einstein," and "Thinking with the Wrong Head." While the disc doesn't come close to capturing the real Little Charlie, as I'm sure the folks at Alligator were hoping to do, it is the next best thing to seeing these blues boys live.