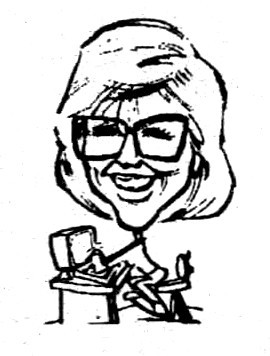 Newsical Notes
Congratulations and Best Wishes to Valerie (Yeiser) and Brian Keller on their recent marriage. Valerie has been a Co-oper for more than two years. and has appeared on our Songwriter Showcases on several occasions, accompanying Alan Morris on piano and background vocals.
A great big congratulations to Charlie Walls and Sammy Reid on completing negotiations to have their song, "The Proof's Here in My Hand," included in a John Cougar Mellencamp film titled "Falling. From Grace."
Assuming it doesn't hit the cutting room floor (and we're not expecting that to happen). we look forward to hearing it played in the movie when it is released sometime in the early part of 1992. There's already talk of a party.
Charlie is also scheduled to appear on the public access channel on April 26, May 3 and May 10 with a musical segment that will include Sally Mudd. We'll be lookin' atcha.
Speaking of Sally Mudd, it's now officially definite for sure. She's gonna make that move to Nashville very soon, where she will be attending Belmont College and pursuing other interests. We wish you much success, Sally.
The Courier-Journal Scene edition of April 20 contained a great story, written by Kristin Faurest, about local area songwriters. It was great to see how the LASC seemed to pop up in so many of the writers' stories.
Thanks, Kristin, for all the time and effort you put into telling about all us songwriters, mostly unsung.
Membership Chairperson (and Secretary, et al.) Diana Black passed along a note from Diane Kessler to the LASC in which she said, "Thank you for all that you have brought to Louisville and the opportunity you have provided for local musicians!" We certainly do appreciate the compliment, Diane. And thank you!
Papa Gene Adams keeps right on working on his songwriting, despite continuing health problems. He and Doc Dockery have been working together on songs as well as on gigs. On April 19 Papa Gene provided the entertainment for a local gathering of fellow Louisvillians with ties to Letcher County, Ky. He was the sole entertainer and got a standing ovation from the approximately 200 people who were there. One of the Letcher Countians was LASC member Ocilla Lawson, who gave Papa Gene a glowing introduction.
Papa Gene is also scheduled to entertain at the Adams Family Reunion in late July. Atta boy, Papa Gene!
Prez Paul Moffett has decided to call it quits as host of the Monday night open stage at the Rud. After five and a half years of devoted and dependable service, Paul looks forward to spending more time with his family and perhaps trying his hand at some of the other open stages around the area (as a player). Alas, 'tis the end of an era. But we wish the Prez well and express our thanks and appreciation to him for the dedication that made the open stage the longest-running one in the area.