Tom Browning
Format: Cassette
By Bob Bahr
Nearly everyone who follows the Louisville music scene has seen him. He was performing all across town a couple of years ago, forging the fusion sounds of the Fat Cats Four, syncopating the reggae beats of Sunblast at Captain's Quarters, driving the rock 'n' roll finesse of Patti and the Hoods. He was the ace guitarist with the occasional, subtle small grin seen only by a change in the shape of his magnificent walrus-like mustache. He was everywhere for a while, providing solid guitar work, delving into engrossing solos.
Then he disappeared -- into the recording studio. The omnipresent guitarist was Tom Bowning, and in 1989 and 1990, Browning was putting together his solo album, "I'm Stuck in This Desert 'Cause I Ate My Horse." The cassette is out now, available at Twice Told, Ear X-tacy, Better Days and Electric Ladyland record stores.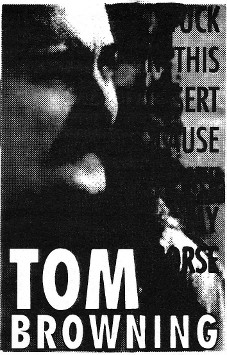 Not surprising given his varied gig history, the recording has selections from a variety of styles, including reggae, fusion, rock, and sweet ballads. I talked to Browning about the effort during a recent gig with the Merry Pranksters at Jockamo's Pizza Pub.
"It has different influences," Browning said about his album. "I lived in the Virgin Islands for a while, so it has a reggae feel. It borders on a 3rd World feel on some of it. There's a definite Beatles influence. And rock, and R&B, and funk..." he explained.
The album kicks off with "Dancing On and On," a contemporary rock song with Sting-like flavoring and tremendous hooks. Browning demonstrates a number of playing styles in these three and a half minutes, assuring you immediately that he has all the technique he will ever need. The modern feel of "Dancing On and On" eases your doubts about Browning's direction. Sure, he plays Seventies rock with the Pranksters, but he's not stuck in the past. This kickoff song is like a personal resume and a promise: Okay, the basics are nailed down, the potential is there. How high is this album going to fly?
"The way I do the album, I get the drums and bass down tight, then I build the song," Browning said. "From there, I add the keyboards, and the guitar, and the lead vocals are the last thing. It's kind of hard, because I have to have the whole song planned out," he said.
Next is "Hands Go This Way, Feet Go That Way." An extremely catchy, almost familiar melody breaks into a funk groove, all driven by Browning's layers of guitars. Its sassiness and structure is reminiscent of L.A. fusion, with a playfulness and competence present in Steely Dan instrumentals.
"Just Hold On" finds the guitarist in the middle of a funky blues. Rod Wurtele's tight, staccato keyboard playing lends additional funkiness to the mix. Browning's vocals are back for this song, not setting the world on fire, but pleasing the ears with a comfortable and unassuming, mellow tone that eases into a Greg Allman growl now and again.
"I do like modern classical music too," Browning continued. "From [Bela] Bartok I got the concept of how to manipulate folk music. He used the weird chords and scales in [Hungarian] folk music that weren't in classical music then. And rock 'n' roll did the same with Negro folk music [and blues].
Two ballads sandwich the tune "Yes It's Love," an unhurried reggae song with typical reggae subject matter. Browning's sparse, relaxed guitar playing in "Yes It's Love" creates a mood best described as an ocean view seen between two bare feet on a beach. A tropical drink with an umbrella can't be too far away. Does a fake Caribbean accent bother you? Why should it when white blues singers have been affecting black dialect and inflection for decades? "Yes It's Love" is nice Kentucky reggae, and that's said with no malice.
The two ballads are "Missing Her Today" and "Annette." "Missing Her Today" may be the weakest cut on the album, with lyrics that are sentimental, if universal. We've all felt this way before. Browning plays acoustic guitar and piano here, with dissonance occasionally perking interest. "Annette" is a Browning solo piano piece with evident modern classical influences, and crashing, sustaining chords a la Windham Hill. "Annette" is a nice surprise, but how would it play in a convertible, where the rest of the album would flourish?
What's the audience that this cassette is shooting for?
Browning was momentarily stumped by the question. "I really don't think about marketing," said Browning. "It's sort of my downfall. I'm trying to get a sound that will appeal to everyone. My mom and dad are in their sixties and they like it," he said.
The second side opens with "Welcome You Home," an upbeat -- no, frenetic -- calypso song about veterans. This song gets you boogieing sure enough, despite the heavy message. A whole album like this would be a dream come true. This is a gem. Real steel drums would have been nice, rather than Bob Ramsey's synthesized contribution.
Explains Browning, "My teacher, Don Murray, said the music has to breathe. I believe that your music has to connect with someone's nervous system. I have a hard time believing that computers connect, although D.T. Suzuki said that everything that comes out of your head is organic, however it is manifested. That would seem to justify synthesized sounds," Browning said.
"Rolling and Tumbling" is a solid reggae effort, with nice keyboard bass playing from Ramsey. "Another Day/Another Night" is another cool tune, if just more of the same. The wisdom and professionalism of Browning's playing shows on these cuts, although his playing is elegantly understated. Browning's guitar work hovers in between being worshipped by young guitarists and being universally lauded as top drawer talent. Browning doesn't bludgeon you with his ability, at least on tape, but he uses it effectively as a second voice, making it an indispensable element of his music.
While this is the first big solo splash from the guitarist, it is actually his third recording. Browning had a solo album cut in 1985, and a recording with the Fat Cats Four was completed but never released. Browning was nudged from within to undertake the most current solo effort.
"I've been writing more songs," said Browning. "Something inside of me is pushing me, is saying I have got to get them down. Music, like all art, has to be available for consumption. It has to be out there for people to get."
"All Day" is an insistent reggae groove with a bass line that sounds lifted from The Guess Who's "American Woman." The lyrics take their cue from the chorus, a simple, straightforward chant of "All day/Gonna kiss on you." Acoustic guitar accents spice the repeated figures. It's interesting and repetitive, and isn't that what good pop is all about?
"I'm almost finished with another album; the tentative release date is November," said Browning. There won't be as much reggae on this one. I've got a really weird tune that I don't know if I want to release on it. It's got two tracks of fretless guitar, with voices -- it's sort of a sound collage, a tone poem. It [the entire album] will be more rock-oriented," he said.
"I'm Stuck in This Desert 'Cause I Ate My Horse" boasts three instrumentals, the most daring being the last cut, "Urban Guerilla." Browning calls this sprawling, seven-minute-plus jam a '60s-era Miles Davis fusion tribute, with a decidedly city feel. The synthesizer is a bit too prominent, and the closing perplexes me, but the tune does cook. No song demonstrates the risk-taking and diversity of this cassette more than "Urban Guerilla." Considering all the ground covered on "I'm Stuck...," the album is surprisingly accessible and listenable. No, it's not a masterpiece, but it should get Tom Browning noticed.
The 35-year-old guitarist is sitting in the rain outside of Jockamo's, carefully considering my last question.
"Where do I want to be in ten years?" he repeated. "I want to be with my wife and kids [Browning and his fiance will be married in October] making a really nice and good living. I want to be making and playing my music, and teaching music to the younger ones," he said with a pleased look on his face.
* * *
Louisville will have another way to hear Browning's playing soon. Patti Hagewood and company have reunited to work out original music, and plans are underway for the May live debut of the revamped and redirected Patti and the Hoods, with Tom Browning on lead guitar, Bob Hart on bass, Bob Chapman on drums, and Hagewood on lead vocals and rhythm guitar.